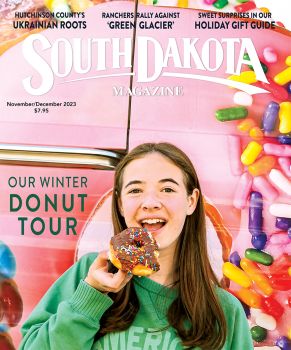 Subscriptions to South Dakota Magazine make great gifts!
Subscribe today — 1 year (6 issues) is just $29!

The Old Swimming Hole
Warm water and rare plants make Cascade Falls a unique place to take a dip.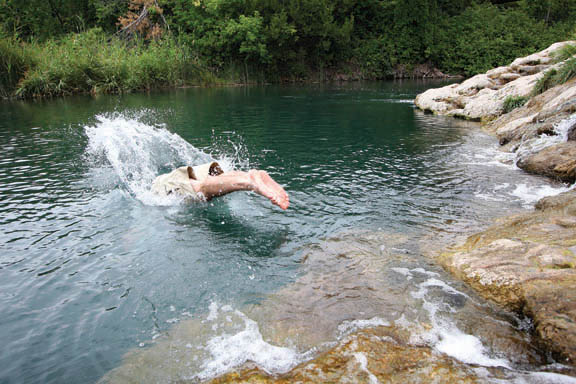 Artesian springs fill Cascade Creek with constantly warm and clear water. Photo by Stephen Gassman.
Today most swimming holes are concrete squares with colorful umbrellas and rows of plastic chairs. But South Dakota still has some natural places and one of the best is 8 miles south of Hot Springs at Cascade Falls, where murmuring falls, lush foliage and warm turquoise-colored pools create a movie-like atmosphere in the middle of Fall River County.
The clean, clear water of the falls originates about two miles upstream at Cascade Springs, where a series of six artesian springs feed ever-warm, 67-degree water into Cascade Creek. The water's temperature creates thick vegetation around the springs, creek and falls. Rare plants are found there, including a fern, prairie gentian and orchid that are nonexistent in the rest of South Dakota.
Cascade Falls is the only place along the creek recommended for swimming. "The water isn't too fast and you can find different depths of water," explains Cindy Reed, who lives with her husband Marc Lamphere in an old building that was the Allen Bank in the town of Cascade. "People feel safe about their kids being there. It has the added nuance of being a historical public swimming hole for well over one hundred years."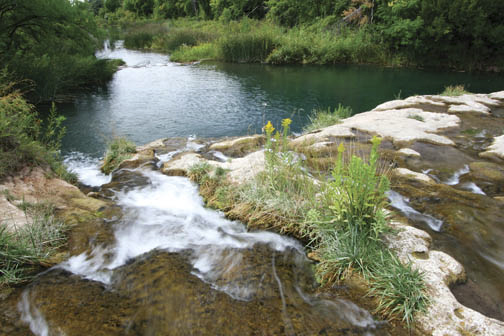 Early settlers at Cascade hoped their village would become a popular destination for warm mineral baths and spas, but leaders of nearby Hot Springs plotted Cascade's demise by directing traffic away from the town. Photo by Stephen Gassman.
Cascade was founded in the 1880s between Cascade Springs and the falls. Town fathers hoped it would become a thriving spa destination due to the confluence of the warm mineral water and a railroad through the Hills. By the turn of the century, Cascade had 50 businesses, a post office and 400 residents. Fred Evans, an ambitious businessman who owned much of the land around Hot Springs, put a quick end to Cascade's growth, along with the economic crash which eliminated a lot of the town's financial support. Evans was determined that Hot Springs would have the only mineral spa in the Hills, and he even went to the expense of paying a stage coach driver to not stop at Cascade. "The age of the stage passed, the railroad went in to Hot Springs and Cascade withered and died," wrote journalist Jerry Wilson after a visit to the valley.
J.G. and J.H. Keith, husband and wife, were founders of Cascade who remained there decades after everyone else had given up and left town. The Keiths owned much of the land around the former town and their heirs eventually donated Cascade Falls and Springs to the Forest Service, believing them to be so special they should be shared with the public.
---
If you go
Cascade Falls Picnic Grounds is 8 miles south of Hot Springs on Highway 71. The area got a makeover recently by the U.S. Forest Service. There is a small parking lot, restrooms and a picnic area. An established trail and steep stairway connects the parking lot to the falls. The area is ideal for swimming or picnicking, but watch for poison ivy on the banks of the creek.
EDITOR'S NOTE – This story is revised from the July/Aug 2010 issue of South Dakota Magazine. To order this back issue or to subscribe, call 800-456-5117.