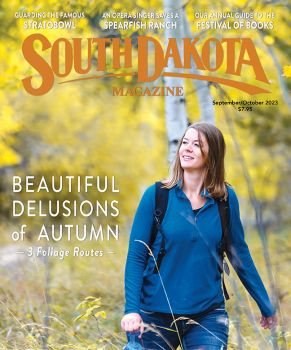 Subscriptions to South Dakota Magazine make great gifts!
Subscribe today — 1 year (6 issues) is just $29!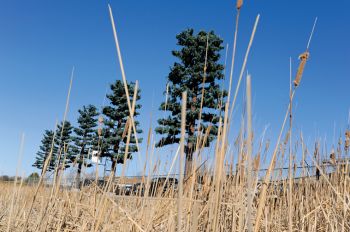 Sprucing Up
By Rebecca Johnson
Cell phone coverage is better and towers are prettier thanks to a product manufactured at Ehresmann Engineering near Yankton. Their monopine, a tree lookalike, camouflages cell towers and conceals antennas.
"It's still a fight to get towers into areas where they're needed. People don't like them in their backyards," says Eric Taylor, Ehresmann Engineering's business development manager.
Monopines range in size from 50 to 150 feet tall, but the company's tallest (180 feet) stands in Vancouver, Canada. Each faux pine tree includes a steel base and injection molded plastic branches that allow phone signals to transmit freely. A hard epoxy forms the bark. "We spread that on, imprint a pattern and hand paint it," Taylor says. "Think of sponge painting on a bigger scale."
Ehresmann Engineering's small factory of 50 employees builds around 15 faux pine trees a year. They hope to do more as demand increases and stricter zoning laws are put into effect. Their other concealment products include monopalms (faux palm trees), flagpoles, light poles and enormous crosses.
Editor's Note: This story is revised from the May/June 2015 issue of South Dakota Magazine. To order a copy or to subscribe, call (800) 456-5117.