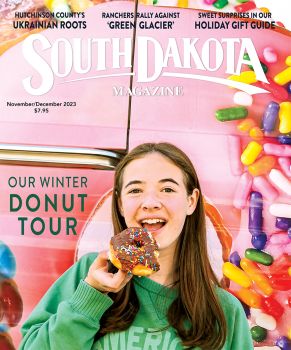 Subscriptions to South Dakota Magazine make great gifts!
Subscribe today — 1 year (6 issues) is just $29!

Our Centennial Trail
Story and photography by John M. Rud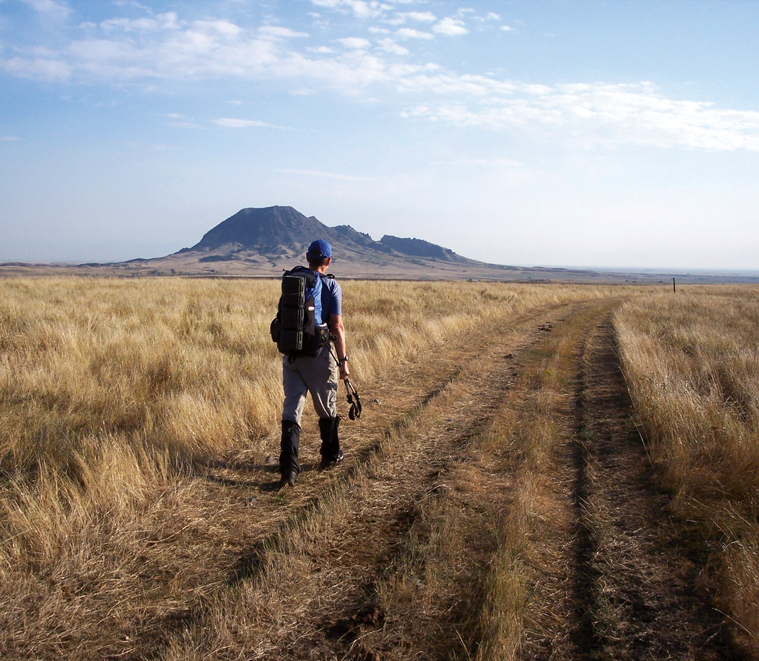 Hikers refer to the northernmost stretch of the Centennial Trail as The Prairie Walk. The forest gives way to grasses and a view of Bear Butte.
A glorious South Dakota daybreak was illuminating a clear, still summer day. The rising sun painted a portrait of unequaled tranquility. There among the pine-clad, rolling hills and interspersed grasslands of northern Wind Cave National Park stood a mix of American bison, pronghorn antelope and ever-wary whitetail deer nonchalantly grazing. Black-tailed prairie dogs were busily scurrying about. A red-tailed hawk passed high overhead while magpies, jays and white-winged juncos noisily flitted about in their various niches.
Framed in this cacophony of sights and sounds, a majestic bull elk with a massive rack lay placidly at the center of it all. "My imagination tells me this has to be analogous to gazing out over Africa's Serengeti Plain," Paul whispered. The idyllic scene is a mere sampling of what awaits those who hike, mountain bike or horseback ride the 111 miles of South Dakota's historic Centennial Trail, which first touched my heart and soul during a solo thru-hike in 1994.
Just minutes earlier, in the summer of 2007, the two of us had embarked on my second thru-hike. Honestly, not many individuals with a passion for long-distance hiking return for a repeat performance. In our view, a day or two or even a section of a long trail is never enough. Life is short and nobody is more aware of that than an aging distance hiker who, comparable to everyone else, must still juggle work and family. Before committing a precious two weeks or more to an interesting trail, one has to seriously ask, "Why re-hike an old trail previously mastered when dozens of new prospects beckon?"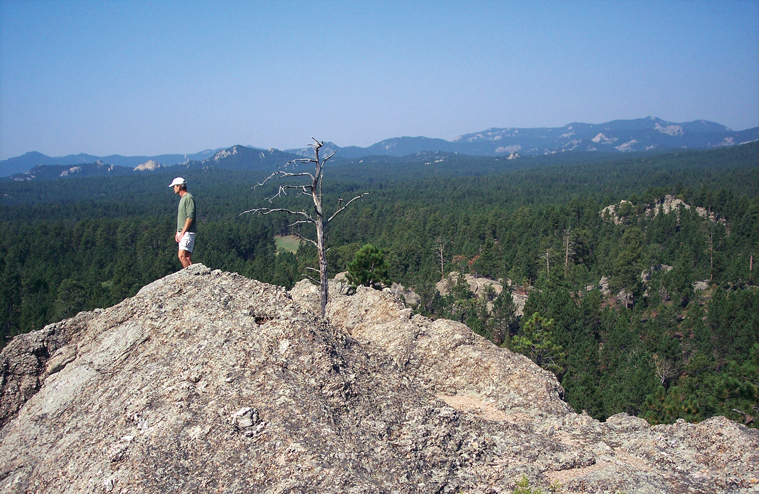 Paul Kloepper enjoys a panoramic view of the forest.
That debate occurred in earnest during the winter of 2007 when Paul Kloepper, my great friend and fellow distance hiker from Hastings, Neb., approached me one evening and insisted, "Let's do the Centennial Trail in 2007!" I promptly cut him off. "Paul, you know I did it in '94." After much contentious discussion, he would not accept my reticence and exasperatingly pleaded, "Come on, just do it!" Eager to return to my beloved South Dakota, but reluctant to "repeat" a trail I had merely considered "OK" in 1994, my consent was begrudgingly granted. Now, back home in Florida, the recently completed eight-night, nine-day thru-hike is a fond memory.
From the southern terminus in Wind Cave National Park to the summit of Bear Butte, our south to north hike inspired in me a change of attitude. In my humble opinion, the Centennial Trail has transformed itself from being merely "OK" to being one of the finest and possibly least known long distance trails in the nation.
The Centennial Trail represents South Dakota history, geography and biodiversity at its best. The vision for the trail came in the 1980s as South Dakota leaders organized a statewide centennial celebration that culminated in 1989. Trail No. 89 was designed to represent the terrain common to western South Dakota, and the Black Hills in particular. Prairie grasslands, high granite spires, lakes and streams are readily accessible throughout its entire length thanks to multiple trailheads. Depending on time constraints or logistical necessity, explorers can thru-hike the Centennial Trail from either end, section hike or day hike any portion that attracts the individual's interest.
Quite deservedly the multi-use Centennial Trail was designated as a "National Recreation Trail" in 1997. Embarrassingly for hikers, the Centennial Trail probably has better name recognition among major organizations that promote mountain biking and horseback trail riding. Two northern sections of the trail permit motorized ATV/dirt bikes in designated zones. All trails need supporters, and nowhere was this better exemplified than at the French Creek Horse Camp at the conclusion of our first day of hiking. We were pleasantly surprised to discover a jam-packed, festive encampment of horseback trail riders from Iowa and Illinois. The riders had traveled hundreds of miles with trailers, equipment and livestock to share a long-awaited adventure. Making conversation among that sea of smiling, hat-framed faces was easy. Two statements summed up their opinions: "We love it out here in the Black Hills," and "Everybody always says you have to get out here (Black Hills) to ride."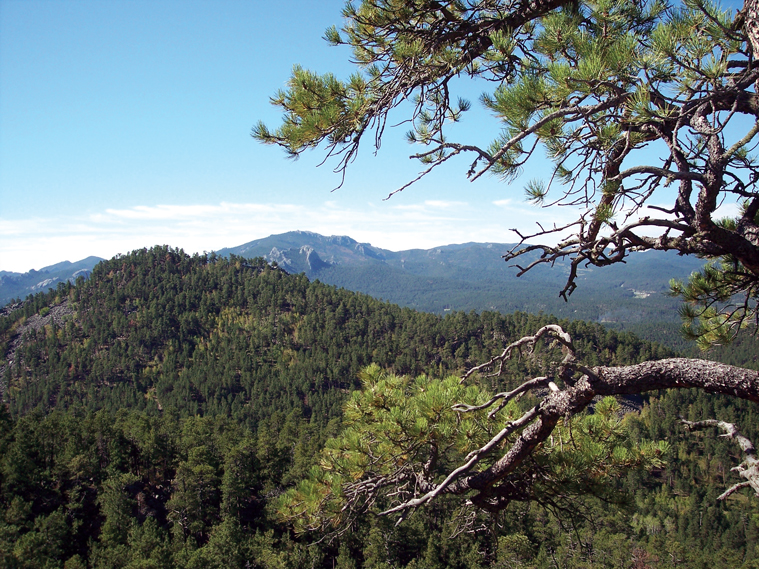 Forest Service officials consider the Black Hills to be the, "premier working, multiple use national forest in the country."
Accolades for the stunning 13-year evolution of this trail from (my opinion) "OK" to "great" can only be credited to the multiple agencies who work in a coordinated fashion to construct, re-construct and maintain the 111 miles. Government agencies are often maligned, but we harbor nothing but gratitude and appreciation to the U.S. Forest Service, the Bureau of Land Management, the National Park Service and the S.D. Department of Game, Fish and Parks. Equal credit goes to private landowners who provide access. The hard work and meticulous planning has created a gift not only to South Dakotans but to all Americans.
What has changed in 13 years? Certainly not the historical perspective summarily outlined along the entire length of the trail. Imagine the famous 1874 expedition of General George Custer literally crossing paths with the Centennial Trail near French Creek or Nemo. Who cannot smile while peering down at Grace Coolidge Creek and envisioning the local folks nocturnally stocking trout, in secret, so President Calvin Coolidge could have the satisfaction of thinking he was a master angler?
Of course, the natural beauty of the area has not changed. If anything, the environ is more captivating. Three weeks of preceding rains had transformed grasses to a spring-like green and birthed a protrusion of vibrant wildflowers. The white bark and yellow leaves of birch trees are interspersed with a splash of red in the undergrowth.
What has changed, in my view, is the subtle impression that the trail has matured. In 1994, the Centennial Trail was a relatively underdeveloped novice. Today, the trail is a valued entity. "As a designated National Recreation Trail, the trail is a forest priority to receive routine trail maintenance during the spring and summer, annually, by each of the ranger districts it crosses," explains Rick Hudson, a recreation program manager for the U.S. Forest Service.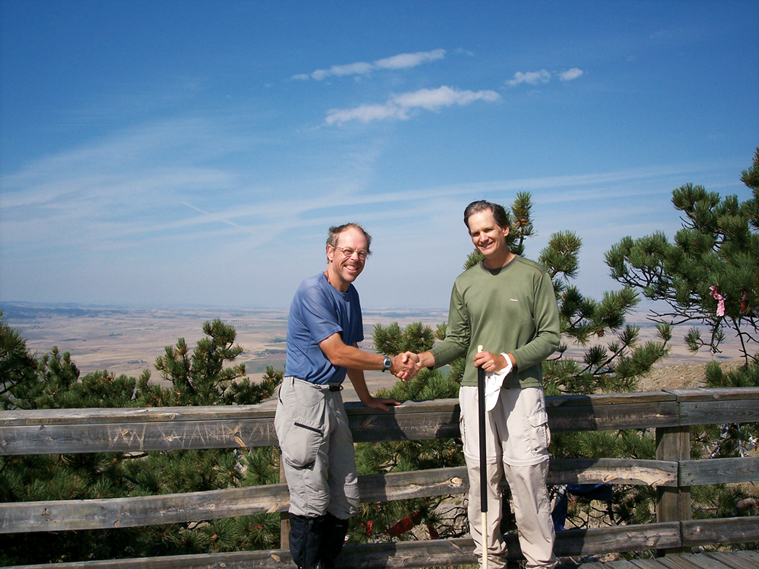 John Rud (left) and Paul Kloepper share a congratulatory handshake atop Bear Butte.
Unless one has end-to-ended other long trails around the country, it may be difficult to notice or appreciate the subtleties that make any trail-based experience more pleasing. Thirteen years later on the Centennial Trail, there is more and better signage. Fallen trees, rocks and debris have been cleared, and the trail bed is well delineated. Logging and thinning sites have been carefully rehabilitated, and strategic relocations have enhanced the ease of travel and now showcase awe-inspiring views that were not as easily enjoyed in 1994.
With his 33 years in the U.S. Forest Service, Hudson is justifiably proud of the Black Hills and the Centennial Trail. "The Black Hills National Forest is the premier working, multiple-use national forest in the country," he says. "Logging, mining, grazing, hiking trails, motorized recreation, wilderness, reservoirs, recreation areas, wildlife and fishing along with some of the finest hunting in the state — we have it all."
At the center of these activities, in its own quiet way, the Centennial Trail provides visitors with an alluring variety of natural and historic wonders. It is an opportunity no trail enthusiast should ignore. Thankfully, I heeded the call a second time.
Bear Butte stands as an immense monolith luring us onward to its summit and the conclusion of our nine-day walk along the Centennial Trail. Not a wisp of a cloud obscures the sharp, blue-sky background on this cool, gusty day as we seek our ultimate goal at the trail's northern terminus.
The end of the "prairie walk" portion of the trail will be marked by a sense of accomplishment, but tempered with apprehension. Why? Because the final, two-mile climb to the very crown of Bear Butte will spell the end of another brief period of personal freedom and challenge. Black, red, yellow and white prayer cloths flutter in the wind on the upslope of a mountain considered sacred by many Native American brethren. The four colors are from the Lakota's Circle of Life, or the sacred hoop, which represents man's spiritual bond with nature and one another.
Finally, a small wooden platform marks the zenith of our journey. Gazing to the south and west, over terrain that had been home for a fleeting nine days, I turn to my hiking partner, look him in the eye, shake his hand and simply say, "Thank you for bringing me back."
Editor's Note: This story is revised from the May/June 2008 issue of South Dakota Magazine. To order a copy or to subscribe, call (800) 456-5117.