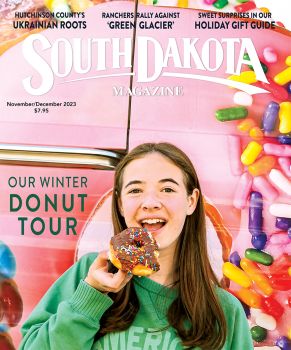 Subscriptions to South Dakota Magazine make great gifts!
Subscribe today — 1 year (6 issues) is just $29!

Changing Pace
Photography by Stephen Gassman
Story by Katie Hunhoff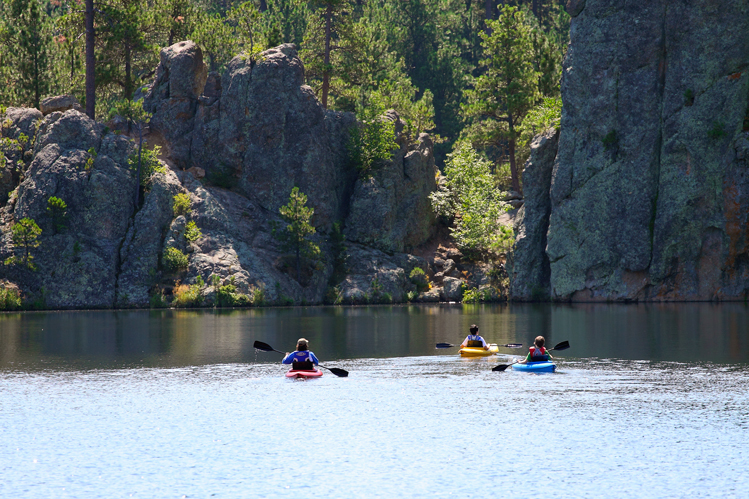 Kayakers float past the rocky shores of Sylvan Lake. Granite surrounding the lake is over 1.7 billion years old.
Dramatic granite spires border several Black Hills lakes, adding an atmosphere of permanence and serenity. Kelly Lane of Rapid City has been floating beneath the granite for over 50 years. But the veteran kayaker knows better than most of us that nothing lasts forever.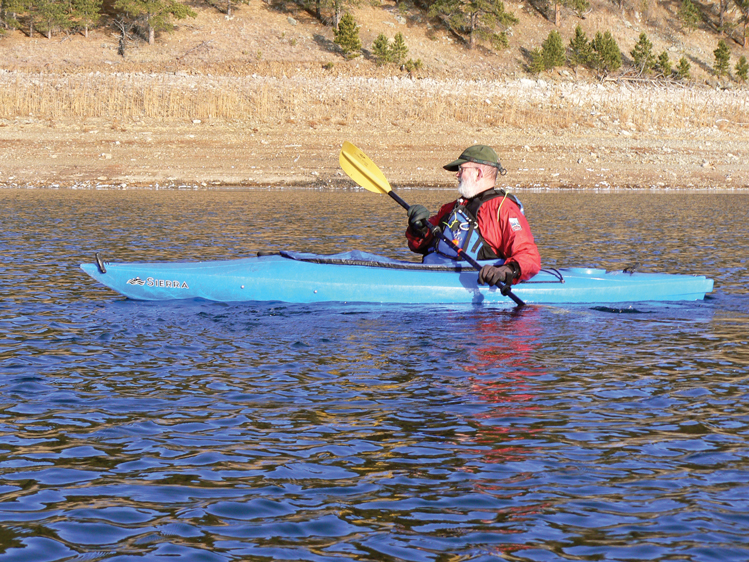 Kelly Lane credits kayaking for keeping him out of a wheelchair.
Lane was diagnosed with Parkinson's disease 21 years ago. Today, at age 64, he credits his passion for kayaking as the reason he isn't in a wheelchair full-time. "You have to reassess your life when you have Parkinson's to find value in it, because it takes away what appears to be valuable for you. I refuse to allow it to do that. I have to find value in my life."
Lane taught science for 20 years before Parkinson's forced him to retire. Kayaking our mountain waters has been his salvation. He began the sport when he was just 12 years old. He wrote a guidebook in 2013 and is bursting with knowledge on all Black Hills waterways.
Even though most of the lakes are manmade, he says a Black Hills kayaker sometimes feels as if he's a frontier explorer because of the solitude, framed by rock and pines. As the seasons change, he says, "There is always something new to marvel at, a different angle of light, a new beaver dam, a newly downed tree."
Thirty-three lakes are hidden in the deep valleys of the Black Hills. Five are natural; most of the rest were formed by dams built by the Civilian Conservation Corps in the 1930s. Lane says every drop of water in the Black Hills eventually drains into the Cheyenne River as it flows northeasterly to the Missouri.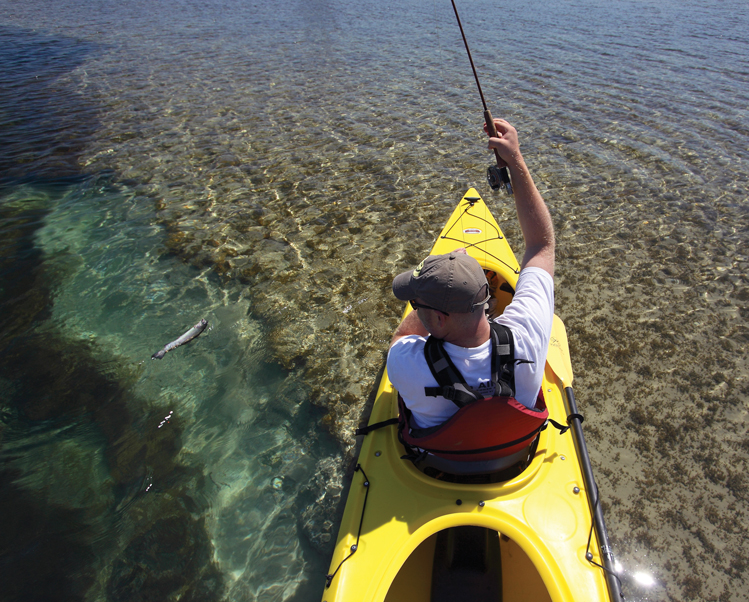 Matt Howards, of Madison, Wis., lands a rainbow trout on Coxes Lake just outside of the Black Hills.
Lane loves kayaking the lakes because of the solitude. "There are so many lakes around the hills and so few people that, when paddling on them, you almost never have to share the lake with another boat," he says. He often kayaks with his wife, Becky, a math teacher and avid outdoorswoman, and their twin daughters.
Sylvan Lake is a frequent destination. "It's just beautiful. There's no shore, it's just lined with rock. But then you can go down the road to Legion Lake and there is mud and soft grass surrounding the lake. Completely different. And Coxes Lake sits just outside the Black Hills but you feel like you're in the middle of the prairie."
Lane's favorite is Pactola, the largest reservoir in the Hills. "It's our home lake. We paddle it in all seasons, even sliding on the ice in the winter. We paddle it all hours of the day and night, between dawn paddles, night paddles, and daytime uses. We teach on it, practice on it, race on it and relax on it," he says.
Pactola is also a favorite of kayak instructor Chad Andrew, a friend of Lane. "Most of the wildlife I have seen has been at Pactola," Andrew says. He's spotted osprey (there is a nesting pair at Pactola), blue heron, mink, muskrat, coyote, deer, bald and golden eagles and other bird species.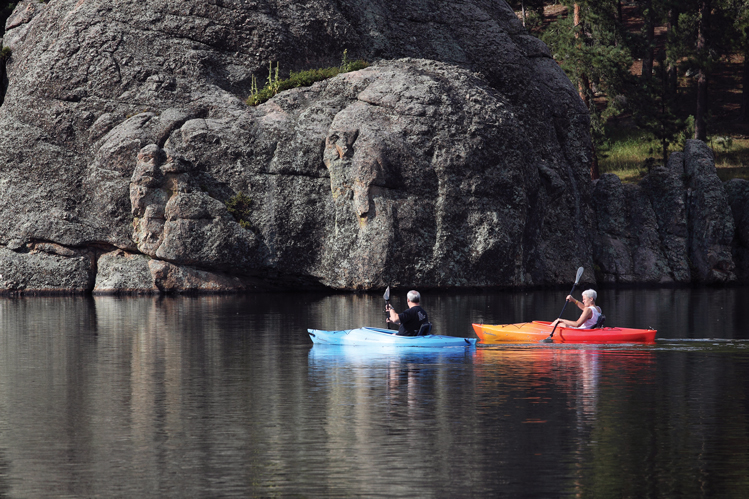 Sylvan Lake is the oldest reservoir in the Hills.
Andrew guides students up Rapid Creek, which flows into Pactola near Silver City, for beginning whitewater instruction. "The further up you paddle the more intense the current will get until you can't paddle upstream any further," he says. To get near the creek, Andrew recommends accessing the Jenny Gulch area and then following the cove to the right toward the cliff jumping area. You will have to paddle a half-mile before you see the lake thin into Rapid Creek.
Pactola and Sheridan are great lakes for beginners, but Andrew recommends all kayakers take a safety course before getting on the water. He takes safety seriously. His brother was killed while kayaking at the Potomac Falls near Washington, D.C. Andrew is certified with the American Canoe Association as a Level 4 whitewater kayaking instructor. Both Lane and Andrew are members of a group advocating for a paddle park by M Hill in Rapid City, near the South Dakota School of Mines and Technology. They believe a man-made kayaking area will offer a safe, controlled environment for tubers and kayakers.
Quickly changing weather is the biggest danger for kayakers on the usually calm Hills lakes. One year, Andrew was caught in a hailstorm while on Pactola. "By the time I reached my car, vehicles were damaged and windows were broken out," he says. Luckily, he always wears a helmet to be a good example to his students. "With golf ball sized hail, it was a definite bonus to have my helmet," he says.
Every spring, as ice recedes from the lakes, Lane returns to the water. Parkinson's has robbed him of other outdoor interests like running and skiing, but friends help him continue to kayak. "Someone will say 'I'm heading to this spot' and I'll just ask them to pick me up." The disease has changed him, Lane says, but not in the ways you might think. "Parkinson's doesn't slow me down, it changes my pace. It doesn't take things away, it makes me choose other things."
Editor's Note: This story is revised from the March/April 2012 issue of South Dakota Magazine. To order a copy or to subscribe, call (800) 456-5117.