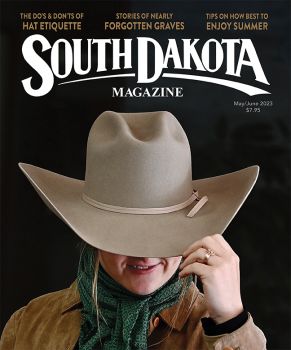 Subscriptions to South Dakota Magazine make great gifts!
Subscribe today — 1 year (6 issues) is just $29!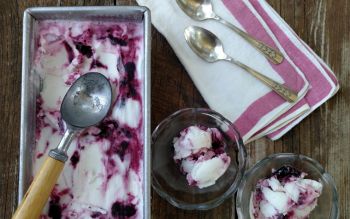 Summer Swirl
Aug 2, 2018
By Fran Hill
Recently, South Dakota Magazine conducted a very scientific and exacting Facebook poll. Zesto and B&G Milky Way were pitted against each other for favorite South Dakota summer ice cream stand. Write-in votes were welcomed for other options across the state.
Officially, 647 votes were cast with Zesto coming away the clear choice of Facebook voters. Perhaps this is due to Zesto's expanded locations across the state. B&G is limited to just the Sioux Falls area. Both are excellent destinations for cool, summer ice cream treats. Personally, I almost always get the sherbet of the day when visiting Zesto in Pierre and love a strawberry twist cone from B&G Milky Way.
The 25 other write-in locations shouldn't be ignored. I am keeping them all in mind for my jaunts back and forth across the state. There was a lot of love for Twist Cone in Aberdeen and Armadillos in Rapid City. Leone's Creamery in Spearfish had a few mentions, and I can't argue with the one vote for a vanilla cone at the Winner Drive-In Movie Theater.
I am also intrigued by the comment from Jim Schmidt recommending blending vanilla ice cream, mini Tootsie Rolls and a little milk at home. I vote that he should invite us over next time he fires up his blender.
In the meantime, I will happily whip up some Cherry Swirl Frozen Yogurt at home. A few years ago, we invested in the KitchenAid mixer ice cream maker attachment, and we love, love, love to make homemade ice cream and frozen yogurt all summer long. Adding fresh, seasonal fruits makes it even better. While strawberry is hard to beat, I can't resist picking up fresh cherries when they come in season in July. If there are any that I don't just pop into my mouth and devour as a snack, they add a perfect tartness to smooth and creamy frozen yogurt. Since I am not near B&G's Milky Way or Zesto, this will get my vote, for now.
---
Cherry Swirl Frozen Yogurt
(adapted from Cooking Light)
1 1/2 cups fresh sweet cherries, pitted and coarsely chopped
1 tablespoon brown sugar
2 teaspoons fresh lemon juice
3 cups plain whole-milk yogurt (I have also used vanilla whole-milk Greek yogurt or homemade whole-milk yogurt.)
1/2 cup heavy cream
1/3 cup sugar
2 tablespoons light corn syrup (this really does wonders to help the creamy texture of the finished product)
1 teaspoon vanilla bean paste
Bring cherries and brown sugar to a boil; cook until cherries begin to soften. Reduce heat to low and cook until syrupy, about 10 minutes. Stir in lemon juice. Remove from heat and cool. Refrigerate at least an hour, until chilled through.
Place a loaf pan in the freezer to chill at least 30 minutes. Whisk yogurt, cream, sugar, corn syrup and vanilla bean paste until smooth. Chill 1 hour.
Pour yogurt mixture into the freezer can of an ice cream freezer; freeze according to manufacturer's instructions. Spread half of frozen yogurt into the chilled loaf pan. Dollop half of the cherry mixture over the top; swirl into frozen yogurt with a knife. Repeat with remaining frozen yogurt and cherry mixture. Press a piece of parchment paper directly on top of frozen yogurt and wrap entire loaf pan tightly in plastic wrap. Freeze 4 hours, or until firm. (Serves 8)