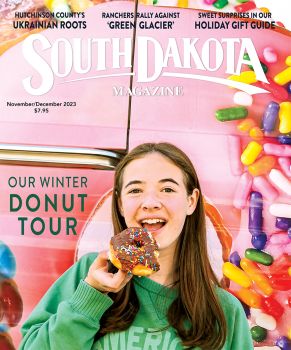 Subscriptions to South Dakota Magazine make great gifts!
Subscribe today — 1 year (6 issues) is just $29!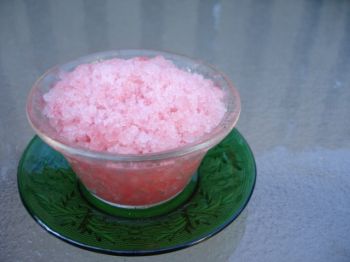 Watermelon Granitas
Jul 8, 2012
By Laura Johnson

It's hard to write about food when you've lost your appetite. With all the hot weather lately, who wants to cook, anyway? Not this gal. Lucky for us we don't have to turn on the oven to enjoy the cool fruits and vegetables of summer: sweet berries, cool cucumbers, crisp salads, and best of all, watermelon.
But watermelons are tricky fruits. Who among us has not experienced the letdown of thumping a pile of grocery store melons, taking one home, cracking it open and discovering a pale, anemic interior? To learn how to pick a good 'un, I revisited tips gleaned from South Dakota Magazine's 1997 visit to the melon-growing experts in Forestburg, South Dakota's watermelon capital. Here's what they said:
Thumping is a layman's test of whether the melon is ripe. A hollow sound means "get the knife."

"Once you've raised them for a while, you can tell by the color," said Charlotte Nelson of Nelson's Melon Stand.

"I look for the little curl beside the stem. If it is dry the melon is ripe," confided Skip Larson.

The late Levo Larson, Forestburg's Watermelon King, told us ripe melons have a chalky look. A melon that needs more time on the vine will have a shiny appearance.

The best way to ensure you'll be enjoying a ripe, sweet melon is to buy from a grower. "It hurts our pride to pick a green watermelon," Levo told us. "We guarantee ours to be ripe and we guarantee them to have Vitamin P if you eat enough." If a cool slice of melon doesn't seem cold enough on our hottest days, try a watermelon granita. It doesn't require cooking, and it gives you an excuse to periodically stick your head in a nice cold freezer.

---

Watermelon Granita

4 cups cubed seedless watermelon
1/2 cup sugar or to taste
1 tablespoon lime or lemon juice
Purée all ingredients in a blender until smooth. Pour into a 9x9x2" baking pan. Freeze mixture for 1 hour. Stir, mashing any frozen parts with the back of a fork. Cover and freeze mixture until firm, about 2 hours. Using a fork, scrape granita vigorously to form icy flakes. Serve.