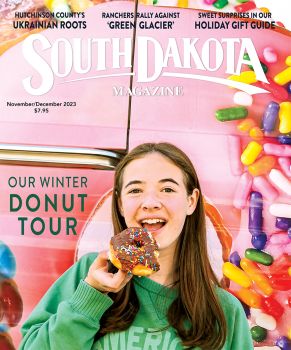 Subscriptions to South Dakota Magazine make great gifts!
Subscribe today — 1 year (6 issues) is just $29!

The Chislic Circle
Editor's Note: This story is revised from the July/August 2005 issue of South Dakota Magazine. To order a copy or to subscribe, call 800-456-5117.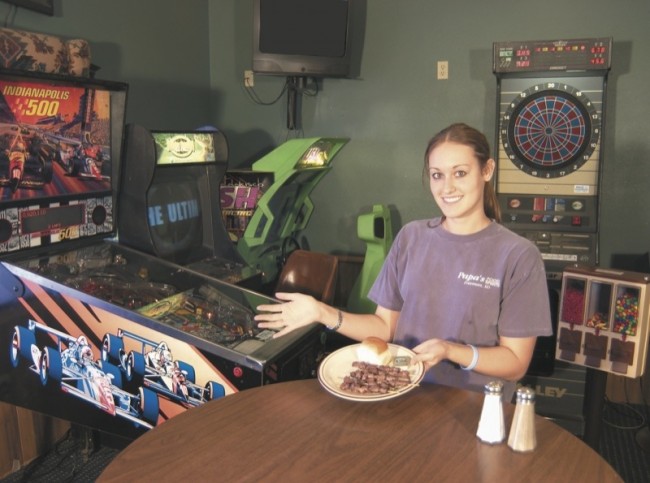 "A lot of people don't even ask what the specials are; they just want chislic," said Melissa Svartoein. Svartoein worked at Papa's Restaurant in Freeman when she was a student at the University of South Dakota.
Open a map of South Dakota, place the point of a protractor on Freeman, on U.S. Highway 81 a couple of inches north of Yankton, and draw a circle with a radius representing about 30 miles. That is the Chislic Circle, the home of a culinary curiosity.
If you live there –– maybe in Marion or Menno, Parker or Parkston –– you probably are acquainted with chislic, a simple dish of bite-sized chunks of sheep meat on wooden skewers, deep-fat fried or grilled. Other parts of the world may have their kebabs of mutton and other meats, but chislic seems distinctive to southeastern South Dakota.
For decades a mainstay at cafes, bars, fairs and celebrations, it historically has been enhanced only by salt or garlic salt and served with saltines and, if you are so inclined, washed down with a cold beer. Recent years have seen the introduction of chislic in various marinades and with various sauces.
However it's prepared, chislic sells. Papa's Restaurant in Freeman serves up to 3,000 chislic sticks a week. Rachel Svartoein, whose grandfather sold chislic at a corner store south of Freeman for many years, provided 1,200 sticks for her high school graduation reception. At Marion's 125th anniversary, the Jaycees sold 4,000 sticks on the first night. The chislic stand at the Turner County Fair in Parker sold 40,000 in 2004.
Chislic is simply an unquestioned thread in certain community fabrics; yet it remains a mystery meal, its origins unsure. Even theories and myths are difficult to find. "I know there are sheep in other places, so why chislic is popular here and not there, I don't know," said Papa's co-owner Susan Letcher.
Even some sheep producers outside the area know little about chislic. "Ask people in Aberdeen, they've never heard of it," said Bill Aeschlimann, a Hurley farmer who is active in national and regional sheep associations. "Ask people in Rapid City, they don't have a clue." Attempts to sell chislic have flopped at the Sturgis bike rally because nobody knew what it was.
Scant historical accounts suggest that chislic was introduced in Freeman at least 100 years ago by Russian immigrant businessman John Hoellwarth. But that's about all anyone knows. "All I can tell you is my dad tells the story how his father, on a day for celebration would buy a couple of young lambs for 50 cents a piece and make chislic," said grandson Robert Hoellwarth, a retired physician in Vallejo, Calif.
The Hoellwarths arrived in Hutchinson County in the 1870s from the Crimea of southern Russia, a region where "shashlyk," cubes of skewered beef, lamb or pork, were grilled over an open fire. Chislic probably evolved from shashlyk, according to Darra Goldstein, editor of Gastronomica: The Journal of Food and Culture and food editor of Russian Life magazine. But she and other food experts are not familiar with the South Dakota version.
Whatever its origin, chislic is a distinguishing feature of southeastern South Dakota. Aeschlimann, who has sold it at the Turner County Fair for 20 years, had his first chislic stand at Hurley's centennial in 1983. "We knew there would be lots of people coming back," he said. "And what would they think of from their childhood? Chislic."
Jake Huber ran a chislic stand in Freeman on summer Saturday nights during the 1930s and '40s, days when farm families came to town for shopping and socializing. "There was such a tremendous amount of people in town on Saturday nights, it didn't take long to sell out," said his daughter Nita Engbrecht of Marion.
The whole family prepared the chislic and cleaned up late Saturday night. Engbrecht's job, which the health department might frown upon today, was collecting the used skewers, which her father fashioned from bamboo. "Those sticks had to be boiled, dried out and used again and again," she said.
Among Huber's patrons was Bill Gering, then a teenaged farm boy. But chislic was not new to him. Several farmers owned a threshing machine together, and when harvest was done, everybody gathered to celebrate. "The men figured out who owed who," Gering said. Then everybody ate chislic and homemade ice cream.
In Freeman, residents bring out-of-town guests to Papa's to introduce them to chislic. "Most people like it," Letcher said. "If they're here a second night, they come back and have it again." Papa's serves five varieties: original, barbecue, lemon pepper, garlic and even one marinated in olive oil, lemon juice and soy sauce. But the original recipe remains most popular, Letcher said. But regardless of how it's cooked, mutton on a stick remains popular in the Chislic Circle.