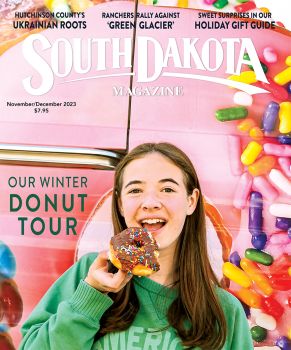 Subscriptions to South Dakota Magazine make great gifts!
Subscribe today — 1 year (6 issues) is just $29!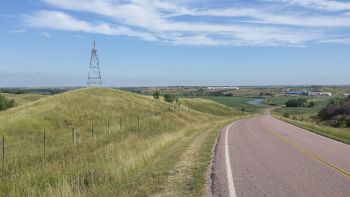 Pedaling South Dakota: Day Eight
Jul 31, 2016
Carl and Jan Brush of Yankton are loyal readers of our magazine, and avid bicyclists. This summer they are combining those two loves on a cross-country trip, using past South Dakota Magazine stories to guide them to interesting people and places. They've agreed to post some reports from the road so we can go along on their eight-day, 360-mile journey. 



DAY EIGHT: Home Again
We left Freeman and headed back to Yankton via the Jamesville Colony and Utica. It was a very scenic ride of 42 miles. The best view of the day was coming down the last hill and seeing Lewis and Clark Lake.
On our tour we met a lot of interesting people. It seems everybody has a story to tell. With her notepad and pen in hand, Jan sought out folks to interview. Carl took most of the photos. At the end of the day we compiled and edited, then emailed the information to South Dakota Magazine. We discovered that photojournalism is hard work!!
We had a great time on our tour. The weather and winds were mostly favorable. There were no flat tires or mechanical problems. We met a lot of pleasant folks along the way. We occasionally get asked how many miles to the gallon we get. The answer is 50 mpg — of Gatorade!
We totaled 377 miles in eight days. Riding the back roads is very peaceful. We appreciate how the communities and South Dakota farmers take pride in maintaining their properties. Thank you South Dakota for another great ride. And thanks to the folks at South Dakota Magazine for the opportunity to share our experience!


Click to read Day One, Day Two, Day Three, Day Four, Day Five, Day Six and Day Seven of Carl and Jan's journey.