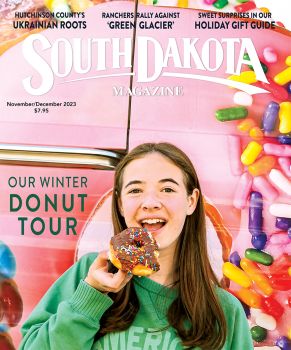 Subscriptions to South Dakota Magazine make great gifts!
Subscribe today — 1 year (6 issues) is just $29!

The Reluctant Baker
Dec 23, 2015
By Fran Hill
If you follow my blog, you have repeatedly read my declarations that I don't like to bake cookies.
However, I baked for you.
Triple Chocolate Ginger Crinkles.
Rich chocolate cookies with just a hint of spicy ginger and dusted with powdered sugar. Each unique like a snowflake. All delicious.
I want to wish a Merry Christmas to you and yours. May you find peace and love in this holiday season and beyond.
---
Triple Chocolate Ginger Crinkles
(adapted from Martha Stewart)
1/2 cup unsalted butter
4 ounces unsweetened chocolate, chopped
1 3/4 cups sugar
1 1/2 cup flour
1/2 cup unsweetened cocoa
1 teaspoon baking powder
1 teaspoon baking soda
1/2 teaspoon salt
3 large eggs, beaten
3/4 cup candied ginger, finely chopped
1/2 cup semisweet mini chocolate chips
1 cup powdered sugar
Melt the butter and unsweetened chocolate, stirring until smooth.
Let cool for 10 minutes.
Meanwhile, preheat the oven to 350 degrees F; line baking sheets with parchment paper.
Beat the eggs and sugar together.
Whisk in the cooled butter and chocolate mixture.
Stir in the flour, cocoa, baking powder, baking soda and salt until incorporated.
Stir in mini chocolate chips and ginger.
Place powdered sugar in a wide bowl.
Shape dough into 1-inch balls. (Using a cookie scoop works well.)
Roll each dough ball in powdered sugar to coat.
Place cookies about 2 inches apart on prepared baking sheets.
Bake 14-17 minutes, until cookies are puffed and cracked. (14 minutes made perfectly chewy cookies for me; 17 minutes yielded crisper cookies)
Allow cookies to cool for a minute before transferring to racks to cool completely. (Yield: 3 dozen)
Fran Hill has been blogging about food at On My Plate since October of 2006. She, her husband and their two dogs ranch near Colome.