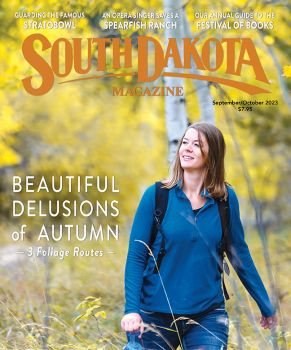 Subscriptions to South Dakota Magazine make great gifts!
Subscribe today — 1 year (6 issues) is just $29!

A White Cookie Tradition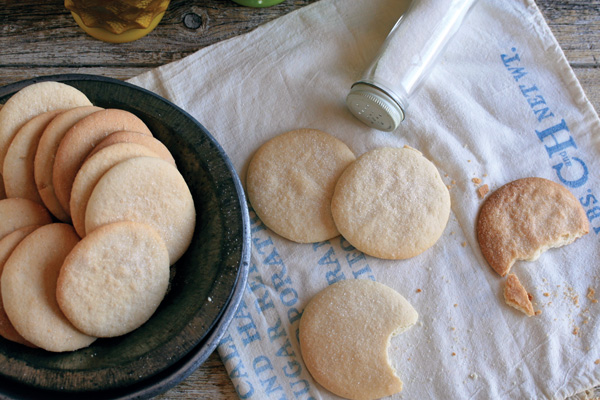 Delicate white sugar cookies are a holiday tradition for Staci Perry and countless other South Dakota families.
My grandma Janet Moe has always arrived at Christmas dinners carrying a bucket delicately packed with thin, white cookies twinkling with fine sugar. A few years ago, we allowed ourselves to accept that grandma would not be the white cookie matriarch forever. She humbly shared the recipe with us, which is particularly light on instruction, and said, "I don't do anything special to them." I knew it was time for me to learn how to make her signature cookies.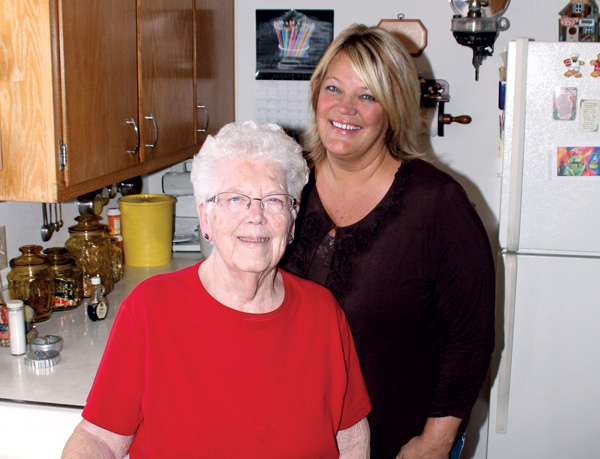 Staci Perry and her grandmother, Janet Moe.
As we baked that day, I pictured my grandpa, his hands the size of little league gloves, grabbing a handful of grandma's white cookies and steeping them into his steaming coffee until soggy crumbs floated to the top. It was one of his favorite cookies. But that's no surprise. His mother gave the white cookie recipe to his lovely bride, and his father made the richly-marbled apple wood rolling pin that grandma still uses.
After almost 70 years of warmly saturating her home with the sweet scent of homemade goodies, grandma's baking sheets have become almost too heavy for one oven mitt to hold, the dough is getting harder for aged hands to stir, and her kitchen counters have mysteriously gotten taller.
Although my first crack at baking grandma's cookies taught me that it would take practice before they look perfect like hers, my kids devoured them when I got home. And grandma asked me to come back and make them again. To me, that's what baking and sharing is all about.
Now it's my turn to give grandma a tall, plastic bucket overflowing with family tradition and sweet memories that will spread farther than a handful of flour tossed into the South Dakota wind.
---
Grandma Janet's White Cookies
2 cups white sugar
1 cup vegetable shortening (not butter-flavored)
2 eggs
1 teaspoon vanilla
1 cup sour cream, room temperature
1 teaspoon baking soda
6 1/2 cups flour
1 teaspoon baking powder
White sugar to sprinkle on top of the cookies
Flour for rolling out the cookies
Prep: Bring the eggs to room temperature, approximately 30 minutes. At the same time, measure 1 cup of sour cream into a medium bowl and stir in 1 teaspoon of baking soda. The sour cream will swell as the soda dissolves.
Make the dough: In the bowl of an electric mixer, beat white sugar and shortening together until creamy.
In a separate bowl, vigorously stir eggs with a table fork or small whisk until well beaten. Add to the sugar mixture and beat on medium-high until combined.
Spoon sour cream into the batter and add vanilla. Beat on medium-high for 3 minutes, turning off the mixer a few times to scrape down the sides of the bowl.
Into a separate large bowl, dump 6 1/2 cups of flour and 1 teaspoon of baking powder, stirring so the powder is dispersed throughout. Add the flour to the cookie batter 1 cup at a time, beating on medium-low speed after each addition until all the flour is incorporated and the dough is stiff. If it's not firming, sprinkle in more flour until stiff. Depending on the mixer's power, you may need a thick wooden or heavy metal spoon to stir in the last few cups of flour by hand.
Cover the bowl with plastic wrap and refrigerate at least two hours or overnight. The batter is ready when it's firm and doesn't stick on your finger. If the dough remains sticky, add a little more flour.
Roll out and bake cookies: Preheat oven to 350 degrees. On a heavily floured surface, roll a handful of cookie dough into a flattened 1/8-inch thick sheet, dusting with flour to prevent sticking.
Cut the cookies using a lightly floured 2- or 3-inch round biscuit or cookie cutter, turning the cutter slightly as you lift it off the dough. Slide a lightly floured spatula under each cookie to ease it from the surface and transfer to a cookie sheet, lining cookies 1 inch part. (If the cookie sticks to the counter, there wasn't enough flour on the rolling surface so add more next round.)
Scatter sugar onto the tops of the cookies. Bake 7-8 minutes. The cookies go from white to golden brown in a matter of seconds so watch closely in the last minute. The whiter the cookies, the softer they are in the middle. For a crisper cookie, bake 8-10 minutes, removing from oven as they turn darker brown.
Transfer to cooling rack. Repeat in batches until the dough is gone. Makes approximately seven dozen cookies.
Staci Perry blogs at www.RandomSweetnessBaking.wordpress.com. She is also the corporate communications manager for Daktronics in Brookings.