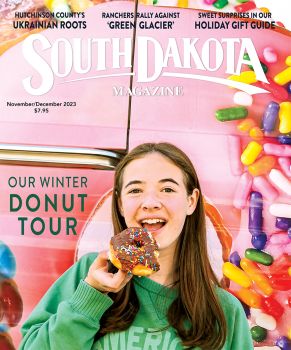 Subscriptions to South Dakota Magazine make great gifts!
Subscribe today — 1 year (6 issues) is just $29!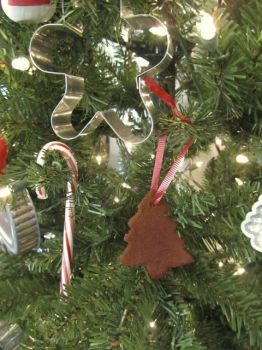 Have Yourself a Crafty Little Christmas
Dec 13, 2012
Once upon a time, I thought I liked to be crafty. I made wreathes and rag dolls and stitched ornaments, glued bits and bobbles, painted and sanded. But something was always off. Instead of handmade charm, my results always seemed that they would be more at home on the Island of Misfit Junk. I was never completely pleased with what I accomplished. So, I gave it up.
These days, I will occasionally pull out the glue gun and bring some inner vision to life. Sometimes, it works for me. Sometimes it doesn't. I don't get hung up on it. Mostly, I stick to simple crafts that don't take a lot of time, money or thought. That is where these Cinnamon Applesauce Ornaments come into play. With minimal ingredients, fuss and muss, I have a little handmade something that (in my opinion) actually looks better when it is a little imperfect.
The ornaments can be a fragrant addition to the Christmas tree, a seasonal air freshener in the car, or decorated with paint, glitter or markers as gift tags. I get lazy and just use one cookie cutter, but any variety of shapes would work. (Hearts make a nice Valentine's Day surprise, too.) They are simple enough that even the little people can have a hand in the crafting. Best of all? Unlike baking and decorating cookies, there's no holiday calories in crafting.
---
Cinnamon Applesauce Ornaments
Combine equal parts ground cinnamon and applesauce together. I used my mixer, but if I would have done it by hand, I could have counted it as an upper body workout...at least for my stirring arm.
Roll the dough out to about 1/4" thickness. You may need to dust the surface with a little additional cinnamon to keep the dough from sticking while rolling. Use the cookie cutter of your choice to cut ornaments from the dough. With a straw, cut a hole in the ornament for hanging ribbon.
Arrange ornaments on cookie sheets lined with parchment or silicone baking mats and bake at 200 degrees for 2-4 hours (time will depend on thickness of the dough). Rotate cookie sheets (turning front to back and switching racks in the oven) every hour or so. Alternatively, arrange ornaments on parchment or wax paper and allow to dry at room temperature for 2 to 3 days.
Thread lengths of ribbon (I just used curling ribbon, but silk or satin ribbon is pretty.) through the pre-cut hole and tie as hanger.
Fran Hill has been blogging about food at On My Plate since October of 2006. She, her husband and their dog, Ace, reside near Colome.