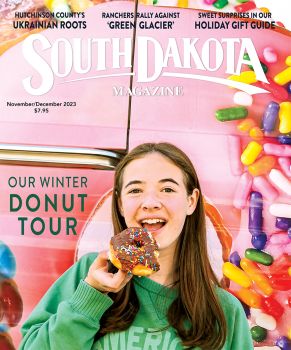 Subscriptions to South Dakota Magazine make great gifts!
Subscribe today — 1 year (6 issues) is just $29!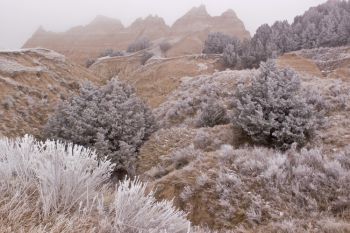 Coldlands Beauty
By Katie Hunhoff
The Badlands are a solitary destination even in temperate seasons, but frigid temperatures ensure more privacy. Photographer Carl Johnson likes the Badlands for its seclusion, in summer or winter.
Johnson has explored the Badlands since he was a kid living in Rapid City. Now a professional photographer in Anchorage, Alaska, he still comes home to photograph and explore the unique landscape.
His fascination with the Badlands grew from his early interest in paleontology and mineralogy. He searched canyons and gullies throughout the Black Hills for rocks and fossils. At age 10 he showed some of his finds to the professors at the South Dakota School of Mines and Technology.
"It's an island of strangeness in the middle of the prairie, and so unique and isolated. Once you're there, there are so many unique places to go off the road system of the park. It's an otherworldly place you can explore for the sake of exploring or to get your creative juices flowing. It's great for inspiration."
Johnson's forays in the Badlands, and other favorite haunts like Black Elk Peak and Grizzly Bear Creek fostered a love for wild places. Photography came, unexpectedly, when he joined the Navy after high school. He began working as a photojournalist while serving as ship's photographer for the U.S.S. Haleakala and U.S.S. David R. Ray, photographing everything from re-enlistment ceremonies to missile firings. He continued taking photos while attending the University of Minnesota. A stint working at the Boundary Waters in northern Minnesota got him interested nature photography.
He admits that as a youngster, he didn't fully appreciate the benefits of solitude in the outdoors. Years later he read Whitman, Thoreau and Sigurd Olson. "They made me think about the outdoors in ways that hadn't occurred to me, and it changed how I see wilderness and what I do with my photography."
When searching for Badlands wildlife Johnson doesn't just capture an image, but tries to understand and picture the animal in the place where it lives. "You see things more holistically when you combine that understanding with a photographic vision," he says.
The wide-open spaces in the Badlands don't provide a lot of cover while searching for wildlife. "A lot of it is just luck. For example, I was photographing some rolling hills and looked over and saw a coyote," he says. "Otherwise, a lot of it is understanding the subject and how to behave. And the luck factor, that's important."
Johnson recently married an Anchorage native, Michelle. His family has left South Dakota, but he still returns home to the Badlands. "There is something wild and open and inviting there," he says.
Editor's Note: This story is revised from the January/February 2009 issue of South Dakota Magazine. To order a copy or to subscribe, call (800) 456-5117.