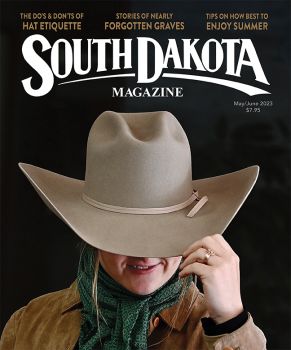 Subscriptions to South Dakota Magazine make great gifts!
Subscribe today — 1 year (6 issues) is just $29!

Cooking with South Dakota's Sweetest Crop
By Jennifer Thom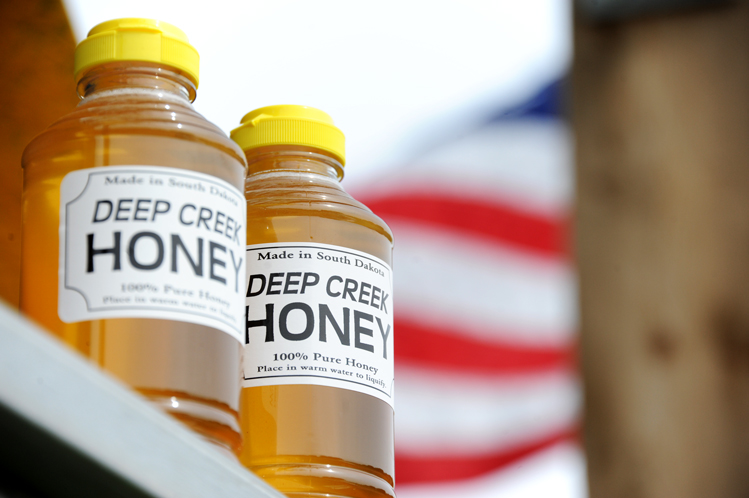 South Dakota is consistently among the nation's top honey-producing states. Beekeepers collected 19 million pounds of honey in 2015.
South Dakota is always among the nation's top honey-producing states. In 2015, beekeepers collected 19 million pounds of honey from 290,000 colonies, second only to North Dakota. Traveling up to 12 miles a day, bees gather nectar and return to the hive, where it's mixed with enzymes to create honey. The bees deposit the honey into combs and cap it with beeswax. There it stays until the beekeeper scrapes the caps off and spins the combs, letting centrifugal force extract the honey. The lifetime work of 5,000 bees fills a pint jar to its brim with honey.
Contrary to common belief, bees are sweet unless they feel threatened. Then they sting, and ironically, stinging ends a bee's life.
"It's the supreme sacrifice," says beekeeper Bob Smith. Hundreds of school kids toured Smith's honey farm, Skunk Creek, near Hartford, and suffered nary a sting. Once, Smith accidently got enough bees angry that he suffered 17 stings on his ankle. "It puffed up as big as a football," he recalls. "I was wearing brown socks and they went for the dark color."
Bees are drawn to darker colors as a source of nectar and a stinging target. That's why you see beekeepers in white outfits when they're working with the hives.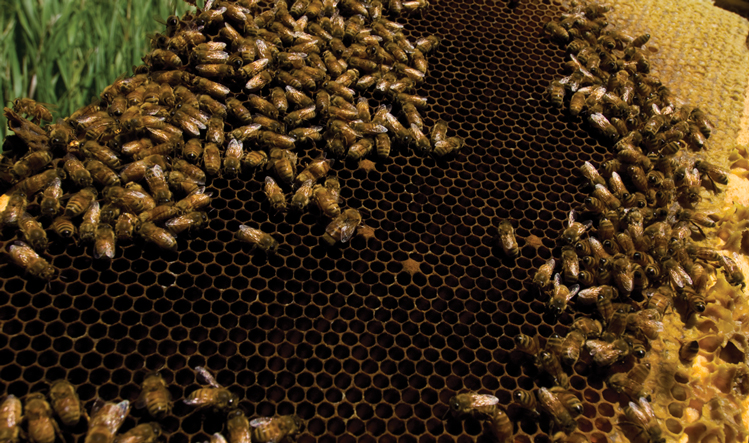 Bees travel up to 12 miles a day to gather nectar before returning to the hive. Photo by Greg Latza.
Smith's bees dined on pasque flowers in April. As spring turns to summer, bees harvest nectar from dandelions, sweet clover and alfalfa. Bees will also forage sunflowers and wildflowers. Even weeds as awful as Russian thistle can be the start of sweet honey.
West River bees, including those housed by Martin beekeepers Mary and Gary Schmidt in their 1,600 hives, produce some of the mildest honey in the world, thanks to the wide expanses of alfalfa and clover available to the bees. "We could sell it as gourmet honey," Mary says. Like other pleasures worth savoring, such as diamonds, honey is graded. The type of flowers the nectar is from determines the color of the honey, which in turn determines the grade.
South Dakota cooks can choose water white (the most sought after, it sells for a premium), white, light amber, amber and dark amber grades. The darkest honey produced is called non-table grade; bakeries use it. Light amber is the honey most often found on supermarket shelves.
Light colored honey, delicious on warm toast and crisp English muffins, has a more delicate flavor. Cooks who enjoy baked goods with a distinct honey taste should choose a darker honey.
"Baking with honey is a touchy-feely thing," Mary explains. "When I taught my girls to bake we used sugar at first because I didn't want them to get discouraged." It's one of the few times that Mary has intentionally used sugar instead of honey.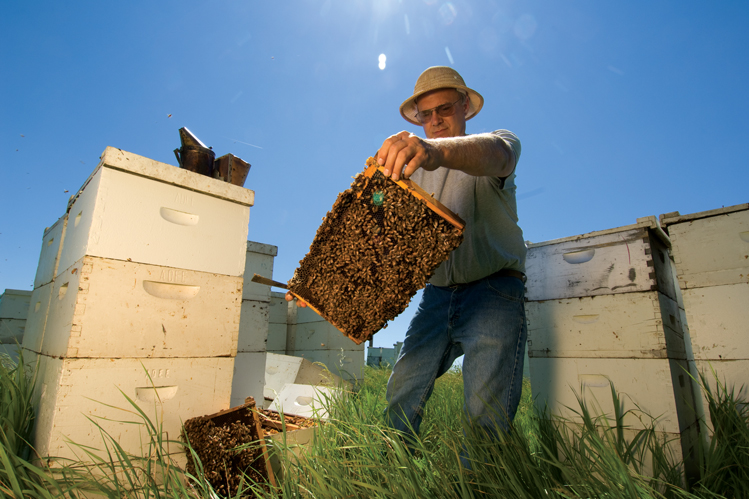 Richard Adee, whose Adee Honey Farms is headquartered at Bruce, operates the largest honey farm in the world, with more than 80,000 hives and offices in four states. Photo by Greg Latza.
"I used to be gung ho about getting people to switch, and it scared them off," Mary recalls. "People thought I was going off the deep end."
She pauses, and then decides to go ahead even though I might also conclude she's from honey's lunatic fringe. "But why use a sweetener with no nutritional value? Sugar cane is processed and bleached until nothing is left but the sweetness."
Maybe I'm nutty (I did experiment with bee pollen in high school so I could run a faster mile) but I agree. In contrast to sugar, there's nothing fake about honey. It's a natural sweetener that contains trace amounts of every vitamin except E.
If baking with honey is new to you, it's best to start with recipes that specifically call for honey. When you want to experiment, start by replacing up to one half of the sugar in a recipe with honey. Because honey has more sweetening power than sugar, replace one cup of sugar with 1/2 cup or less of honey.
If you're replacing granulated sugar with honey, reduce the liquid in the recipe by 1/4 cup for each cup of honey you use. In baked goods, add 1/2 teaspoon baking soda for each cup of honey used, and reduce the oven temperature by 25 degrees.
Because bacteria and mold can't grow in honey, a jar keeps indefinitely without refrigeration. Baked goods made with honey, like Mary's Banana Nut Bread, stay fresh longer than those made without honey.
The good points about honey go on and on. "Honey can take on other flavors," Smith says, "and that makes it great for spreads and toppings."
Honey Peanut Butter Hot Fudge, Honey Mint Hot Fudge and Brandy Honey Nut ice cream toppings are just a few of Smith's creations. In business terms, he's adding value to honey. By any other definition, Smith is concocting delicious treats. Four gallons of the Brandy Honey Nut topping were once devoured at a Governor's Hunt. "I'm not a gifted cook, but these ideas just come to me," he says. "If I don't like it, I figure no one else will."
Skunk Creek spun honey is spreadable, like tub margarine, but infinitely more satisfying on a biscuit than any margarine. The honey is pulled over paddles like taffy, and then Bob adds natural flavors such as cinnamon, apple and apricot.
Smith also adds honey to turkey dressing, spaghetti sauce and chili. But don't bother asking for a recipe. "I don't measure it out. I just add it to taste."
It's that touchy-feely thing again. Using honey isn't a calculated, measured operation. It seems fitting that South Dakota honey remains an unmeasured reward we receive from living in a wide-open state that's fragrant with clover and softened with wildflowers.
---
Skunk Creek Honey Farm's Honey Popcorn Crunch
1/2 cup honey
1/2 cup melted butter
3 quarts popped popcorn tossed with 1 cup nuts (the nuts are optional)
Blend honey and butter; heat until well blended. Pour over popcorn mixture. Mix well. Spread over cookie sheet in a thin layer. Bake at 350 degrees for 10 to 15 minutes until crisp.
---
Mary Schmidt's Banana Nut Bread
1/2 cup butter
3 crushed ripe bananas
1/4 cup nuts, chopped
3 teaspoons baking powder
3/4 cup honey
2 eggs
2 cups flour
Cream the butter and honey. Add the eggs and mix well. Add the bananas; beat well. Sift the flour and baking powder and add to mixture. Add the nuts and beat well. Bake in a greased 9 x 5 bread pan at 350 degrees for one hour.
---
Mary Schmidt's Oatmeal Chocolate Drops
1 cup honey
1 stick oleo
1 teaspoon vanilla
3 1/2 cups oatmeal
4 teaspoons cocoa
1/2 cup peanut butter
1/4 cup milk
Combine honey, vanilla, cocoa, milk and oleo in a saucepan. Bring to a full boil, stirring constantly, and boil for three minutes. Remove from heat and stir in oatmeal and peanut butter (chopped peanuts may also be added if desired). Drop by teaspoonfuls on wax paper and let cool. If desired, chill to harden.
---
Mary Schmidt's Eier Schmalz (Egg Pancakes)
2 cups flour
1 Tablespoon honey
1/4 teaspoon salt
8 eggs
1 1/2 teaspoons baking powder milk
Beat the above ingredients and add enough milk to make a very thin batter. Pour into a greased, hot skillet and let cook until somewhat set. Cut in half and turn over. While it's finishing cooking, cut into smaller pieces. Serve with honey or honey maple syrup. To prepare honey maple syrup, stir together one quart honey, 3/4 cup hot water, and one teaspoon maple flavoring until well mixed. Can be served on waffles, pancakes or French toast.
A note from experienced honey users: To keep honey from sticking to measuring cups, spray cups with cooking spray or rinse with hot water. If oil is used in the recipe, measure it before the honey. Stored honey will crystallize eventually; simply place the jar, lid removed, in very warm water until the crystals dissolve.
Editor's Note: This story is revised from the May/June 1993 issue of South Dakota Magazine. To order a copy or to subscribe, call (800) 456-5117.