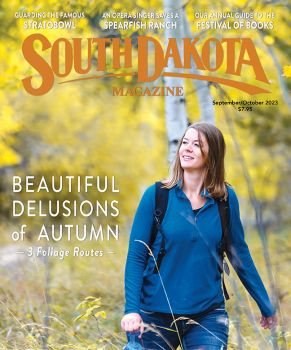 Subscriptions to South Dakota Magazine make great gifts!
Subscribe today — 1 year (6 issues) is just $29!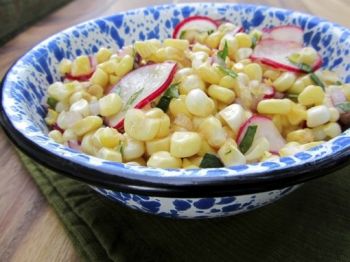 Knee-High by the Fourth of July
Jun 28, 2012
Recently, several errands have taken me back and forth across this great state, and during my drives, the fields bordering the roads have captured my attention. My eyes can't help but take in the wonder of the quilt of the farmed landscape. Crops of wheat are turning golden, swaying in the wind and very close to harvest. A few much needed showers have produced purple alfalfa fields ready for a second cutting of hay and dotted with big round bales of the first. And, of course, there is the corn.
Those regal stalks have shot up with our current heat and humidity. In most places, the old adage of "knee-high by the Fourth of July" might only apply if you are the Jolly Green Giant. The crops look good to me. Beautifully green. Strong and tall. Lush and amazing.
Let's hope Mother Nature provides the moisture we need to continue to nourish these awesome fields and produce a great crop. Personally, I can't wait for the sweet corn. Our local crop is still a few weeks away, but a fresh, crisp salad is an incredible way to enjoy those sweet kernels. Tossed with smoky cumin, the tartness of lime, and the heat of radishes and jalapenos, anyone that is knee-high by the Fourth of July should love Fresh Corn and Radish Salad.
---
Fresh Corn and Radish Salad
(adapted from Food and Wine Magazine)
2 tablespoons fresh lime juice
1 small jalapeno, seeded and finely chopped
1 tablespoon agave syrup
1/4 teaspoon cumin
2 tablespoons olive oil (more or less...original recipe called for 1/4 cup, but I thought it was too much)
kosher salt
freshly ground black pepper
4 cups fresh sweet corn, cut from the cobs
6 medium radishes, thinly sliced
1/2 cup flat-leaf parsley, coarsely chopped (cilantro would be a good flavor pairing, too)
1/4 small red onion, finely diced
Whisk together lime juice, jalapeno, agave, cumin and olive oil. Season with salt and pepper. In a large bowl, combine the corn, radishes, parsley, and red onion. Toss with the dressing. Season with additional salt and pepper, if needed. Best served at room temperature, and be warned that the radishes may bleed if the salad is dressed too far in advance of serving. Serves 4.
Fran Hill has been blogging about food at On My Plate since October of 2006. She, her husband and two dogs reside near Colome.