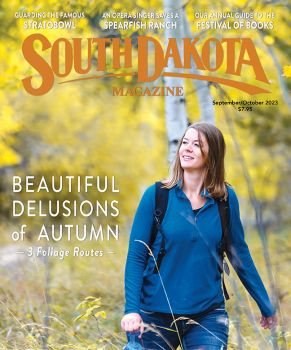 Subscriptions to South Dakota Magazine make great gifts!
Subscribe today — 1 year (6 issues) is just $29!

A Special Occasion Sandwich
Jun 8, 2017
By Fran Hill
I live in a small town without a grocery store. That is pretty common in the rural areas of South Dakota, and I am fortunate that neighboring towns offer shopping options. However, that doesn't stop a food-obsessed person like me from adding grocery stores to my list of errands every time I am out of town. I carry collapsible coolers in my car and have favorite items in stores that are two to three hours away.
One of those stores is home to an in-store bakery that makes potato rolls that I simply can't resist. These soft, pillowy buns are delicious as simple dinner rolls, and even more fabulous toasted and used in sandwiches. My only complaint is that they are sold in packages of eight. As a family of two (and three dogs), eight sandwich buns mean a lot of sandwiches in order to use them before mold takes over.
After my most recent potato bun purchase, I made it my life's mission to sandwich everything. We grilled burgers, and another night we had our favorite lamb burgers. Chicken was also grilled and tossed in hot sauce for buffalo chicken sandwiches. We had tuna sandwiches, and even talked about how we hadn't had fried bologna sandwiches in forever. However, I think my best use of the soft potato buns was Crab Cake BLTs for Sunday brunch.
Another purchase that I make is tins or tubs of pasteurized lump crabmeat. Sold in the refrigerator section of markets with decent seafood options, this sweet crab has a fairly long shelf life, and is nice to have on hand when you want something special. I don't know if Sunday brunch is truly a special occasion, but in my book, it should be.
I roasted bacon on a rack over a cookie sheet in the oven while prepping the crab cakes. Because mine were burger-sized, I slid the browned crab cakes onto that same rack and into the oven for a few minutes while I waited for Hubs to come home from Sunday morning chores. This ensured that they were cooked through even with the extra heft.
The toasted potato buns were spread with my version of spicy mayo. (Just whisk Sriracha sauce into some purchased mayo.) It complements the sweetness of the crab and smokiness of the bacon. Fresh lettuce adds crispness, and slices of tomato are a must, even if those from the garden are still a few weeks away. Crab Cake BLTs are probably one of my best uses for potato buns.
---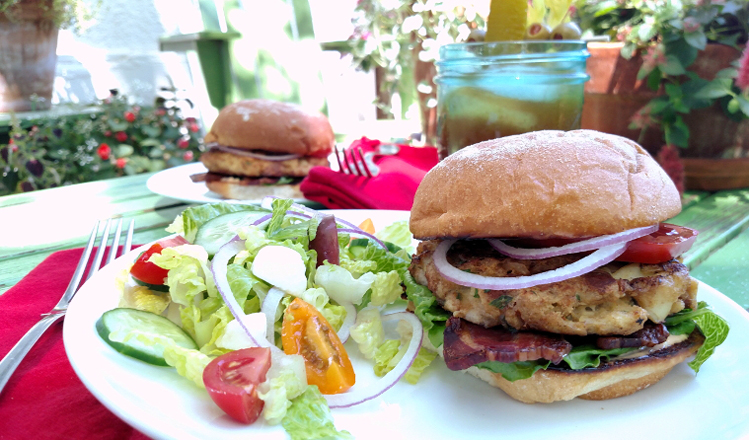 A Crab Cake BLT on a toasted potato bun makes for a special Sunday brunch.
Crab Cakes
1 cup lump crab meat, picked over
1/2 cup fresh breadcrumbs (Last time I made these, I threw a couple of hot dog buns into the oven just until toasted and then cubed up for the breadcrumbs. In other words, use what you have.)
1 large egg
2 tablespoons heavy cream
several dashes of hot sauce (to taste)
2 teaspoons Worcestershire sauce
2 tablespoons fresh parsley, chopped
2 teaspoons grated onion
2 tablespoons unsalted butter
Preheat oven to 350 degrees. Combine breadcrumbs with heavy cream and allow to absorb into mush. Add beaten egg, hot sauce, Worcestershire, parsley and onion. Stir in crabmeat, being careful not to break up too much. You want chunks of the crab for the best flavor in the cake.
In a large, heavy skillet, heat the butter over moderate heat. Form patties with the crab mixture and carefully place in hot butter. The patties will be loose, and there is not a lot of filler in these cakes. I like that the crab is the focus. Cook crab cakes until golden on each side and then slide onto a baking sheet and into a warm oven for up to 15-20 minutes. (Yield: 4 burger-sized crab cakes or 12 small appetizer portions…can skip the oven bake for smaller cakes)
Fran Hill has been blogging about food at On My Plate since October of 2006. She, her husband and their three dogs ranch near Colome.