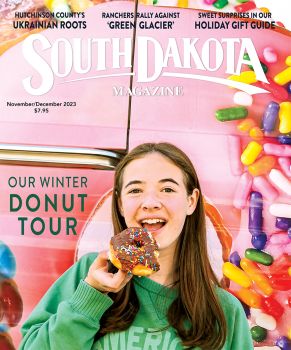 Subscriptions to South Dakota Magazine make great gifts!
Subscribe today — 1 year (6 issues) is just $29!

Turkey With A Twist
Nov 24, 2016
By Fran Hill
I love Thanksgiving. Just the thought of turkey, dressing, mashed potatoes, gravy and cranberries makes my mouth water. When it comes to my menu, I am a traditionalist. I'm not interested in any new amazing twists to my recipes. Basic roasted butternut squash or sweet potatoes, Brussels sprouts and green beans don't need any fancy sauces. After all, we have gravy. Lots of delicious gravy.
Likewise, I don't need any you-won't-believe-how-good-this-is makeovers for my leftovers. I think that a hot turkey sandwich smothered in — you guessed it — gravy, or one layered with dressing and cranberries on a sweet dinner roll is perfection. And who doesn't love turkey soup simmered with homemade noodles a couple of days later? Yep. I am content with the basics of Thanksgiving dinner.
However, sometimes my thankful heart is just a little bit bigger than my stomach. My bird may barely fit into the oven, and even after passing the carved turkey around the table yet one more time, there is still a lot of roasted poultry left for the coming days. That's when I get creative.
Pesto is one of my favorite summertime staples, and tossed with diced, cooked turkey, it creates a fresh take for leftover sandwiches. Roasted red peppers also brighten the flavors and make it one more thing for which to be thankful.
---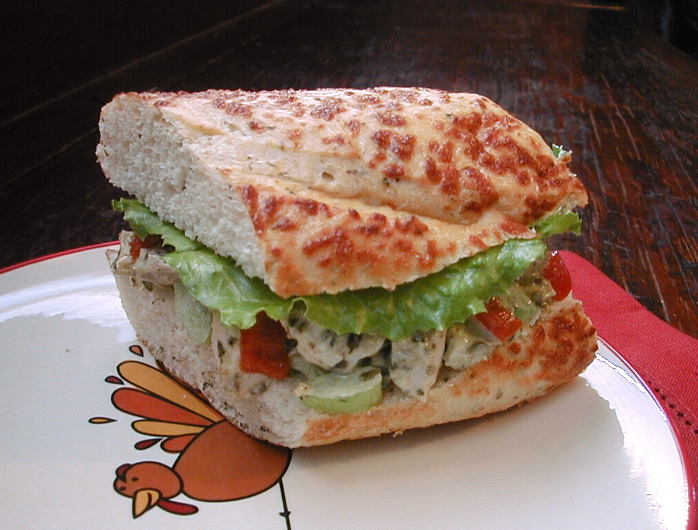 If you've had enough of the traditional Thanksgiving fare, turn leftover turkey into a fresh and flavorful sandwich.
Pesto Turkey Salad Sandwiches
1/4 cup mayonnaise
1/4 cup plain yogurt
1/4 cup pesto sauce
3/4 tablespoon fresh lemon juice
1/4 teaspoon salt
1/4 teaspoon black pepper
2 cups cubed cooked turkey
1/2 cup diced celery
focaccia bread, cut in half horizontally, toasted, and sliced
3-4 tablespoons chopped roasted red peppers (from bottle)
romaine lettuce leaves
Whisk first 6 ingredients in a large bowl. Stir in turkey and celery.
Spread 1/2 cup of salad onto half of bread slices. Top each serving with chopped roasted red peppers, lettuce leaf, and remaining bread. (May sub rotisserie chicken for the turkey for a quick year-round alternative. Makes 5 sandwiches.)
Fran Hill has been blogging about food at On My Plate since October of 2006. She, her husband and their three dogs ranch near Colome.