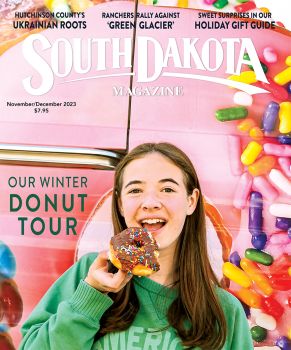 Subscriptions to South Dakota Magazine make great gifts!
Subscribe today — 1 year (6 issues) is just $29!

Gentlemen, Crank Your Engines
Jul 8, 2011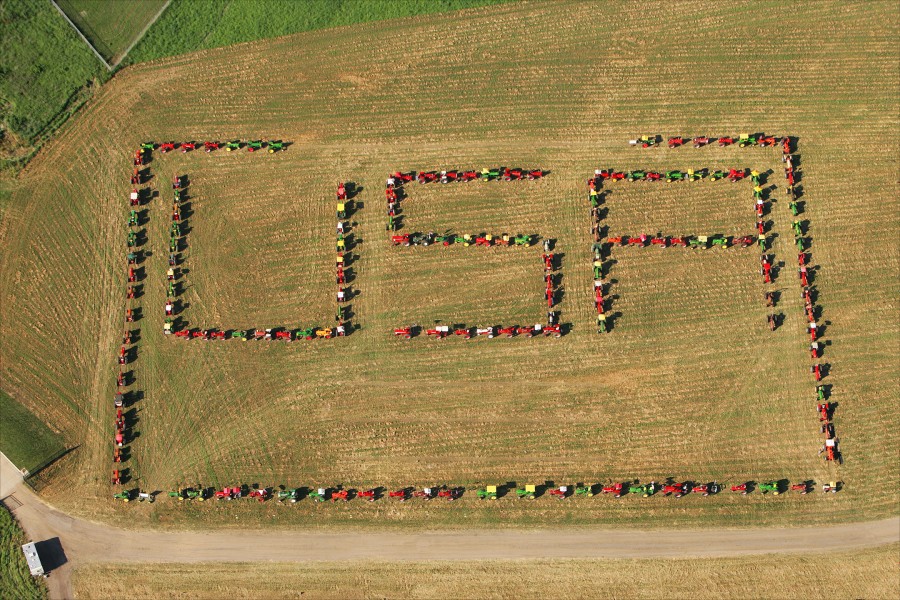 Members of the Tri-State Old Iron Association showed their patriotism yesterday at Yankton's Paddlewheel Park. Photo by Dave Tunge.

Today is the kick-off of the Tri-State Old Iron Association's annual ride. Yesterday, Yankton aerial photographer Dave Tunge shot this patriotic photo from his Piper Cub.
The annual ride may be the slowest procession on wheels, paling speed-wise to South Dakota's more famous Harley and Corvette rallies. But antique tractor parades are becoming a summertime tradition in South Dakota, and the granddaddy of them all is the Tri-State Old Iron Associations annual ride on the second weekend of July.
The tractor-lovers gather in Paddlewheel Park near the Missouri River shores in east Yankton. Over the weekend, they embark on two long rides — on in Nebraska and the other in South Dakota. Tractors must be able to cruise at 12 miles per hour to qualify. "Remember, it's a ride, not a race," reminds the leader in striped overalls and a seed corn cap.
Many of the tractor owners are current or retired farmers who, as kids, probably grumbled about having to steer the tractor once around the North Forty. Now they ride all day just for fun. Some tractors are equipped with an extra seat for the wife or girlfriend. One enterprising fellow rigged a cushy sofa to his three-point hitch so "the missus" could ride along in style.
A few tractors appear as if they just came from the cornfield, but most look better than the day they left the factory, ablaze with the bright colors used years ago by manufacturers to differentiate their brands. In the evenings everyone is welcome to browse the tractors at Paddlewheel Point, where more than 200 will be parked in neat rows. The public can also see and hear the tractors at 6 o'clock Friday night when they parade through historic downtown Yankton.
To stay abreast of the Tri-State Old Iron Association's activities, follow the website of WNAX Radio, a pioneering farm radio station that went on the air in Yankton in 1922 after getting a license from President Herbert Hoover. WNAX is a major sponsor of the tractor ride.