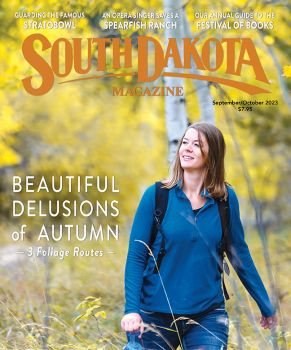 Subscriptions to South Dakota Magazine make great gifts!
Subscribe today — 1 year (6 issues) is just $29!

Dark Anniversaries For Lakota-Dakota-Nakota
Dec 27, 2011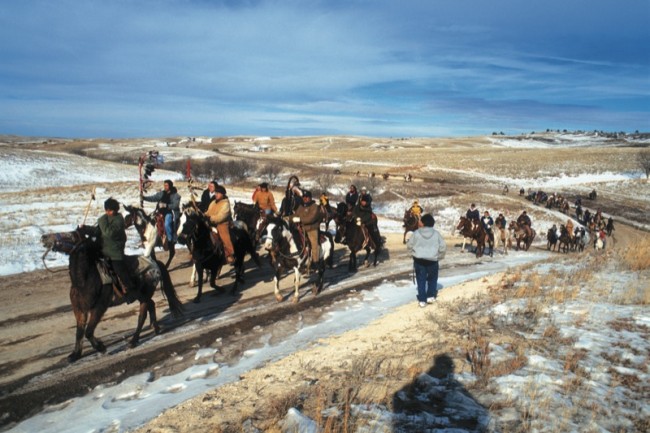 The Big Foot Memorial Ride retraces the path of Chief Big Foot and his band in the winter of 1890. Photo by Greg Latza.
December is a difficult month for the Lakota-Dakota-Nakota people. Today I am grateful as we have been blessed with several mild days. This time of year in the Great Plains is usually very harsh. Still, we should always be ready for those weather changes which can quickly bring subzero temperatures and white-out blizzards.
Despite the national holiday hype, many Lakota-Dakota-Nakota people do not view this month as one of celebration. December brings dark anniversaries for my people. I am one who believes in the memory capacity of our DNA (deoxyribonucleic acid). Our ancestors were traumatized with violence and our cells hold ancestral pain. I do believe that is why so many of us still have unprocessed inner issues and emotions that sometimes cripple us as human beings.
On December 15, 1890 our Hunkpapa Chief Sitting Bull was murdered at his home on Standing Rock by local Indian Police. On December 26, 1862 there were 38 Dakota men executed in Mankato, MN by order of President Abraham Lincoln. On December 29, 1890 our Hunkpapa Chief Big Foot, along with most of his band, was violently murdered in the cold at Wounded Knee Creek. In my opinion, residual feeling of the acute horror which surrounded these painful events over a century ago is still carried in our cellular memory.
There are events which take place to help us cope. Two organized memorial rides held during the month of December are designated to pray for healing. The site www.wolakota.org says "One of the most successful and challenging rides remains the Big Foot Memorial Ride initiated in 1986, after one of the original founders had a dream to retrace the historical trail taken by Chief Big Foot and his band in the winter of 1890 which tragically ended in the Wounded Knee Massacre. This ride continues each December."
In addition, the Dakota 38 + 2 Memorial Riders brave a 330 mile trail that began on December 10 at the Lower Brule Reservation and finished at the execution site in Mankato, MN on December 26.
More information can be found on the Facebook pages of both these annual memorial events. Please support the riders as they are on the last few days of their 2011 commitment to the Lakota-Dakota-Nakota people. I am grateful to all who participated in these memorial events.
Vi Waln is Sicangu Lakota and an enrolled member of the Rosebud Sioux Tribe. Her columns were awarded first place in the South Dakota Newspaper Association 2010 contest. She can be reached through email at sicanguscribe@yahoo.com