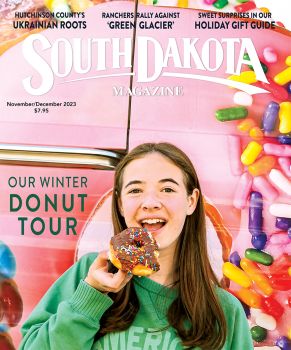 Subscriptions to South Dakota Magazine make great gifts!
Subscribe today — 1 year (6 issues) is just $29!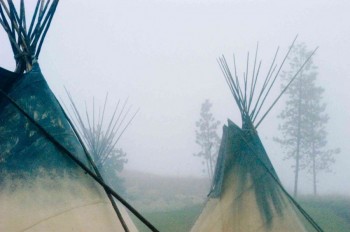 Eavesdropping On History
Apr 16, 2013
A treasure trove for historians lurks in the basement of Dakota Hall at the University of South Dakota. The South Dakota Oral History Center contains thousands of recordings that document bygone ways through conversations with ordinary people.
I spent an afternoon there recently, orange headphones clamped to my head and notebook at the ready, listening to interviews conducted with regular people in their living rooms and at their kitchen tables years before my birth. Clocks long stilled ticked and chimed in my ears; grandchildren now grown raced around making a racket, only to be scolded and sent in the next room.
Between the interruptions, I listened — and learned what life in South Dakota used to be like. Interviewees were from a wide range of ethnicities and represented every county in South Dakota, though the collection is especially rich in Native American history. During my visit, I learned about using horses to excavate the Carthage bank's basement, hard times in the early days of Miner County and of Powell, a Welsh settlement in Edmunds County that was wiped out by tornado in 1911. Through the headphones, Angelique Pretty Weasel of Marksville described skunk medicine and moccasin making, and Ione Lawrence, a great-great granddaughter of Chief War Eagle, remembered nursing the sick through the influenza epidemic of 1918.
There's a wealth of information on the center's bookshelves full of reel-to-reel tapes, but it's not always easy to hear. Many of the interviews were conducted in the late 1960s and early 1970s, at a time when recording equipment was still somewhat primitive. Transcripts are available for some of the interviews, but not all. Jennifer McIntyre, the Oral History Center's Collections Digitizer, offered to tweak the audio she'd digitized from the original reel-to-reel tapes to make it more easily understood, but I didn't find it necessary.
Conducting an oral history interview is much easier now that many cell phones can be used as recording devices. Oral History Center staff members periodically offer a class that gives tips to would-be interviewers. The most recent class was cancelled due to weather, but it'll be rescheduled for sometime in late April or early May. Contact 605-677-6386 or sdohc@usd.edu to learn more.
The Oral History Center is open from 8-5 Monday through Friday. Currently housed in Room 12 of Dakota Hall at USD, the collection is scheduled to move to the I.D. Weeks Library later this year. To find out more about the South Dakota Oral History Center or to search its online database, visit their website. Highlights from their collection are regularly featured on their blog and Facebook page.