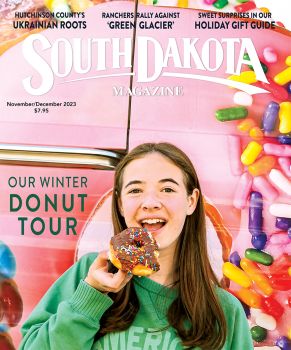 Subscriptions to South Dakota Magazine make great gifts!
Subscribe today — 1 year (6 issues) is just $29!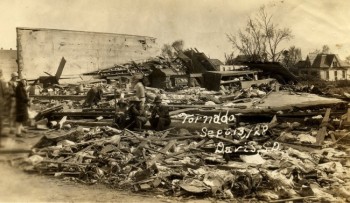 The Day Davis Nearly Disappeared
Mar 28, 2012
In the last 15 years, powerful tornadoes completely destroyed the town of Manchester in Kingsbury County, and nearly wiped Spencer off the map. In 1928, the town of Davis in Turner County almost met the same fate.
Tom Firney of Scotland sent us a photo showing the aftermath of the late summer storm. He found it while combing through old family photographs and planned to simply throw it away, but something about the compelling image made him hold onto it. I invited him to send it to our Yankton office.
The photo shows three people sitting on a curb, surrounded by piles of debris. Townspeople (presumably) are in the frame, surveying the damage. A note written on the back says, "Mamma and Dad were over Sept. 14, and said it was a pitiful sight."
That day – September 13, 1928 – the town of Davis fell victim to a tornado outbreak in southeastern South Dakota and northeastern Nebraska that killed eight people and caused over $1 million in damages. At the time, 250 people lived in Davis. Almost half of them were injured.
Much of the damage occurred just across the Missouri River in Nebraska, where a twister demolished four country schools as it headed toward Sioux City. At the first schoolhouse, a nearby farmer who was watching the storm ran to the school and helped the teacher herd the children into an adjacent storm cave. Everyone survived, but the children at the next school were not as fortunate. There, the teacher told students to lie on the floor and hold hands as the powerful tornado lifted the schoolhouse and swept it away. Two students were killed. At another school, a farmer loaded his car with children and drove them to safety. He offered to take the teacher, but she refused. Her body was found after the storm with the doorknob of the schoolhouse in her hand.
The twister stopped just short of Sioux City. To many people, that justified an old Indian legend that the city is naturally protected from tornadoes because three rivers – the Missouri, the Big Sioux and the Floyd – converge there.
The event was surreal for those who lived through it. One survivor said the day "was like a person experiences when taking ether." Those who lived through the Manchester and Spencer twisters would agree.