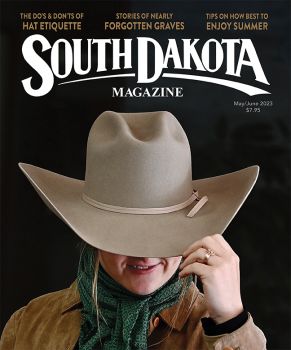 Subscriptions to South Dakota Magazine make great gifts!
Subscribe today — 1 year (6 issues) is just $29!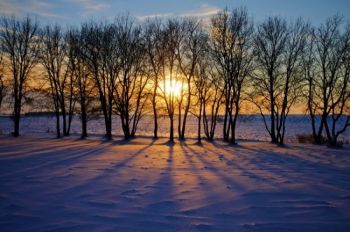 The Mood of Deep Winter
Feb 4, 2013
One of my favorite songwriters, Patty Griffin, penned a line in her song Cold As It Gets that could easily describe the mood of deep winter in South Dakota:
"I know a cold, as cold as it gets, I know a darkness that's darker than cold. A wind that blows as cold as it gets, blew out the light of my soul."
The long nights, howling wind and frigid temperatures can easily get a man down this time of year — especially when cold and flu season attacks your body on top of the tough weather. I know, because I just spent the weekend in bed suffering through a really nasty cold. By Sunday evening, I was finally feeling strong enough to go out and do a little photo hunting. It was Super Bowl Sunday, though, and if I went I'd miss at least the first half of the game. Crazy as it sounds, I didn't hesitate. I hit the road and was shooting a particularly nice sunset scene east of Centerville about the time Baltimore scored their first touchdown.
As I look back over the photos of winter scenes that accompany this column, I'm reminded of a little of that same craziness for "getting the shot" in almost every photo. Take the photo at Palisades State Park, for example. If anybody was watching that evening, they'd have had a good laugh. Here was this clumsy, full-grown man slipping and sliding amongst the rocks at the bottom of Split Rock Creek only to end up lying spread eagle with his nose up against a camera on the edge of the ice for ten minutes straight. Yep, that was me.
Or how about the photo of Zion Lutheran Church with the cows in the foreground? That evening as I left work I could tell it was going to be a nice sunset. The problem was a bone-chilling wind was blowing from the northwest. So there I am standing on top of a hardened snow drift on the far side of the ditch of a county road, teeth chattering, eyes watering, all while framing up a shot of the church with cows in the foreground. I think it took a good hour to finally get warmed back up.
The rest of the photos have similar stories. I spent more time on my belly below Fort Randall Dam as well, and worked to get the sunlight to hit just right on the white, round heads of some roadside weeds up near Montrose. I dirtied the ice of Grass Lake during a January thaw to get some brilliant sunset colors over ice formations. The guy tracking ankle-deep mud all over the ice? Yeah, that was me.
So why do I keep chasing the photos? Good question. Part of it is the challenge. It's not easy to find beauty in our harshest of seasons, but then again, you'd be surprised. The sunlight is lower in the sky so the golden hour seems to last longer. The snow and ice has a cooling effect on a scene and if you can capture the warmth of the sunset against that cool blue, you can stumble across photographic magic. I think the other part of why I keep going out is that I get to see such amazing sights when the conditions are right. To be honest, there aren't a lot of things I'd rather do at this point in my life than chase a South Dakota sunset. Yep, that's pretty much me.
Christian Begeman grew up in Isabel and now lives in Sioux Falls. When he's not working at Midcontinent Communications he is often on the road photographing our prettiest spots around the state. Follow Begeman on his blog.