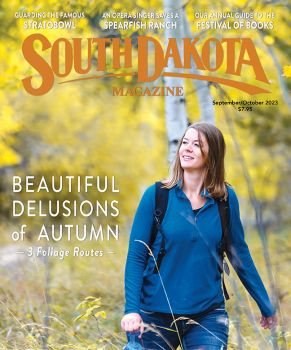 Subscriptions to South Dakota Magazine make great gifts!
Subscribe today — 1 year (6 issues) is just $29!

The Creek That Thinks It's a River
By Jeanne Richardson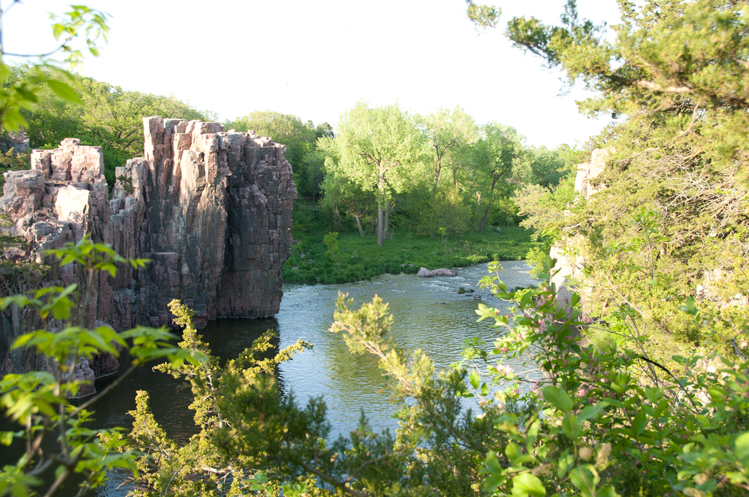 Split Rock Creek flows 55 miles through lush woodlands accentuated with quartzite outcroppings.
They call it Split Rock Creek, which is probably an accurate description as far as geographers are concerned. But who can blame some of its aficionados for considering it a river? Beautiful vistas. History. Even its own tour boat. Split Rock has everything a self-respecting river could want — and a charm all its own.
That which we call Split Rock, whether creek or river, was called Eminija before the arrival of white settlers. It springs to life in a pasture northeast of Ihlen, Minnesota, growing slowly before flowing into Split Rock Lake, formed in 1938 when the WPA (Works Progress Administration) dammed the creek south of town. One of the large rocks that protrudes from the ground on the east side of the lake is cleaved nearly in two, hence the name Split Rock. (Some believe that the split occurred over a long period of time, from water freezing, while others think lightning split the rock). Formations of that same reddish-pink stone, known as quartzite, can be found at many spots along the creek, forming the waterway's spectacular, scenic views.
The meandering creek begins its South Dakota life east of Sherman — a town that once boasted five grain elevators, a stockyard, and an opera house where Lawrence Welk kept toes tapping. But Sherman isn't what it used to be. About 1 mile west of town, Split Rock bubbles over 486th Avenue. There is no bridge, only a cement pad for the water to flow over, but it serves well enough. Most of the time.
From there the creek wends southwesterly, through Dakota farms, making its way toward Garretson and Devil's Gulch, a picturesque canyon where scraggly cedar trees and bushes cling to the quartzite walls for life. Even to the unimaginative, Devil's Gulch is a vaguely ominous place; its name derives from the eerie noises that come from its bowels as the winds blow through. Within the gulch the water lies oily and motionless, except for an occasional gurgle of life, but it is said that powerful currents rage below the surface. Some areas are reported to be bottomless.
Devil's Gulch is also known as Spirit Canyon, a name based upon Indian legend. It seems that Iktomi, one who was fond of tricks, jokes and "keeping the pot stirred" while making other spirits and men look ridiculous, was challenged by an Indian warrior, Ha-Shootch-Ga, to a tomahawk duel. Iktomi raised his tomahawk and let it fly, high into the sky, then it plummeted to earth and cut a huge, gaping gash. That was the birth of Spirit Canyon. When he witnessed Iktomi's power, Ha-Shootch-Ga disappeared.
In more recent times, relatively speaking, Devil's Gulch was visited by the outlaws Jesse and Frank James. They stumbled upon it in 1876, during their escape from the law after a botched bank robbery in Northfield, Minnesota. As a posse was closing in the brothers decided to ride in different directions. Jesse soon found himself on the rim of the gulch. Desperately he spurred his stolen horse onward, and with a Pegasus-like leap jumped the 20 foot-wide canyon. Once he was safely on the other side Jesse took refuge in a cave hollowed out of the quartzite canyon walls.
After the creek skirts Garretson's west side, it flows toward Palisades State Park, a pocket-sized park at scarcely more than 150 acres, but one of the most beautiful spots in all of South Dakota. Its name comes from the steep cliffs of quartzite that rise to heights of 50 feet or more along the creek. Some of the rock formations have been given names such as Castle Rock and Balancing Rock. The park is a paradise for hiking, picnicking, camping, fishing, swimming, rock climbing, nature walks and memory making.
Within the park's boundaries is the former town of Palisades, but all that remains is the schoolhouse, resting in a barnyard at the south end of the park. These days the school beckons not to scholars but to cud-chewing cows and spirited horses. One day it will be nothing but a memory. As unlikely as it might sound, this area was once the site of a silver mining boom. In 1886, along the shores of the Split Rock Creek and in its guardian quartzite walls at Palisades, Charles Patten discovered silver. His claim was called the Merrimac.
News traveled fast. Within two weeks 300 claims were staked out over 1,000 acres in the area. Records show that even a woman staked a claim: Mrs. Abbie Peterson filed the "Abbie Lode" on March 26, 1886.
Unfortunately, assay reports found the ore to be very low grade — about 3 ounces of silver to a ton of rock. Mining would be just too expensive. It was reported that only two people made money from silver. One was Shanny Kincaid, who charged a dollar to record a claim, and the other a young man who sold his claim for $25.
There still is a possibility of finding wealth in the Palisades, though. According to legend, a railroad paymaster once disappeared in these parts, along with the payroll entrusted to him. The paymaster was later found sitting along the railroad tracks, near Palisades, clothed only in boots and underwear. He couldn't explain his lack of clothes or where the payroll was, but he did mention something about leaving the money in a satchel in the kitchen and his clothes in a closet. His clothes were found a few years later, tucked in a rock crevice in the Palisades, but no reports ever surfaced about the money being found.
Next on the Split Rock's journey to the sea comes Corson — which some have been unkind enough to call a suburb of Brandon. You won't hear that from those with generations of roots there, going back to the Norwegians and Swedes who originally settled the area. But some of those who have made Brandon one of South Dakota's fastest growing towns might be excused for saying that — once.
On the southeast edge of Brandon lies McHardy Park, a former cow pasture with Split Rock Creek horseshoeing its way through. The land was donated to the Brandon Lions Club by Bryson and Hazel McHardy, who once lived on the banks of the creek, and the Lions in turn passed it on to Minnehaha County to develop into a park.
Near McHardy Park is a spot where, in 1879, the Split Rock showed its deadly side. Two couples set out on a trip to Beaver Creek, Minnesota, from Sioux Falls: Mr. and Mrs. Ole Thompson, and their teenage daughter, Louisa; and Mr. and Mrs. E. K. Lee, accompanied by their 9 month-old son, Clarence, (Mrs. Thompson and Mrs. Lee were sisters). The travelers easily forded the creek in their carriage on their way out, but on the return trip, after a couple days of summer rains, the travelers found Split Rock Creek swollen. They believed they could safely cross anyway. Upon entering the creek, though, the current swept their carriage downstream.
Mr. and Mrs. Thompson drowned that day. Louisa was floundering in the swirling waters when another traveler, George Eells, who was waiting on the west bank for the creek to subside so he could cross, heard her hollering. He dove into the creek and rescued her. Mr. Lee managed to struggle to safety, but his wife and their son disappeared in the creek. After rescuing Louisa, Eells noticed a baby's foot break the surface of the water. Once again he dove in, and finally found the baby. After struggling to shore, he tried to resuscitate him, but Clarence died in his arms. Mrs. Lee's body was found the next day.
Split Rock Creek, then and now, occasionally demands respect.
About 2 miles south of Brandon is a parcel of ground where, in 1857, a townsite was established by the Dakota Land Company. It was called Eminija, and included the area where Split Rock Creek empties into the Big Sioux River. Eminija's promoters believed steamboats might one day ply their way from the Missouri River, up the Big Sioux, to the site. Like so many other dreams of that era, however, that one never came to pass. Some old-timers talk about a cabin that once stood there, but no evidence remains.
Just west of the creek, in part of what was to have been Eminija, is a group of 38 dome shaped, earthen mounds, burial sites of Blood Run, a 17th century Oneota city with an estimated population of at least 5,000. In 2013, Good Earth State Park at Blood Run became South Dakota's newest state park.
All told, Split Rock Creek runs about 55 miles from beginning to end. Not long, as such things are measured. But what Split Rock lacks in length, it makes up for in character.
Editor's Note: This story is revised from the July/August 1999 issue of South Dakota Magazine. To order a copy or to subscribe, call (800) 456-5117.