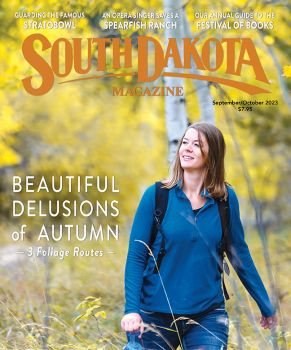 Subscriptions to South Dakota Magazine make great gifts!
Subscribe today — 1 year (6 issues) is just $29!

It Doesn't Look Like South Dakota Out My Window
Jan 3, 2012
It's just not right. January 1st is not supposed to look like October 1st, or like Kansas. Not in South Dakota, and especially not up here on the Coteau Des Prairies. Snow, lots of it, is woven into our identity. It's what we brag about. Anybody can survive and thrive at 70 degrees, but here in the land of the 5-7 zip codes, it takes more. You have to be tougher, or at least you used to have to be.
Today pheasant season ends, with not a rooster in the whole state flushed from a snow-filled cattail slough. Today a new year begins with no sledding, no snowmobiling and no need for hot chocolate. While the sunshine is nice, it can't be right.
Every kid in South Dakota grew up being prepared to wear long johns and overcoats under their Halloween costume. Every parent knows to be prepared to make the princess costume fit over mittens and stocking caps. By Halloween we are prepared for snow, by Thanksgiving we expect it. By New Years, we are buried in it. We never think about Santa driving a motorcycle, or a convertible with the top down. It's just not the way our world is designed.
Last year I finally had an indoor well that provided unlimited access to enough winter water to build an ice skating rink. It looked like this in January:
Today, absent any ability to make ice for my daughter to skate on, my donut-shaped rink (built around the fire pit) looks like this:
Late season pheasant hunting with friends in South Dakota is the outdoor hunter's ultimate experience. Wind chills get below zero. Birds hunker down in sloughs. Hunters and dogs need to climb through snow drift to get to their prey. The winter hunter's battle gear changes to water-resistant pants, duct taped legs to keep the snow out, and Mad Bomber hats. Winter hunters look like this:
This year, an end of the season hunt photo — while still capturing a great South Dakota day — is indistinguishable from an opener photo:
Essential South Dakota pickup equipment, jumper cables and tow ropes, sit by idly drawing dust:
Winter fun with snow shoes and cross-country skis just isn't happening in this tropical winter environment:
South Dakota's Black Hills include Harney Peak, the highest point between the Rockies and the Alps. At 1100 feet of vertical, Terry Peak provides better skiing opportunities than about any mountain between those same two ranges. But without snow, the annual holiday ski trip to Terry Peak in the Black Hills of years past didn't happen:

Ok – it's a new year. It will probably be a great year. In the spirit of our sainted homesteaders, we need to adapt. We need to learn how to survive in weather designed for flip-flops and beachwear instead of 1,000 gram pack boots.

I am an optimist. I'm committed to trying. But after you get past fifty, it takes a while to adjust:

Somehow, I'll figure out what to do in the outdoors until spring. Have a Happy New Year and a great 2012.
Lee Schoenbeck grew up in Webster, practices law in Watertown, and is a freelance writer for the South Dakota Magazine website.