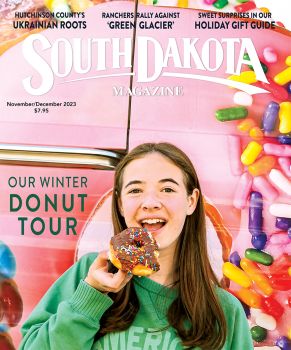 Subscriptions to South Dakota Magazine make great gifts!
Subscribe today — 1 year (6 issues) is just $29!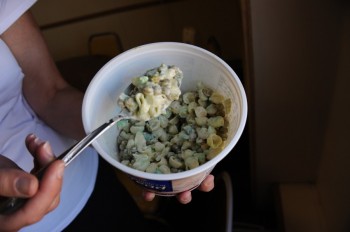 Easy Summer Salad
Jul 19, 2011
Today I ate lunch at the Open Door in Menno. It's been years since I've visited the tiny, pretty town located near the James River. My dad told me that people used to come from miles around on Sundays to drink a cold beer in Menno's very popular beer garden, which was more like a back alley than a garden.
These days people still gather on Sundays in Menno, but it's for the brunch at the Open Door, not a beer party. The restaurant is run by Rita Hoff and is open seven days a week. Rita features German food on Tuesdays so today I tried some fleisch kuechle, knoefla and saurkraut. We'll have a story on Rita's German cooking in the September/October 2011 issue.
Besides making German dishes on Tuesdays and the large brunch on Sundays, Rita features homemade kuchen and donuts on Thursdays. All her food is made fresh daily, including the seven or eight salads she had featured when I stopped today. The pea salad was my favorite and I asked for the recipe (below). Rita said it was one of her easier recipes, and most popular.
Pea Salad
2 cups cooked macaroni
1 can peas, drained
½ cup green sweet pickles
½ shredded cheddar cheese
1 cup chopped celery
1 cup salad dressing
2 tablespoons sugar
Mix all ingredients and chill before serving.