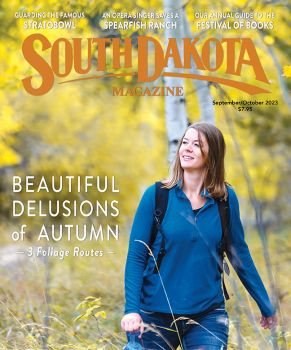 Subscriptions to South Dakota Magazine make great gifts!
Subscribe today — 1 year (6 issues) is just $29!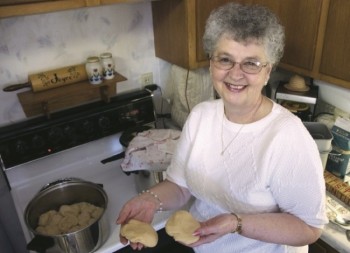 Freeman's Tasting Festival
Editor's Note: This story is revised from the March/April 2008 issue of South Dakota Magazine. To order a copy or to subscribe, call 800-456-5117.
Knowing how much food to order for the thousands who attend the family-style dinner served at Freeman's four-day Schmeckfest isn't easy. Supplies for one evening include 260 pounds of potatoes, 500 pounds of beef and 2,400 slices of kuchen.
But that's just part of the grocery list since the menu features green bean soup, noodle soup, fried potatoes, knepf, lettuce "salat" and egg, sauerkraut, stewed beef, sausage, wheat buns, zwiebach, poppyseed rolls and pluma moos. The German dishes are served fresh every night. Leftovers are against the rules of the kitchen.
Schmeckfests, or tasting festivals, are an age-old German tradition. As chairwoman of Freeman's festival in 2000 and 2007, Joyce Hofer ordered the supplies and supervised the 50 volunteers who feed a thousand people at one meal. "I've worked all the years of Schmeckfest in the basement where the meal is served," she said. "I've worked in every capacity in the kitchen and serving food."
The chairwoman must wear a comfortable pair of shoes. Her day starts at 8 a.m. with food deliveries and ends 14 hours later when the last dish is washed and dried. Experience with German cooking helps, too. "You almost have to know how to cook each dish, so if there's a question, you can answer it," Joyce said.
Schmeckfest preparations begin in December, but Joyce has been preparing for it all her life. She grew up on a farm west of Freeman, the granddaughter of German immigrants. Her older sister helped their mother with the housework, but Joyce was a tomboy. "My dad always had me out on the tractor, doing chores, milking, whatever," she said.
She also learned the German language. "I think we spoke it more often because our grandfather lived with us," she said. "I got a good part of my German from him." She wishes more children could do the same. "That is lost now with grandparents living far away, or being in nursing homes," Joyce said. "I feel it was a real benefit to me."
She and her siblings spoke German less after starting school. But she and her husband, Ray, find themselves talking German around the house. "If you don't use it, you lose it," she said.
Joyce believes German words are more expressive than English. She recalls her mother telling a story about a childhood fight she had with her brother. "It was terribly funny in German, but not so funny in English," she said.
Will Joyce be working at this year's Schmeckfest? Absolutely. She believes it encourages young people to get involved in the German culture. "I'm proud of my heritage," she said. "I want to pass it on and keep it going."
---
Schmeckfest in 2012
March 30-31 is the second and final weekend of the 54th annual Schmeckfest. In addition to great German food, the festival features culinary and historical presentations, bake sale and a musical. This year, local actors will perform The Wizard of Oz. Proceeds benefit the Freeman Academy, the local Christian middle and high school.
For more information on Schmeckfest, visit their website or call 605-925-4542.