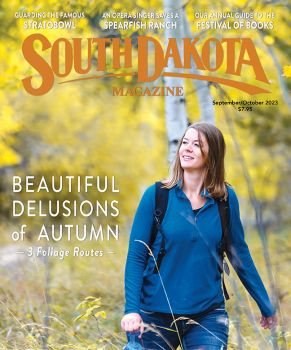 Subscriptions to South Dakota Magazine make great gifts!
Subscribe today — 1 year (6 issues) is just $29!

Explorers of an Unseen World
Editor's Note: Jan & Herb Conn were inducted into the South Dakota Hall of Fame in 2011. Herb died Feb. 1, 2012 at age 91. They were featured in this story, revised from the Jan/Feb 1998 issue of South Dakota Magazine. To order a copy or to subscribe, call 800-456-5117.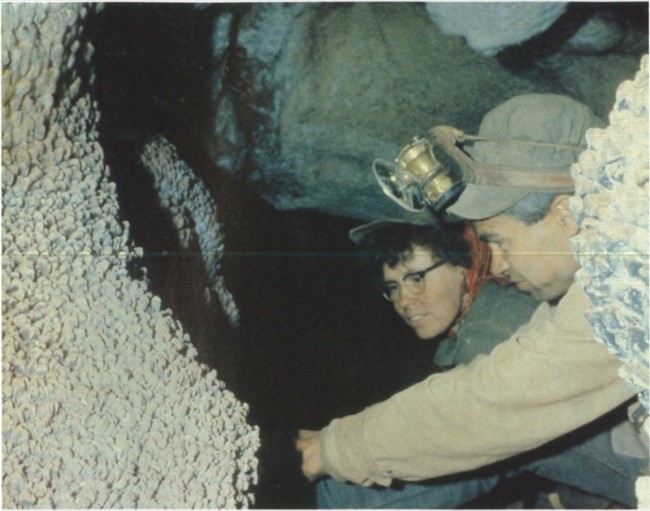 Jan & Herb Conn discovered miles of passageways and chambers in Jewel Cave. This Jewel Cave National Monument photo shows them near Treasure Aisle in 1961.
Over 60 years after Jan and Herb Conn found the Black Hills on a cross-country rock climbing trip, they still lived here deep in the forest. The rustic cabin they built sits west of Custer State Park, and from their property you can gaze at the granite Needles' formations, including spectacular Cathedral Spires.
They filled many days with long hikes to Black Hills landmarks they named. They were detached from the wide world in some ways, but are certainly not naïve about it, and they didn't come to South Dakota to hide from the world. They'll live in Black Hills history forever as the spelunkers who proved Jewel Cave to be among the world's largest. Both are published writers. Herb used to dangle from the Rushmore heads each fall, doing annual maintenance on the four faces. Jan's musical play, Run to Catch a Pine Cone, has been performed throughout the country. Fellow climber and cave explorer Dwight Deal, in the foreword to a book the Conns authored about Jewel Cave, called them simply, "two of the most remarkable human beings I have ever met."
Herb grew up in New York state and Jan in the Washington, D.C., area. Not long after they fell in love with one another, they fell in love also with rock climbing, which they learned on the Potomac River cliffs. "When you're learning to climb, it's handy to have a river below you," noted Jan.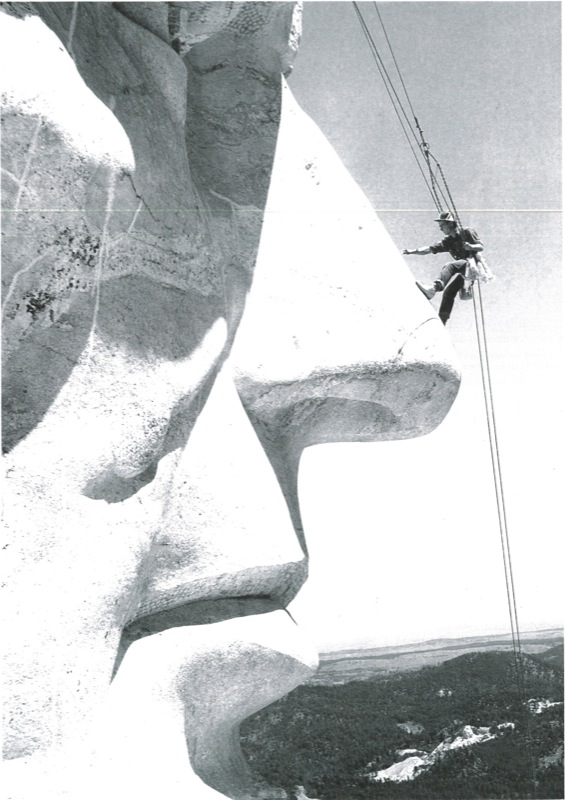 Herb Conn dangled from the faces on Mount Rushmore each fall to do maintenance work. (U.S. Dept. of Interior photo)
They married in 1944 and Herb made good money as a civilian electrician for the Navy during World War II. The young couple tucked most of those dollars away for post-war, transcontinental rock climbing treks. Careers, they decided, would be sacrificed for outdoor adventuring; they'd seek out seasonal odd jobs to pay their bills. A seemingly innate belief that they could do most anything served them well. For example, Jan once answered a help-wanted ad for an experienced Venetian blind assembler. She got the job and then got busy at home disassembling and re-assembling a set of blinds. When she reported to work the next day she was, indeed, experienced.
They took seasonal tourism jobs from New England ski resorts to an Arizona dude ranch, "until we got tired of smiling at people," Jan recalled. Returning east from California in 1947, driving a panel truck the Conns describe as "the world's first RV," they decided to check into climbing challenges at Devil's Tower. Much impressed by Devil's Tower and the rest of the Black Hills, they nonetheless were unprepared for their first glimpse of the Needles. "If you're a rock climber, you won't find anyplace better," said Jan. In 1949 they bought 20 acres adjacent to the Needles. A couple years after that they'd built a rustic shelter on the place.
Rock climbers in the 1950s were far less common than today. If you've got vacation photos from that era showing people scaling the Needles, it's a good bet the subjects are Jan and Herb. They never guessed, up there in the wind, where their next adventure would lead them.
By 1959 Jan and Herb had been scaling rocky heights for 17 years, and were supporting their climbing addiction by creating customized leather and wood products. That year they broke routine and went spelunking with friend Dwight Deal at nearby Jewel Cave. For the next 22 years they explored Jewel almost weekly.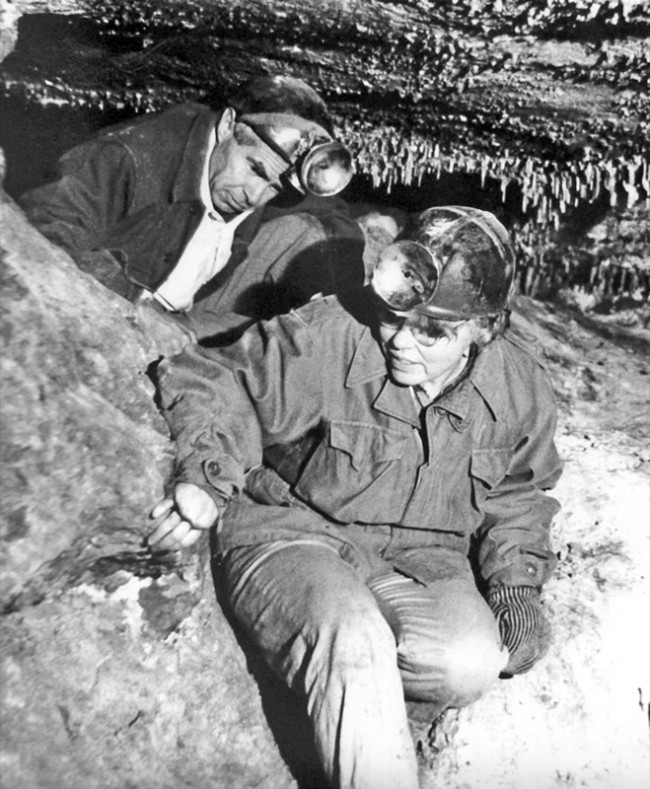 Jan & Herb during their spelunking days.
Spelunking, they found, put to use some of their well-developed climbing techniques, required tremendous stamina, and took a toll on knees and elbows. Compact and strong, both Conns could wriggle through spaces sometimes only eight inches wide for long distances. They came to live for the magic words, "It goes!" meaning they'd found a passage extending deep into the black unknown.
Jewel Cave, it turned out, goes farther than anyone dreamed 40 years ago. Today it ranks as the world's third longest cavern system, with known passages extending 110 miles. Located west of Custer, Jewel was designated a national monument by President Theodore Roosevelt in 1908. In 1959 it was still considered a small cave, measured by yards, not miles.
'There was talk then that it wasn't up to national monument standards," said Jan. "I think maybe the Park Service was happy to have us explore, so they would know what they were getting rid of."
The Park Service granted the Conns a special use permit, meaning Jan and Herb Conn could volunteer all the time they wanted exploring, as long as they also mapped their routes. Then the Park Service sat back in awe as the duo, accompanied by Deal and a series of other capable partners, filed reports describing a dizzyingly complex network of passageways, lofts, and chambers.
Jan and Herb named their finds: Mighty Tight Street, Long Winded Passage, Carnegie Hall, Torture Chamber, Hell's Half Acre, The Other Half Acre, Black and Blue Grottoes, to name a few. Santa Claus Chimney they discovered one Christmas Eve. Benny's Vault echoed like a sound effect they remembered from Jack Benny's radio show. Within a couple years they'd found big, scenic chambers perfect for public tours; problem was, it took seasoned spelunkers a good ten hours to reach those chambers from the cave's entrance. The Conns helped the Park Service calculate where to drill a vertical shaft, from the surface to the scenic chambers 190 feet below, so visitors could eventually descend by elevator in about 30 seconds (prior to the elevator the Park Service offered tours in the natural entrance vicinity, still the area for candlelight tours today.)
As early visitors stepped off the elevator, Jan and Herb were exploring remote sections of the cave to the southeast, through tight passages called Calorie Counter, Miseries and, tighter yet, Mini Miseries. In the era when Apollo astronauts stepped on the moon, the Conns also left footprints where no one had walked before. On December 4, 1973, they recorded the cave's 50th mile — a mark deemed unthinkable a few years earlier.
"You don't do it for the mileage," said Jan. "And yet the mileage gets in your blood." That's especially true as a cave climbs onto the list of the world's longest.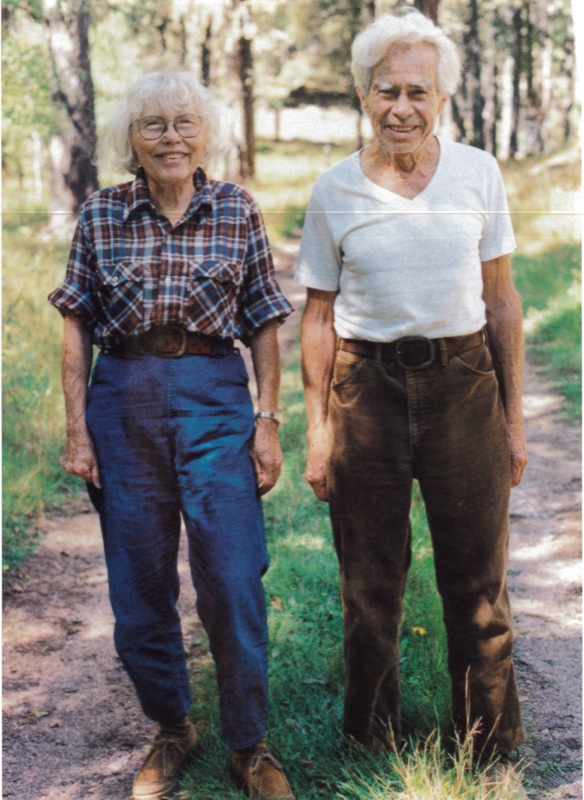 The Conns fell in love with each other and then with rock climbing. Photo by Paul Higbee.
Now, almost two decades after the Conns turned the exploration over to others, the mileage continues to mount. There's long been speculation that Jewel and Wind caves might be one and the same, but Jan and Herb couldn't imagine spelunkers proving it so. Eight hours of rugged going from the elevator will take you two miles toward Wind Cave; that's as far as Jewel's been explored that direction. From that point, the nearest Wind Cave could be is about 20 miles (those 110 known miles don't run anywhere near 20 miles in any one direction; they twist and double back to form a baffling maze).
Today visitors can take guided tours in the elevator vicinity, where there are electric lights and smooth walkways, or they can take the more rugged candlelight excursions. And for those small enough and physically fit enough, there are spelunking tours that let you feel like Jan and Herb for a few hours. Combined, these tours take visitors to only a tiny portion of this mostly wild cave.
Yet another way to experience Jewel Cave is by reading the Conns' book, The Jewel Cave Adventure – Fifty Miles Of Discovery Under South Dakota, published in 1977 by the National Speleological Society. Filled with the excitement of discovery and lots of humor, the book even features a recipe for spelunkers' bread, and cave songs Jan composed.
Once committed to a wayfaring lifestyle, the Conns seldom traveled in the years before Herb's death in 2002. Jan and Herb said they'd cling to most any excuse to stay home, like deciding canned goods might freeze in their absence.
"Anyway," said one visitor, "out here you're living a life people dream of."
"If they really dreamed it," said Jan, "they'd be living it."