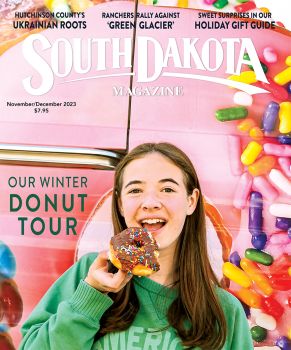 Subscriptions to South Dakota Magazine make great gifts!
Subscribe today — 1 year (6 issues) is just $29!

Dinosaurs and Big Art
By Paul Higbee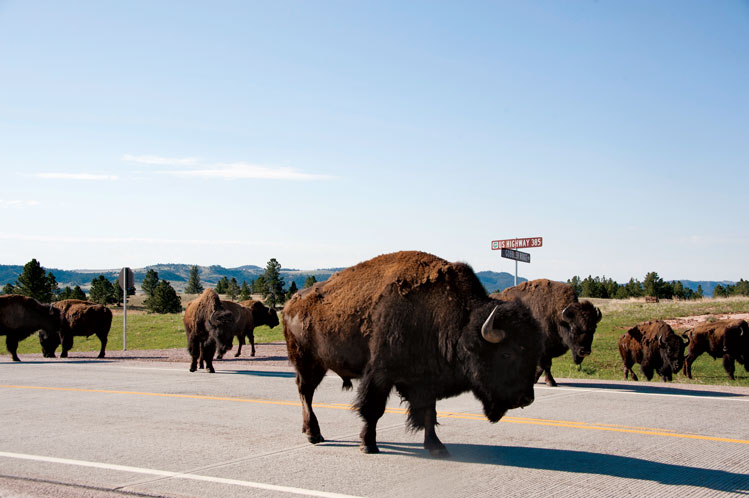 Bison roam freely inside Wind Cave National Park.
Just after dawn I hit the Nebraska-South Dakota line, moving north on U.S. Highway 385. I had a hundred bucks in my pocket and lots to see and do along this incredible road, leading 122 miles from the state line to Deadwood. It would be a good day.
For the next 25 miles I drove through southwestern South Dakota's beautiful grasslands. Most people, though, think of Highway 385 in this state as a way to experience the heart of the Black Hills, and the Hills were my destination. First I wanted to visit a favorite place that bills itself as a "transition zone between ponderosa pine woodlands of the Black Hills and the mixed grass prairie of the northern plains." I spotted my turn-off at Wallygator's Bait and Tackle and in five minutes sat sipping coffee from a Thermos, watching the full morning break over big Angostura Reservoir — a damming of the Cheyenne River. While the Black Hills stand within view of Angostura, the lake feels more attuned to the prairie. Pronghorns bounded through lush grass just yards from the water.
Twelve miles later I arrived in Hot Springs and felt fully enveloped by the Hills. The town is home to plenty of attractions: Evans Plunge, the Mammoth Site, lodging and dining in historic sandstone structures. But this morning I sought the Black Hills' heartiest breakfast. That's the liver and onion breakfast served on two platters, with eggs and potatoes and toast, at the All Star Bar and Grill right on 385. Usually I'm not much for big breakfasts, but something about spending a full day in the Hills suggested that one was in order.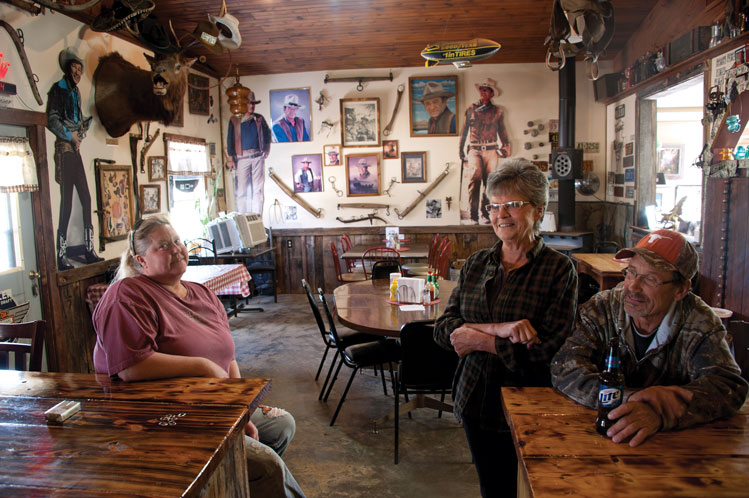 Janell Andis (center) has been serving Spudburgers for 20 years at Custer Crossing, a Highway 385 pit stop enjoyed by locals and tourists.
After devouring the liver and onion specialty, a traveler may feel a walk is needed before climbing back into the car. There's an excellent urban hike through downtown and up old slab stone steps to the hilltop 1893 schoolhouse. These days the four-story sandstone school, now the Pioneer Museum, puts every square foot to work interpreting the history of the Southern Hills. The grounds offer a pretty view of the town below. This is the first of many museums along the state's stretch of 385.
Ten miles beyond Hot Springs I entered Wind Cave National Park, established in 1903 by President Theodore Roosevelt. Immediately inside the park a sign read, BUFFALO ARE DANGEROUS, DO NOT APPROACH.
"It's a deal," I thought. "I won't."
But moments later a buffalo bull approached me. I pulled off the road and sat in my car, lost in notes for this article, writing about the view at the park's south entrance: a mountain prairie dotted here and there by pines, with the Central Hills' high peaks serving as a backdrop. Suddenly a great shadow darkened my paper and there the bull stood, right up against my car. I was glad I had been too lazy to follow through on my original plan of getting out of the car, sitting on the hood, and incorporating the scent of the summer morning in my notes.
Wind Cave National Park is home to this free-roaming bison herd, 30 miles of hiking trails, camping and the famous cave that spouts air. Park staff lead tours through the cave, officially the world's fifth longest. But people in Hot Springs and Custer scoff at that designation. Most believe Wind Cave and nearby Jewel Cave, a national monument ranked as the world's third largest cave, are one and the same. If passages connecting Wind Cave and Jewel Cave are ever mapped, the cave is the biggest on the planet.
North of the park the highway ran through a section of forest devastated by a 2012 fire, and beyond that point I saw increasing evidence of mountain pine beetle disease. As beetles kill trees, pine needles turn the color of dried blood. Those trees are widespread throughout areas of the Central Hills especially.
Approaching the town of Pringle, outcrops of granite began to appear as the highway entered a rocky zone beloved by climbers and sculptors. Pringle boasts two pieces of roadside art that by no means are the most famous along this highway. But I like them and always keep an eye peeled for them: the sculpted mountain lion slinking atop the Pringle Mercantile bar, and an unusual bicycle creation right next to 385 (left side when traveling north). Dozens of bicycles — some rusted, some gleaming and all with histories — cling together to make a curious geometric formation that glitters in the sun. This is serious bicycle country. The 109-mile Mickelson cycling and hiking trail runs close, and sometimes immediately adjacent to, Highway 385 for many miles toward Custer and Hill City.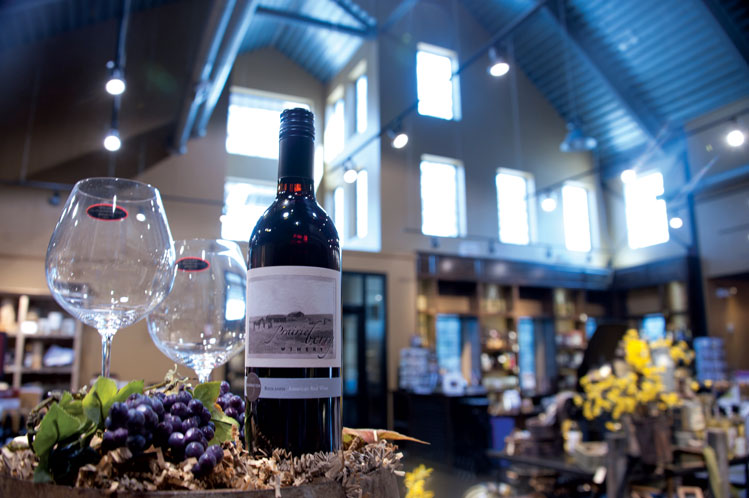 Hill City is home to Prairie Berry winery, where travelers are welcome to stop for a tasting.
The outcrops towered taller and the great granite peaks loomed closer as I put Pringle behind me. The land is a mix of forest and clearings with homes, barns and horses, along with evidence of sawmilling and other entrepreneurial endeavors. The town of Custer announced itself boldly with billboards, and the community definitely has a whimsical side. Where else would I find a shrine to Fred and Wilma Flintstone, complete with a full-size replica of Bedrock City? The town has preserved the handiwork and legend of Wilber Todd, builder of Custer's first stone jail. He used the money paid him for the construction to get drunk and rowdy and became his jail's first occupant. Like Hot Springs, Custer turned a big public building, the 1881 Custer County Courthouse, into a history museum. Some visitors know the courthouse made significant history itself in 1973, when law enforcement and the American Indian Movement clashed there — a precursor to the Wounded Knee occupation.
My reason for stopping in Custer today, however, was to experience one of Claude and Christie Smith's burgers. It seems that by consensus two years ago the Black Hills decided their just-opened Black Hills Burger and Bun Co. served the region's best hamburgers. That's high praise in beef country. Friends had told me that the little diner on 385 would be packed regardless of when I visited. It was. Two bites into the Hot Granny burger (with bacon, cream cheese, fresh jalapeños and sweet jalapeño sauce) I decided I would join the chorus of Smith burger boosters. Christie told me she and Claude formerly ran an Iowa grocery store, then moved west with their kids after several Black Hills vacations, looking for a better lifestyle.
"We found a lot of local support here," she said. They stay busy. Claude starts with whole chuck roasts and grinds the meat daily. Buns, potato salad, coleslaw, baked beans and a range of desserts are also prepared fresh every day.
As the Smiths get up every morning and grind beef, just up 385 to the north the Ziolkowskis prepare to blast granite. They're creating Highway 385's most famous piece of roadside art, the world's largest mountain sculpture, recognized worldwide. The great carving of Crazy Horse is clearly visible from the highway, but turning into the grounds is well worth the admission fee. Mary Bordeaux, from Pine Ridge, is the new curator of the huge Indian Museum of North America below the sculpture, and she's the site's cultural coordinator, organizing artists-in-residence, performers, and lecturers. "We hope people will view the sculpture and then also interact with the museum collection," she said. "For those hoping to buy art, here's a chance to meet the artist, to have a connection with the artist."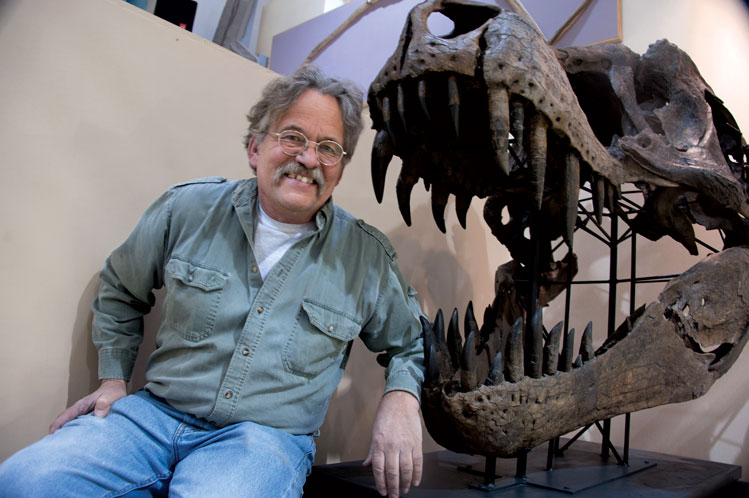 Paleontologist Pete Larson and his brother, Neal, founded the Black Hills Institute of Geology at Hill City.
As a kid I knew Hill City as a place of hard working loggers, a summer excursion train and mysterious Goodhaven, "the house of many doors." It's hard to think that any small town in America has transformed itself more completely than Hill City. The development of fine art galleries, including Jon Crane's, has been well publicized, as has the arrival of wineries. The old city auditorium became a museum that never ceases to amaze, reminding visitors that South Dakota is prime dinosaur country. In addition to running this museum, the Black Hills Institute of Geological Research continues to dig for fossils and is a resource for science centers around the world. Probably this Hill City museum's star attraction, although he has considerable competition, is Stan, a T-rex excavated by the institute in Harding County in 1992.
I visited Stan and his prehistoric peers, then went up the road to see a new museum in the back of the chamber of commerce building that documents the Civilian Conservation Corps' work in South Dakota during the 1930s. The steam powered excursion train of my youth, the 1880 Train, still makes its scenic runs, and for the past five years it has shared a parking lot with the fine South Dakota State Railroad Museum. As I talked to museum director Rick Mills, author of several books about railroading, it struck me that there's tremendous expertise along 385 in many fields. And every expert I'd talked to on this trip seemed to have all the time in the world for me.
I'm happy to say Goodhaven still stands, although it goes by another name now. In 1894 husband and wife John and Kit Good built a one-story house in the Black Hills town of Sheridan. Kit had survived a terrifying house fire and wanted a home with doors leading directly outside from every room. The "house of many doors" — 11 to be exact — won Black Hills fame because of its unusual look. It drew even more attention when it was moved to Hill City in 1944, right next to the highway. In 2003 David and Dawna Kruse bought Goodhaven and turned it into a unique bed and breakfast. They renamed it Holly House because of Dawna's love of Christmas and flair for decorating for the holidays. "We still have seven of the 11 doors leading out," she told me. But I had been told earlier that when visitors speak of Holly House these days, the doors rank second to another asset: Dawna's breakfasts. "When I say I serve a full breakfast, I mean a full breakfast where everything's homemade," she said. "We offer a Mexican breakfast, and breads and casseroles, and biscuits and gravy and lots more."
It's an increasingly rare Highway 385 traveler who makes it out of Hill City to the north without being lured into Prairie Berry Winery for free wine sampling. I joined in and got personal instruction from my server about which foods go well with the wines I selected. She suggested asparagus with my dry Phat Hogg, and roast duck with my sweet Calamity Jane. Actually Prairie Berry is becoming a wine and beer campus, with a new events center next to the main building, and Black Hills Miner Brewing Co., the winery's beer making arm, right across the parking lot. Sandi Vojta is the company's award-winning winemaker, and she brews the beer, too.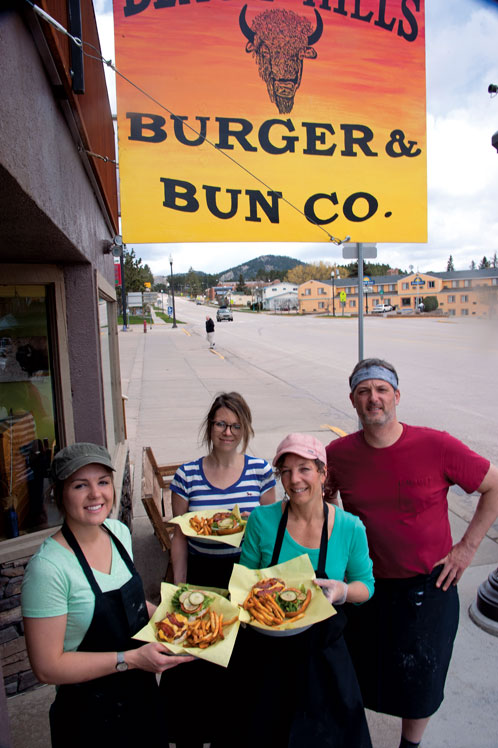 Black Hills Burger and Bun's crew includes (from left) Jessica Smith, Lindsay Percival and owners Christie and Claude Smith.
North of Hill City a sign told me to watch out for bighorn sheep, and immediately I spotted three. It appeared that they saw me, too, and watched me pass from a safe distance off the road. I thought they demonstrated more sophistication about traffic than lots of domestic animals I've known. Then Sheridan Lake came into view. A man fishing from shore reported trout were shy this afternoon but crappies were hitting his bait in a frenzy. I got back in the car and in no time came to spectacular Pactola Lake, the Black Hills' biggest. Sheridan and Pactola are actually manmade reservoirs, products of 1940s era reclamation (as is Angostura). It surprises visitors who regularly bring boats, water skis and lake fishing gear to the Black Hills to learn the region was shortchanged when it came to natural lakes. Both Sheridan and Pactola are named for towns that surrendered the ghost to rising waters. It's why Goodhaven ended up in Hill City.
Beyond the lakes the highway made a final 25-mile sprint to Deadwood. It's the home stretch not only for South Dakota's 122-mile section of the highway, but for all of U.S. 385, which begins at Big Bend National Park in Texas and extends north through Oklahoma, Colorado, Nebraska, and of course South Dakota, for 1,206 miles. Old-timers sometimes called the route the Potash Highway, after a form of fertilizer that transformed big sections of the Great Plains. The road is one of South Dakota's Blue Star Memorial Highways, honoring the Armed Forces, and it has also been called the George Hearst Memorial Highway, recognizing the man whose investment brought Homestake Gold Mine to full production.
The road climbed and dropped over several ridges. Pines closed in at points, then opened up to reveal draws, meadows with grazing cattle, and Custer Peak with a summit so pointed it resembled an upside down V. And then, amid pastoral scenery, things almost surreal popped into view, like a Ferris wheel in the middle of the Hills, and the World's Largest Log Chair. How large? About 34 feet high with a seat so big that a family and several friends could picnic up there. Why? That's a harder question to answer. I stopped by the Sugar Shack, within view of the chair, and the best answer I got was, "Well, there are lots of logs out here." Plus, of course, no one does anything small along 385. The Sugar Shack, incidentally, is a cozy old diner with a long wooden lunch counter, behind which are prepared huge and excellent burgers. It should be noted plenty of Northern Hills partisans consider these the best Black Hills hamburgers. Evidence that the Sugar Shack has topped public polls to that effect is posted in the diner.
Twelve miles north, the Ferris wheel stood at Brownsville, long ago a busy logging and sawmilling town and now sometimes called "50s Town." That's because of Boondocks, a roadside business that celebrates all things 1950s — Elvis, cars, food. The centerpiece is an authentic Valentine diner shipped in more than 60 years ago and still serving up sandwiches, milkshakes, apple pie and more.
I knew I was nearing Deadwood when I spotted the Tomahawk golf course. Then I made a steep climb and descent over Strawberry Hill, coasting past a runaway truck ramp and under hills left bare by a great 2002 forest fire. I breezed through the little town of Pluma and then ... well, Highway 385 just ended. Abruptly and without ceremony.
I could turn left and drive on to Lead, Terry Peak, and Spearfish Canyon. Or I could go right, into the heart of Deadwood with its entertainment, casinos and dining. It wasn't a bad place to be, stared in the face by attractive options the northern Black Hills offer. But I wished for a sign saying, CONGRATULATIONS! YOU'VE COMPLETED A TRULY CLASSIC AMERICAN DRIVE.
Editor's Note: This story is revised from the July/August 2014 issue of South Dakota Magazine. To order a copy or to subscribe, call (800) 456-5117.