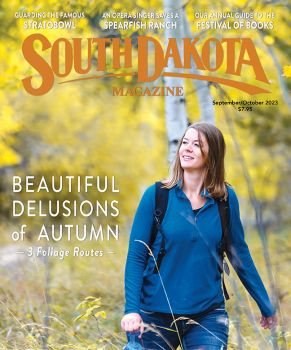 Subscriptions to South Dakota Magazine make great gifts!
Subscribe today — 1 year (6 issues) is just $29!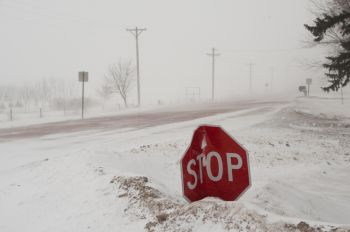 Farmhouse Refuge
By Bob Glanzer
The 1966 blizzard that froze eastern South Dakota is still ranked as one of the top 100 storms of the century. This storm that took place on March 2-5, 1966 took the lives of at least 18 people, and over 100,000 sheep, cattle and hogs. Winds blew with gusts up to 70 mph, causing zero visibility for 11 hours and less than a quarter mile visibility for another 19 hours.
Playing in the Region 4 basketball tournament on Thursday, March 3, 1966, Doland lost their playoff chance to Bryant 57-54. After the game, about 250 Doland fans, players and students left the Huron Arena determined to make it back to Doland. As the buses and cars drove north on Highway 37, they faced worsening blizzard conditions. Three bus loads and several cars made it to Pheasant City, a country gas station at the intersection of highways 28 and 37 about 18 miles north of Huron. Eighty-five people jammed themselves into the small grocery store inside the gas station. Twenty-one people made it 6 miles east of Pheasant City and waited out the storm at Bloomfield.
Linda (Hofer) Loewen was a high school junior at the time. She and her family lived on the highway 2 miles north of Pheasant City. Loewen remembers her father saying, "This looks like a bad storm. I'll turn the yard light on. It might save someone's life. Someone might see it and we can help them out."
Little did her father know that a few hours later, after driving several miles with a fan watching the side of the road from the open front door of the school bus, that two bus loads of students and five car loads of Doland fans would drive into their farm yard. "It was very late, and I was ready for bed," Loewen recalls. "People just kept coming through the front door. I thought the line would never stop." In all, 88 people packed into that country farmhouse, destined to spend the next 2 1/2 days waiting for the blizzard to blow over. Every room was full of people. There were not enough beds, not enough seats and only one bathroom.
Loewen says they did everything possible to make everyone comfortable. "We spent the days and nights watching the clocks. They were copying Mom's recipes, and on Friday afternoon, Mom showed the ladies how to make homemade noodles." The Hofers had several milk cows, several hundred chickens and a deep freeze full of baked goods and meat. "They would tie a string of twine around Dad and he would go to the barn to milk the cows and gather the eggs," Loewen recalls. "Mom boiled dozens of eggs and they drank gallons and gallons of milk." To celebrate a couple of birthdays during those two days, the ladies baked a birthday cake.
About noon on Saturday, March 5, the wind let up and the snow stopped. There were 8 to 10 foot drifts everywhere, but slowly the stranded guests and school buses left those warm homes and continued on to Doland.
The deep freeze was empty, the house was a mess and over 30 dozen eggs were gone. "As the people left they were leaving money on the kitchen table for Mom," Loewen recalls. "Mom said, 'They sure didn't have to do that. I'm so glad we could save some lives.'"
About the Author: Bob Glanzer is a retired educator and banker and spent 26 years helping organize the South Dakota State Fair. He lives in Huron.