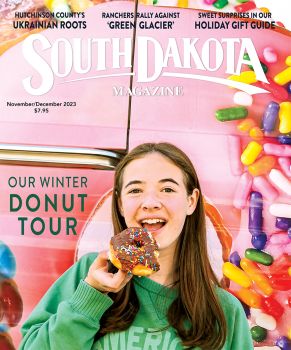 Subscriptions to South Dakota Magazine make great gifts!
Subscribe today — 1 year (6 issues) is just $29!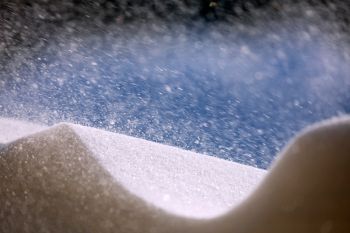 Light Through the Storm
Dec 28, 2016
By Christian Begeman
This winter has started ugly. There have been snow storms all across the state, record wind chills and to top it off, a major ice storm and blizzard over Christmas. This column is about finding beauty in the midst of that raging holiday storm. I tread lightly because I know the storms we have experienced are deadly at worst and stressful in the least. With that in mind, I first want to say thank you to the electric cooperative linemen, snowplow drivers and friendly neighbors who quickly lend a hand to help those who are suffering.
Our winter weather the weekend before Christmas was coupled with dangerously cold temperatures. I had planned on driving to Mobridge to watch my nephews play basketball, but the wind chills changed my mind. I stayed inside most of Saturday, and by the middle of the afternoon I had a major case of cabin fever. So I went to my dresser to find long johns, down to the garage closet to knock the dust off my coveralls and out the door. The snow drifting right outside my living room window was the first subject followed by Jack Frost's handiwork on my storm door window. I ended that cold day with a -7 degree sunset in northern Minnehaha County.
My Christmas break started Dec. 22 with an afternoon drive to Day County to look for birds. Pickerel Lake Recreation Area is said to be a good place to find winter birds. I was unlucky in that I only found a flock of black-capped chickadees and heard a bluejay. I did see a nice group of white-tail deer trying their best to avoid me in the campground. They were quite successful, since their skill in managing shin-deep snow is far superior to mine.
I made it to Isabel on Dec. 23. Dad and I took a drive south to Red Earth Creek the next morning in foggy, frosty conditions and found grouse, turkey, pheasant, a hairy woodpecker and a large flock of goldfinches among the trees. On Christmas Day the mist, rain and sleet started. I went out mid-morning and found around an inch of ice built up on anything stationary like fences, highwires and even crested wheat grass. Right before Christmas dinner the rain turned to snow and the wind picked up. It howled all night and well into the next day. About an hour before sunset on Dec. 26, my mom and I ventured out to try to capture a few images of the winter wonderland. Luckily, a neighbor had cleared our driveway. Otherwise I'd still be shoveling.
We drove about 2 miles south of town, noting the drifts and the horned larks who seemed unaffected by the cold. I stopped to shoot the ice buildup on a woven-wire fence with the setting sun. To do this I had to cross a ditch that was completely filled with snow. My mom had a great laugh inside the warm pickup cab watching me get high-centered in nearly waist-deep snow. It took a few minutes but I negotiated my way back to the road as my dear mother wiped tears of laughter from her eyes.
We headed back in time to see a herd of 30-plus deer emerge from a tree lot on the edge of town. When I got out to shoot a photo, they bounded off into the snowswept prairie like the nature footage you see of reindeer in Lapland. It was all quite an adventure, and as ugly as the weather turned, if you looked hard enough there was always beauty to be found. We thankfully had power throughout the holidays, but I know many didn't. It isn't always easy living in God's Country, but I truly do think the beauty that surrounds us makes it worthwhile.
Christian Begeman grew up in Isabel and now lives in Sioux Falls. When he's not working at Midcontinent Communications he is often on the road photographing South Dakota's prettiest spots. Follow Begeman on his blog.