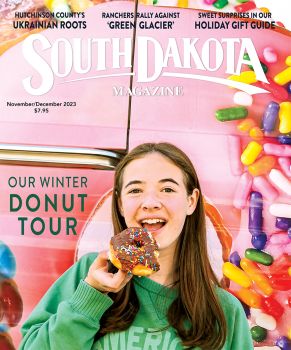 Subscriptions to South Dakota Magazine make great gifts!
Subscribe today — 1 year (6 issues) is just $29!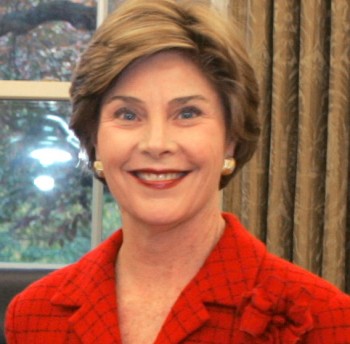 First Lady Charms South Dakotans
Nov 17, 2011
Laura Bush gave the keynote address at Wednesday night's 30th annual Law Enforcement Banquet in Sioux Falls, and she charmed the 1,700 South Dakotans in attendance.
The annual banquet was started 30 years ago by longtime Sioux Falls businessman and politician Gene Abdallah. His first event had just 53 in attendance, but the popularity has steadily grown and today the tickets are in high demand. Law enforcement officers, politicians, business leaders and others from throughout South Dakota gather to dine on antelope goulash, pheasant and other such delicacies. Abdallah and his volunteer team have raised over $1.5 million for children's charities in the three decades.
I've only been to a few of the events, but I've not seen a speaker set a better tone than the former first lady of the United States. A lifelong lover of books, she said Laura Ingalls Wilder's stories on South Dakota made a lasting impression on her and she hopes to return someday to see the Ingalls homestead and haunts, which of course are in De Smet. She gave updates on the Bush family, and joshed that she has had to teach George to pick up his socks now that he's a private citizen in Dallas, Texas. She spoke with great fondness and humor about her mother-in-law, the irascible Barbara Bush.
And she quieted the crowd with her remembrances of September 11, 2011, when she happened to be with Senator Ted Kennedy on Capitol Hill as news of the tragedy unfolded. She said Kennedy chatted with her to help calm her nerves. Later, she rejoined the president in the spartan bunker below the White House. They retired to their regular bedroom, but were awoken in the middle of the night when another suspicious plane was spotted in the air. It was a false alarm.
The event was also a sweet and funny farewell to Abdallah's tenure as founder and leader. Abdallah plays the chump in the state legislature, but he's a power to be reckoned with. He has experience and savvy that is hard to match. And nobody takes him for granted because he has an independent streak as wide as his trademark grin. A few years ago when a few of us were trying to gather bi-partisan support for a proposal to stop South Dakota from investing in companies that supported the genocidal regime in Sudan, Gene Abdallah was the first in his party to stand up and say that there is a social responsibility that comes with investing hundreds of millions of dollars. He has never been too cautious to break away from the herd.
Gene's longtime buddy Bill Mickelson and his son, Scott, will now lead what has become known as the Wild Game Feed. But nobody's going to replace Abdallah. He'll still be the star attraction.