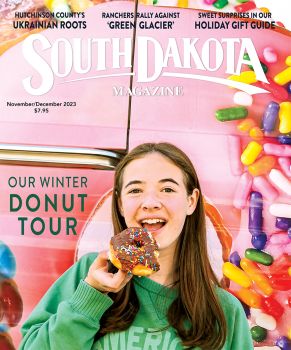 Subscriptions to South Dakota Magazine make great gifts!
Subscribe today — 1 year (6 issues) is just $29!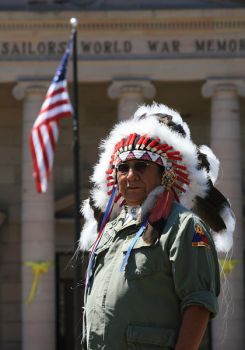 Do The Job And Come Back
By Chris Vondracek
Several years ago, Francis Whitebird revisited Vietnam and sat on the hill where he was injured 40 years ago. "It was so peaceful," Whitebird said, from his home in Pierre.
He's traveled much since Vietnam. He earned a master's in education at Harvard University. He has been to the Wall in Washington, D.C. He has taken radiation treatment at Seattle for cancer he thinks was caused by Agent Orange.
A member of the Rosebud Sioux Tribe, Whitebird has been living in Pierre, where he was appointed Commissioner of Indian Affairs by Gov. George Mickelson. He now focuses his energy on preserving the culture and language of his Lakota ancestors.
His journey to Vietnam began in the St. Francis Mission School that he attended for nine years. He graduated from the Flandreau Indian School and enrolled in South Dakota State University. Agriculture was his major; he dreamed of becoming a rancher. The Army got in the way. "I went to a dance in 1967 and I saw this one kid get a war medal and I thought, 'I want one of those,' and the only way you could get it was going to war," Whitebird said.
He enlisted, and the Army made him into a combat medic. He was stationed south of Da Nang, the second largest city in South Vietnam, with the 196th Light Infantry Brigade. His duties included a mix of going on patrols, radio watch and lugging a 90-pound rucksack. In the jungle, he dispensed malaria pills, made morning calls to sick soldiers, and regularly treated heat exhaustion. When firefights started, he had to switch his mindset. After a year, he decided he'd go back for more. "I couldn't leave my guys behind," Whitebird said. "I didn't trust anyone else to look after them."
He only remembers the nicknames of comrades. But Whitebird repeats again and again that they were a family. "If someone had a sore back over there, they wouldn't tell you. They become brothers over there, we're still brothers," he said. Often, because he knew the infantry soldiers were less than forthcoming about their injuries, he had to be aggressive. If a guy was hurting, but mute about it to Whitebird, he would often kick the guy to the rear of the formation.
Whitebird witnessed not just the physical strain on his men, but the emotional as well. When men received "Dear John" letters from home, he would often send the men back to camp to get drunk for a few days. They weren't fit for combat with the contents of the letter weighing on their minds. "If we kept them in the field, they might get themselves or someone else killed," he said.
Some of his brothers never really left Vietnam. "They lost their spirit," he said, and mentally they are trapped in the past.
Whitebird doesn't understand why he and others adjusted from the horrors of war and others still suffer. Nightmares were common for him. When he first returned to the States, he stayed up nights and slept days. But he managed a return to routine.
Whitebird is now retired from government service and has two sons who have served in the military. It's tempting to ask him about honor and service through several generations, but Whitebird will have none of that. "You went over there to do a job, did it and came back," he says. "That's that."
Editor's Note: This story is revised from the September/October 2006 issue of South Dakota Magazine. To order a copy or to subscribe, call (800) 456-5117.