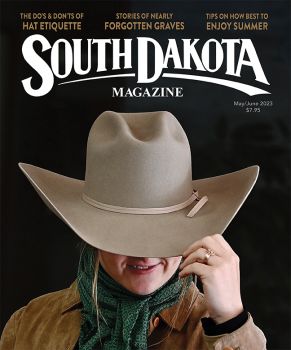 Subscriptions to South Dakota Magazine make great gifts!
Subscribe today — 1 year (6 issues) is just $29!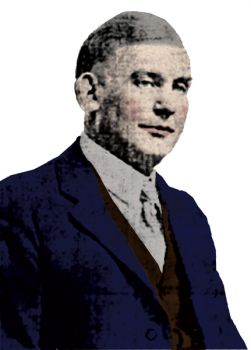 The Disappearance of Fred Fyle
Two thousand dollars was a small fortune in 1924. But when Dr. Fred Fyle of Geddes disappeared, his family and friends eagerly offered that sum for his return. After all, what's a doctor worth to a small town? Thousands of circulars with Fyle's photograph were sent to every corner of the country and radio stations broadcast news of the search from coast to coast.
Dr. Fyle was a Canadian who graduated from the University of Toronto School of Medicine in 1907 at age 36. He had practiced in Ontario for a year when he met a stranger on a train who encouraged him to start a clinic in South Dakota.
He took the advice seriously and visited several South Dakota towns. Immediately attracted to Geddes and its people, he purchased a home there to convert into a hospital. His new practice opened Oct. 29, 1909 and was an immediate success. Soon he needed more space and converted the Padley Hotel into the Charles Mix County Hospital. Before long even the hotel became too small.
In 1917 Fyle built the hospital he needed, a three-story brick building with a full dining room in the basement, said to be the most beautiful dining room in the state. The new hospital had 24 patient rooms and three operating rooms. He took on a partner named H.E. Allen and together they operated the biggest hospital in the area. Despite the new hospital's size, they were soon planning a 20-room addition and a new nursing school.
Dr. Fyle settled easily into life in South Dakota. Soon after moving to Geddes, he became a prominent and well-liked citizen. In 1909 he married Emma Belle Gallagher at the Congregation church parsonage. She was the eldest daughter of Dr. Gallagher, the Congregational minister. The doctor was on the city council and belonged to several area organizations.
He earned enough money to buy small parcels of land, including a summer cottage at nearby Lake Andes where he entertained guests who swam and fished in the pristine lake with its white sand bottom. He often would allow youth groups to use the cottage. A sister and brother followed him from Canada, and they both helped him manage his business affairs.
Fyle worked tirelessly for his community and he prided himself on making late night house calls in any weather. He lived in the hospital so he could be on call whenever he was needed. His devotion gained him admirers and made him vital to his community.
Then, one December evening in 1923, Dr. Fyle did not return home. His family wasn't too concerned. Maybe he'd stopped at the lake cottage. Maybe he was visiting friends. But he didn't return the following day; and days turned into weeks.
The doctor was last seen in Sioux City on Dec. 11.
 He left for home around 4 p.m. after consulting doctors in Sioux City about an ear case. The weather and
roads were clear when he left in his Model T Ford coupe for the 140-mile trip to Geddes.
Yankton, the largest town between Sioux City and Geddes, would have been a logical place for the doctor to refuel and have supper. Dr. Fyle was large in stature and not easy to forget, but no proprietors recalled the doctor when shown a photo.
Winter ended and the grass turned green. On May 1, 1924, two local farm boys, Joe and Edward Cap, were fishing in Marne Creek about five miles northwest of Yankton. At the junction of Marne Creek and the Sunshine Highway, a major gravel road that led from Yankton to Utica and on to Scotland, the brothers saw something that looked like the roof of an automobile about two feet beneath the water's surface. They mentioned it to their father, Joe, at supper that night.
The boys' discovery didn't impress Joe Cap, Sr. If it was a car, it wouldn't be the first time an auto sank into Marne Creek. A flash flood the previous September had destroyed the approach. The washout measured 10 feet deep and 15 to 20 feet across.
After Sunday dinner on May 4, Joe Cap called his brother, John. "The boys mentioned what might be a car in the creek. Let's go have a look." Upon examination, the adults agreed; a coupe's roof sat just below the waterline. The men floated a stout log over the roof, and one of them crawled onto it while the other secured it from the bank. After punching a hole through the fabric roof, the man on the log reached in and felt the remains of a human body. He removed a hat from the head of the victim and crawled back to the bank.
Authorities soon pulled the coupe out of the water and found a badly decomposed body, hands clutching the broken steering wheel. The vehicle's license plate number confirmed that the auto belonged to the doctor from Geddes. The young Cap brothers received a $2,000 reward from Fyle's family.
Dr. Fyle's wristwatch had stopped at 9 p.m., recording the exact time that Geddes lost its much-loved physician and friend.
Editor's Note: This story is revised from the March/April 2009 issue of South Dakota Magazine. To order a copy or to subscribe, call (800) 456-5117.