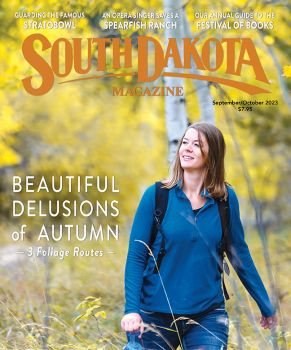 Subscriptions to South Dakota Magazine make great gifts!
Subscribe today — 1 year (6 issues) is just $29!

Fun and Games
Aug 14, 2023
By John Andrews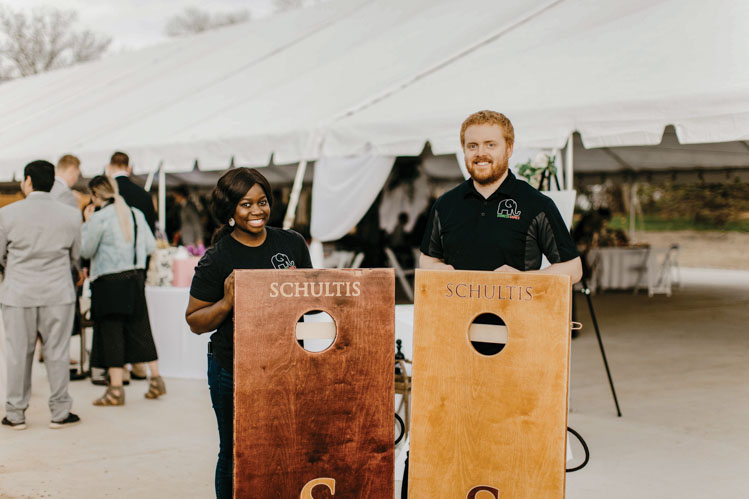 Dustin and Hezel Garness build larger-than-life games in their Hartford workshop.
It all began with Kubb, a game that legend says originated with the Vikings, who played with the bones of their conquered enemies. (It likely is Scandinavian, but less macabre; Kubb translates to "block of wood" in Norwegian, and probably evolved from a game using scraps of firewood.) Dustin Garness's family likes to play it, and one day the woodworker in him wondered if he could make a set. After he crafted the pieces, he wondered if anyone would buy it. He made a few more Kubb sets, some giant dice and tumbling blocks and brought them to Hartford's Downtown Market. He sold four games. "That was a good start," Garness says. "It was sort of a mini proof of concept."
Garness Games is now a legitimate side hustle for Garness and his wife, Hezel. Dustin works at Family Memorials by Gibson in Sioux Falls and Hezel is a preschool teacher just finishing her education degree, but in the evenings and on weekends they make larger than life yard games: dominoes made from 1 by 6 cedar, dice from 4-by-4 lumber, stackable blocks out of 2-by-3s, huge Connect Four racks and cornhole boards.
Customers have come to appreciate the creativity they can add to their own games. Garness will customize them with names and dates for weddings or other family functions, for example. The Garnesses have also launched a rental service and will transport games for events.
They've also launched a series of educational products for students learning their numbers and letters and have new games in mind. "There's always a list," Garness says, which currently includes "The Price is Right" favorite Plinko.
Editor's Note: This story is revised from the July/August 2022 issue of South Dakota Magazine. To order a copy or to subscribe, call (800) 456-5117.