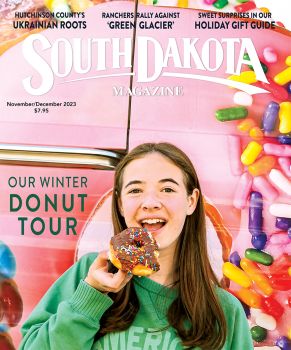 Subscriptions to South Dakota Magazine make great gifts!
Subscribe today — 1 year (6 issues) is just $29!

The Ultimate Vehicle
By John Andrews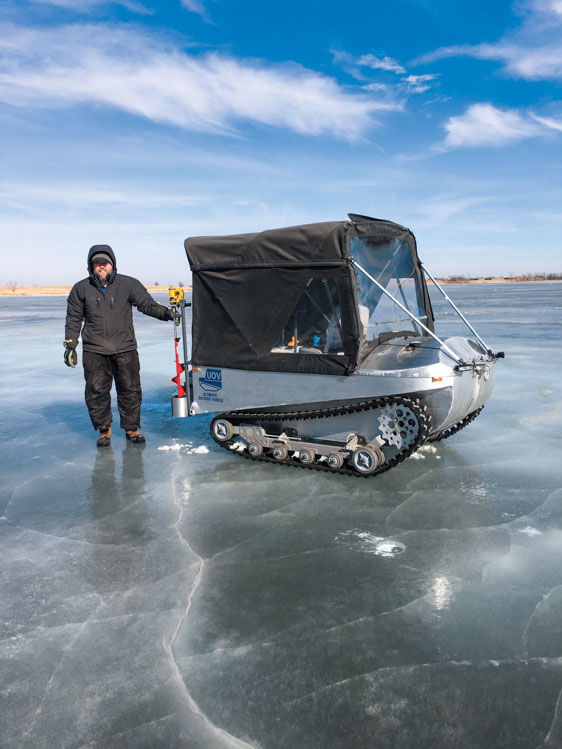 Kent Miller's Ultimate Outdoor Vehicle was built for ice fishing, but serves a multitude of purposes.
A lot of good inventions get their start when someone says, "Wouldn't it be nice if…." That's what happened nearly four years ago when Kent Miller went ice fishing with some family members. They pulled sleds loaded with gear across the snow, traversed the ice to set up a shack, then tore it down and moved when the fish wouldn't bite — all of which was made more difficult by his father-in-law's bad knee. That led to Miller's, "Wouldn't it be nice if …" moment.
The mechanical engineer envisioned a vehicle on tracks that could go through snow, could float in case the ice broke, and had space for everything a fisherman might need. Three years of building and testing prototypes finally resulted in the Ultimate Outdoor Vehicle.
Though Miller had ice fishing in mind during development, the UOV is designed to do almost anything in any conditions. The hull is made from marine grade 1/8-inch aluminum for durability. Its heavy-duty rubber tracks with steel links carry it through snow, mud, grass, water and gravel. The hydrostatic drive and zero-turn ability make it maneuverable and easy to control. A canvas enclosure and vinyl windshield and side windows protect the driver and passenger from the elements. Inside are hatches that lock and seal, allowing fishermen to drill holes in the ice without ever leaving the vehicle.
Miller has a degree in mechanical engineering from South Dakota State University and has worked in the field for 20 years. He and his wife, Heather Solberg, also operate Miller Design and Manufacturing from their acreage between Brookings and Volga. That's where the UOV was born, along with other tracked projects such as a radio-controlled vehicle for a friend who has physical disabilities and a small snow dozer.
Editor's Note: This story is revised from the September/October 2022 issue of South Dakota Magazine. To order a copy or to subscribe, call (800) 456-5117.