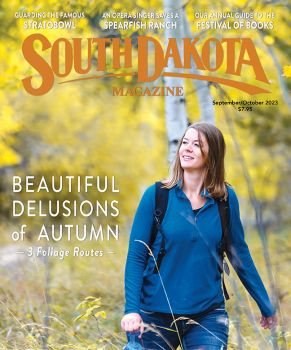 Subscriptions to South Dakota Magazine make great gifts!
Subscribe today — 1 year (6 issues) is just $29!

Gardener's Pie
Sep 15, 2011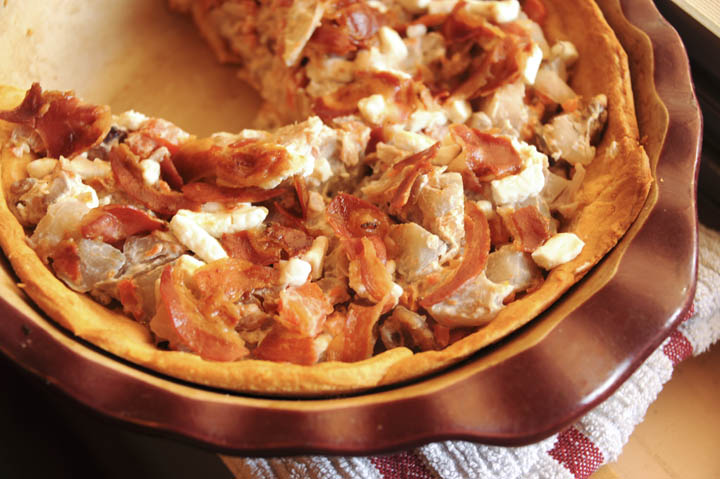 Crispy bacon and goat cheese adorn this beet pie. Photo and recipe by Katie Hunhoff.
Gundy's Market in Yankton is a fun Saturday morning stop, and a nice place to find fresh produce to experiment with in the kitchen.
The little market is located right next to Yankton's famous Charlie's Pizza House. Diana Gunderson manages Charlie's, with help from her husband, Jon. They also have a Mission Hill farm where Jon raises cattle without growth hormone or antibiotics. Each Saturday they open the market at 9 a.m. to sell their beef along with with farm fresh eggs, locally grown pork, poultry and lamb. In the summer and early fall they also have produce from their large garden, and Diana makes honey, oatmeal and flaxseed breads. A cute little milk truck adds to the atmosphere - but you have to remember to bring your own milk jugs.
Last weekend I purchased some beets on a whim. They were gorgeous, bright purplish red. I was pretty surprised when I peeled one and saw it was white on the inside. A google search told me it was a Chioggia beet -- even sweeter than a typical red beet, with the consistency of a potato. Intrigued, I decided to blend some ingredients into a sweet twist on a shepherd's pie. The result was both sweet and savory. It was also very filling, and perfect for a chilly fall day.
Back to Charlie's Pizza -- they recently won an award from Food Network Magazine for having one of the 50 best pizzas in the country. The winner was the Festus, a spicy meatball and sauerkraut concoction. I think that Gundy's beef may be one of the reasons it won the honor.
Gardener's Pie
2 pounds Chioggia beets
3 carrot sticks
1 medium onion
3 garlic cloves
1/2 cup roasted walnuts (bake in oven at 350 degrees for 10 minutes)
6 slices cooked bacon or pancetta, crumbled
5 ounce package of goat cheese (mine was 5.8 ounces)
1 baked pie crust
First, you need to roast the vegetables. Pre-heat the oven at 400 degrees. Peel beets and carrots with a vegetable peeler. Spray beets, carrots, and onion with olive oil, sprinkle with a bit of salt and wrap individually in tin foil. I also placed the three garlic cloves in with the onion. Place on a cookie sheet and in oven to roast for approximately one hour, or until you can easily pierce with a fork. Chioggia beets are a bit trickier to roast than their red cousins. They cook quicker - and will turn an ugly gray if overcooked.
If your pie crust isn't already prepared, this would be a good time to begin your pie crust. And a good time to roast the walnuts, and cook the bacon.
When vegetables are done, remove from oven and cut into very small pieces. Stir all vegetables together with the soft goat cheese. Place in pie crust and bake at 325 degrees for 20 minutes. Top with crumbled bacon and goat cheese crumbles.