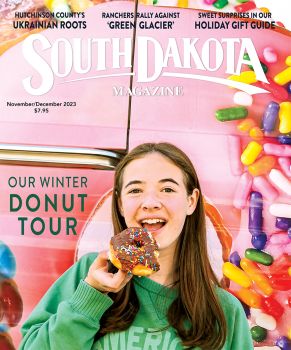 Subscriptions to South Dakota Magazine make great gifts!
Subscribe today — 1 year (6 issues) is just $29!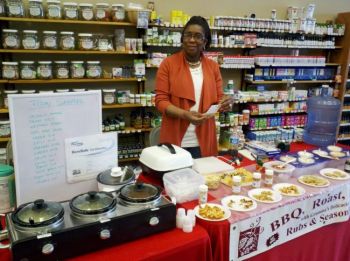 Gramma's Delicacies
Apr 24, 2013
By Laura Johnson Andrews

Making delicious, healthy meals can be daunting to new cooks and busy cooks alike. Enter B. Angelique Mills of Box Elder. The England native makes it easy to be a whiz in the kitchen with "Gramma's Delicacies" — her array of low-sodium, MSG and gluten-free seasonings, sauces, jellies, syrups and spice mixes.
An intolerance to monosodium glutamate inspired Mills' creations. "A lot of people don't realize that MSG really messes with their system," she says. With the prevalence of high blood pressure in our society, low-sodium products were a natural thought. "If they want to add more [salt], that's fine," she says. Almost all her products are gluten free except for her meatloaf and burger seasonings, which contain an oatmeal base.
Mills brings her best advertisement to shows with her. Her husband, Reuben "Joe" Mills, has a physique that attests to the quality of her cooking. They met when the Louisiana-born Air Force serviceman was stationed in Angelique's native land, England. The military landed them in Box Elder in 1982. "When we first realized we were coming to South Dakota, we kicked and screamed, you know … and then we got here and gave it a chance, and we got to know the people, and they're wonderful. We loved it, the kids loved it, we built our home here and the rest is history."
Much of the raw material for Angelique's products comes from the Mills' busy Box Elder farm. Their goats provide milk for soaps and lotions. Sheep wool becomes hats, gloves and mittens. The animals' manure fertilizes the Mills' large garden, promoting the growth of the plums, apples, chokecherries and herbs that end up in Gramma's Delicacies.
Mills also shares her cooking expertise by teaching classes with Community Education of the Black Hills. "The average young mother is busy, busy busy — they have children, they have work. In a rush, they may opt for unhealthy but convenient fast food. Mills teaches them how to get healthy food on the table within an hour or less. "You can put a stir fry together in two seconds. And it's not as expensive as people think it is."
To get a taste of Gramma's Delicacies, visit their website or Facebook page ... or better yet, follow your nose to Angelique and Joe's stand at the Rapid City farmers' market this summer. They'll be handing out samples and serving lunches on Tuesdays, Thursdays and Saturdays starting the second week of June. The menu will vary, but will include a Creole gumbo with rice, Jamaican jerk chicken or pork, and pineapple chicken.
---
Mix It Up
Mills' dip mixes come as simple packet of spices with serving directions. We sampled three of the flavorful blends: garlic dip, spicy chili cheese bacon dip and herbed dill dip, and served them with mixed veggies and crackers. Here are some other serving ideas for these South Dakota-made spices.
Mix one cup of plain yogurt and one cup of sour cream with one package of dip mix.
Combine 4 oz. cream cheese and 4 oz. sour cream.
For a vegan-friendly, dairy-free treat, beat the spices with a package of soft silken tofu.
Add a tablespoon of spices to olive oil for a flavorful accompaniment to fresh bread. A smaller amount of spices & oil makes a simple, zesty pizza sauce.