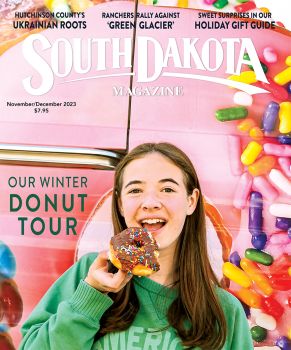 Subscriptions to South Dakota Magazine make great gifts!
Subscribe today — 1 year (6 issues) is just $29!

Where's the Beef?
Jul 7, 2016
By Fran Hill
Our farm isn't home to cattle or hogs. We feed lambs. South Dakota ranks fifth in U.S. sheep production, and my husband is one of those producers. Roughly 10,000 lambs per year are fattened in our feedlot, and a couple of them usually end up in my freezer.
I didn't always cook with lamb. It wasn't something that I grew up eating. The first time Hubs brought home a package of ground lamb, he told me to use it as I would hamburger. As I browned it up one evening to make chili, the pungent aroma made it clear that it was not beef. Lamb has a distinctive flavor that is delicious when prepared properly, but chili isn't really its thing.
Greek-Style Lamb Burgers showcase the unique character of ground lamb. Garlic, shallots, and mint enhance the lamb, and the resulting burgers are mouthwatering. Tzatziki is a creamy traditional topping, along with thinly sliced red onions and tomatoes and crumbled feta cheese. Each bite is delectable.
I will never give up great beef cheeseburgers, but grilled lamb burgers are a summer tradition in our home, and I hope that you give it a try with some outstanding American lamb.
---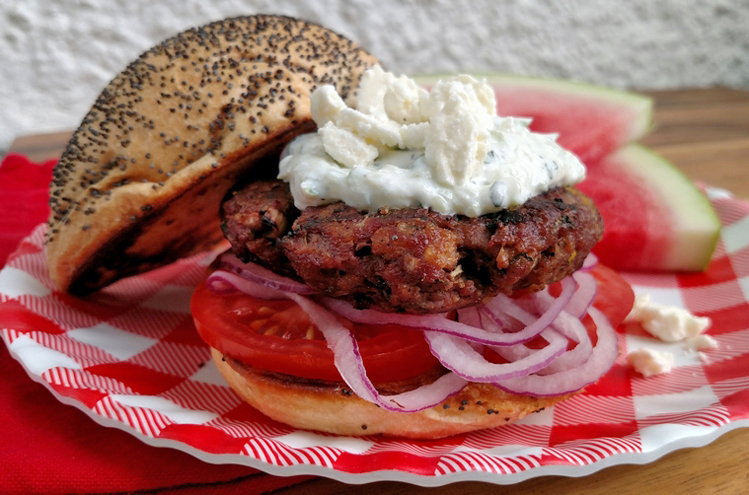 When prepared properly, ground lamb burgers are just as tasty as traditional beef.
Greek-Style Lamb Burgers
2 slices whole grain bread, crusts removed and cubed
2 tablespoons milk
1/4 cup shallots, finely chopped
2 cloves garlic, minced
1 tablespoon mint, finely chopped
1 teaspoon dried oregano
kosher salt
freshly ground black pepper
1 pound ground lamb
olive oil
Preheat grill.
Moisten bread with milk in a bowl.
Mash to form a paste, and combine with shallots, garlic, mint, oregano, salt and pepper; mix well.
Add the ground lamb and carefully combine. Do not over mix, or burgers will be tough.
Form into 4 to 6 burgers patties.
Drizzle patties with olive oil and rub to coat.
Grill patties, about 4 minutes on each side.
Serve on a toasted bun (or in a pita pocket) with crumbled feta, thinly sliced red onion and tomato and tzatziki. (Serves 4-6)
Tzatziki
2 cups sour cream or plain Greek yogurt
1 seedless cucumber, grated and squeezed dry
2 cloves garlic, grated with microplane
2 tablespoons olive oil
kosher salt
freshly ground black pepper
2 tablespoons fresh mint, finely chopped
Combine all ingredients.
Cover and chill for about an hour for flavors to blend.
Fran Hill has been blogging about food at On My Plate since October of 2006. She, her husband and their three dogs ranch near Colome.