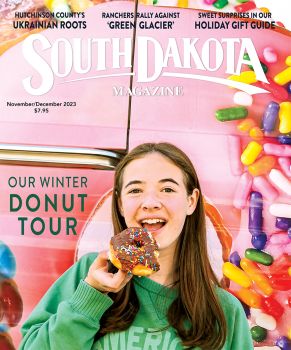 Subscriptions to South Dakota Magazine make great gifts!
Subscribe today — 1 year (6 issues) is just $29!

Just Grill It
May 28, 2015
Schools have dismissed and Memorial Day has passed. While neither the calendar (June 21 is the beginning of Summer Solstice) nor the weather (brrr; that rain has been cold, hasn't it?) is yielding to it, the general consensus is that summer is here — and it is time to grill.
Many South Dakotans don't heed the seasons for grilling. We fire up the propane grill and tend the glowing charcoal embers year round. But when summer approaches, the need to cook outdoors is overpowering.
We love nothing more than juicy charcoal grilled burgers, fire-charred hot dogs, barbeque sauce glazed chicken, cedar-planked salmon, skewers of shrimp, smoky pork chops, marinated lamb kabobs, and big, juicy steaks seared over the flames. Everything on our plates boasts grill marks: corn on the cob, zucchini, eggplant, asparagus, tomatoes, mushrooms, onions, potatoes, cauliflower, broccoli and colorful peppers. Even fruit gets tossed on the grill to bring out the delicious sweetness of peaches, pineapple, apples and bananas. If we eat it, we grill it.
Grilled Pork Chops with Grilled Pineapple Salsa is a great meal that aside from a little chopping happens almost entirely … you guessed it: on the grill. I serve warm flour tortillas on the side, but this classic pork and pineapple pairing would also be great with some of those sweet Hawaiian rolls. Don't be afraid to make extra salsa. This fruity side dish with a jalapeno kick is great to dig into with tortilla chips.
---
Grilled Pork Chops with Grilled Pineapple Salsa
(adapted from Cooking Light)
4 pork chops, about 1/2-inch thick (boneless center-cut, bone-in loin chops, or rib chops work best)
juice of 1 lime, divided
1/2 of a fresh pineapple, peeled, cored, and sliced 1/2-inch thick, about 4-6 slices
1 medium red onion, cut into 1/2-inch thick slices
1/2 of a fresh jalapeno, seeded and sliced (leave the seeds, if you want more heat)
salt and pepper
Prepare the grill to medium-high heat.
Toss the pork with a couple tablespoons of the lime juice; let stand 10 minutes.
Meanwhile, brush grill with oil and add pineapple and onion.
Cook 4 minutes on each side, until onion is tender.
Coarsely chop the pineapple and onion and combine with jalapeno, a tablespoon (or so) of lime juice, and salt (to taste).
Season pork with salt and pepper.
Add pork to the grill; cook 5-6 minutes on each side until done (145 degrees).
Remove from the grill; allow pork to rest about 3 minutes before serving. (serves 4)
Fran Hill has been blogging about food at On My Plate since October of 2006. She, her husband and their two dogs ranch near Colome.