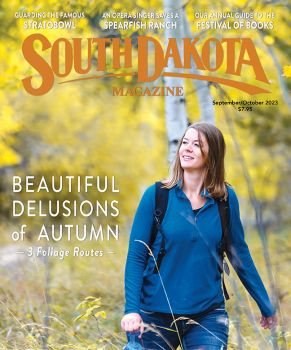 Subscriptions to South Dakota Magazine make great gifts!
Subscribe today — 1 year (6 issues) is just $29!

Tale of Two Paths
Nov 3, 2015
By John Andrews
You might know Gregory County because of its high school's notorious mascot: the Gorillas. Or as the home of Elmer Karl, whose smiling face has appeared in advertisements for home appliances for over 50 years. But this county on the Missouri River – still affectionately described as part of Rosebud Country – is rich in history, culture and natural beauty.
Drivers from East River can cross into Gregory County via two main routes, and the area's striking landscape is immediately evident no matter which is chosen. Highway 18 spans the Missouri River and Fort Randall Dam in the southern part of the county. The dam is named for historic Fort Randall, built in 1856 just below the present dam site. Fort Randall was an important link in a chain of forts protecting a trail along the Platte River and was the first in a line of forts stretching up the Missouri River. Soldiers stationed here were mostly charged with controlling the Lakota as homesteaders steadily trickled in from the East.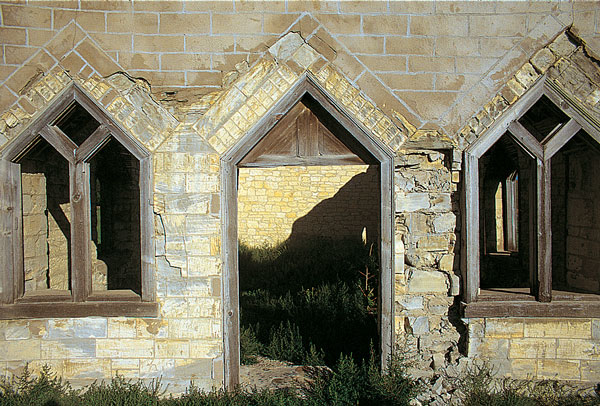 The remains of Fort Randall Chapel.
Fort Randall operated until 1892 but remnants still exist, include building foundations, a chalk rock chapel built in 1875 and the cemetery, where 138 soldiers, their wives and children were originally buried. Some bodies have been moved, but about 90 graves remain inside the white picket fence. A placard provides dates and causes of death — including disease, skirmishes with Indians and a lightning strike — for many who perished at Fort Randall.
Among the many soldiers stationed at Fort Randall included John Shaw Gregory, who worked as a trader for the Frost and Todd Trading Company. He was also a member of the territorial legislature in 1862, when Gregory County was created and named in his honor.
Just across the dam lies the Karl Mundt National Wildlife Refuge, home to one of the most important bald eagle roosts in the country. Between 100 and 300 bald eagles spend the winter there, fishing in the open waters of the Missouri River and roosting in the gnarled old cottonwoods. Birders are welcome, but the refuge itself is closed to visitors. A kiosk below the dam provides excellent eagle viewing.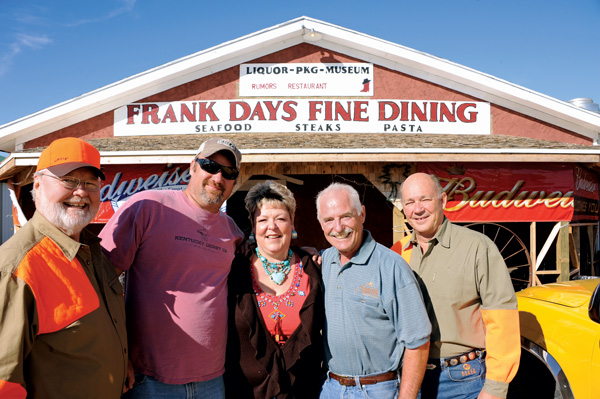 Frank Day's Bar caters to hunters in the fall.
All of Gregory County's towns are situated along Highway 18. During the fall, that's a well-traveled section of road because pheasant hunters descend upon the area. Local businesses like Louise's Café in Fairfax, or the TeePee Café in Bonesteel offer hearty breakfasts and weekend specials to satisfy their hearty appetites. Guides, taxidermists and motel operators in those towns, plus Gregory, Herrick and Dallas are kept busy, as well.
Head north of Bonesteel to Whetstone Bay and search for prehistoric sea creatures on the banks of the Missouri River. Bonesteel's Paul Neumiller has been hunting fossils since 1957. He's discovered prehistoric lizards, elephants, mastodons and sea turtles that weighed two tons. He also found North America's first hainosaurus — a giant sea lizard — in 2002.
Just beyond Bonesteel is the tiny community of St. Charles, where the Lakota culture remains alive and well. Gregory County was once part of the Great Sioux Reservation, which encompassed all of present-day West River South Dakota. The land was opened for settlement in 1904, but Lakota still live and work in the area. At Milk's Camp, Marla Bull Bear leads a summer camp that was created a decade ago to combat a rash of youth suicides on the nearby Rosebud Reservation. Attendees learn about Lakota culture, music and traditions.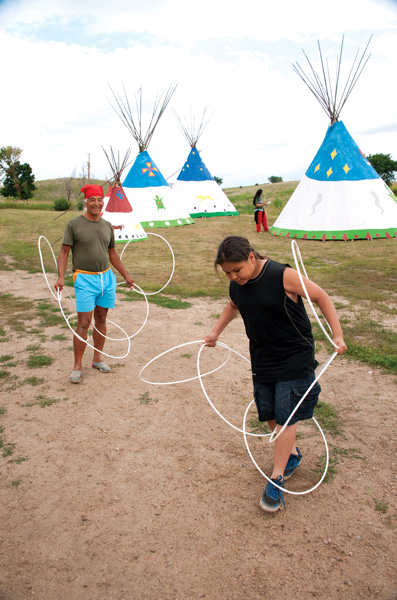 Attendees at Milk's Camp learn hoop dancing under the guidance of Kevin Locke.
The next town along Highway 18 is Herrick. You can't miss it because its bright red elevator has become a destination. Originally a working grain elevator, it was added to the National Register of Historic Places and has been renovated as a retreat center. The town also celebrates an annual Squeal Meal, which includes a pork barbecue, parade, dance and hog calling contest.
Burke is the county seat, but it's known across South Dakota for the annual Stampede Rodeo. The event is really a community affair, with an expanded farmer's market and a cattle drive down Main Street. The main event has all the hallmarks of a rodeo plus a singing contest and other special additions.
The largest town is Gregory, at just under 1,300 people. The citizenry loves Gorillas football games and a main street that features the flagship Karl's store. For years the town held an Oscar Micheaux Festival to honor the African American filmmaker who originally homesteaded in Gregory County. On our most recent trip through Gregory, we stopped for a breakfast of eggs, homemade potatoes, toast and coffee at Sissy's Café and grabbed coffee at Dayspring Coffee Company.
The last town on 18 is Dallas, home to the iconic Frank Day's Bar. When we visited 20 years ago, we found historic guns, hats, boots, saddles and photographs plastered to the walls inside the bar. Day, who has since passed away, was also a collector of stories, having recorded interviews with several old-timers. He told us the story of Tom McCrory, a rancher who had a hole in the palm of his hand "so big that you could see daylight through it," Day said. "He claimed a bear had mauled him but another old-timer said the bear must have had a revolver."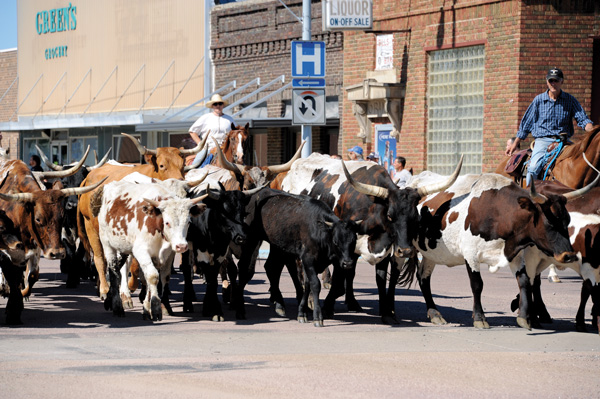 A cattle drive down Main Street of Burke precedes the summertime Stampede Rodeo.
If you enter Gregory County further north, you'll cross the Missouri River on the Platte-Winner bridge. When workers built the bridge, the main stem dams had already been built on the river, so they had to build foundations in depths up to 180 feet. It was a lot of expense and work for a bridge that carries less than 1,000 vehicles a day, but few river crossings are as unspoiled and picturesque.
There are no towns in northern Gregory County, but it's historic country nevertheless. The area around Lucas was headquarters for Jack Sully, a legendary cattle rustler who was gunned down by a posse in 1904. In the days of the open range, large cattle companies from southern states drove livestock into the Dakotas and allowed them to forage, leaving little for the cattle belonging to homesteaders. Many South Dakotans saw Sully's antics as merely protecting their rights to their own land, but he found himself in jail on several occasions. He broke out of the Mitchell jail and evaded law enforcement until U.S. Marshals learned he had returned to his home in the Gregory County hills. They shot him as he tried to escape on horseback.
Sully's antics are still the subject of debate, but that's all part of the beauty and mystery of Gregory County.
Editor's Note: This is the 14th installment in an ongoing series featuring South Dakota's 66 counties. Click here for previous articles.