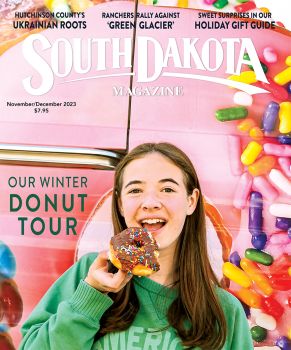 Subscriptions to South Dakota Magazine make great gifts!
Subscribe today — 1 year (6 issues) is just $29!

The Rush is Over
Editor's Note: This story is revised from the March/April 2009 issue of South Dakota Magazine. The businesses featured remain open, though some are under new ownership. To order a copy or to subscribe, call (800) 456-5117.
Story and photos by Bernie Hunhoff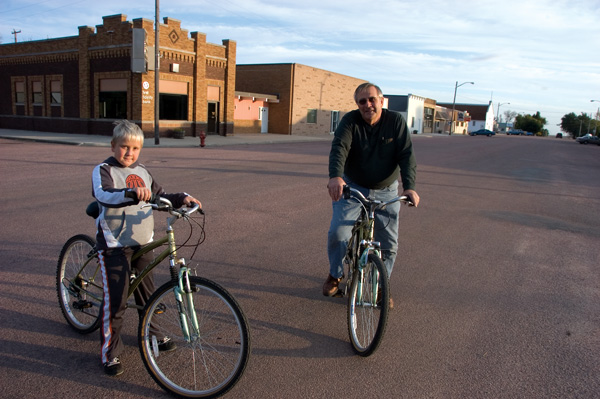 Ed Jons and his grandson, Chase, pedal past Bonesteel's quiet downtown.
As you cross the Missouri River westward over Fort Randall Dam, Highway 18 wiggles past small farms and cedar hills. Cornfields are suddenly triangular and rectangular because the once-straight road was rerouted to reach the dam. Tight barbed wire rims many of the fields so farmers can "turn out" their cows in the stalks after the harvest.
Gregory County, which sits on the Nebraska border, still has about 600 farmers — more than most West River counties. Seven small towns are spaced nicely along Highway 18, and every town has a few leaders trying to find new reasons for their community to exist other than just to serve farmers who, even here, are thinning in number.
At Herrick, the old grain elevator has been converted to an art center. Gregory hosts a summer film festival. Burke, the county seat, has become a rodeo town and tiny Dallas, pop. 140, has the legendary Frank Day's Bar, a veritable museum of cowboy pictures and memorabilia.
Bonesteel has the river and Lake Francis Case, just a few minutes away by car or truck. The lake covers over 77,000 acres of bottomland. Only a farmer who has plowed or cultivated an acre at a time can understand that much ground; a farmer, perhaps, and also a fisherman looking for walleye in a 16-foot boat with a 25-horse Johnson.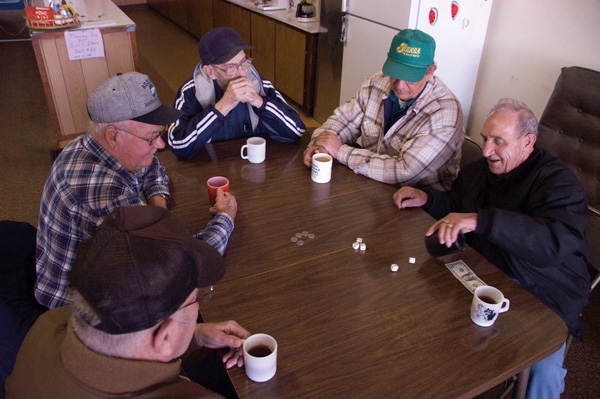 Members of Bonesteel's Over 50 Club meet for coffee and cards.
Most West River towns of 300 or fewer seem sleepy when you drive past on the highway, and Bonesteel is the same. Tip your hat if you see five or more cars going the same direction because that's probably the beginning of a funeral procession.
"We do have too many funerals," says Marge LaFave, proprietor of the Hertz Motel for the past 36 years. Like most of rural South Dakota, the average age of the citizenry is getting older.
But spend some time in town — whether you're there for a funeral or fishing or just passing through — and you'll soon discover people doing interesting things. For example, Paul Neumiller hunts for ancient sea monsters. He scouts the west shore of the Missouri, near a spot where explorers Lewis and Clark found the bones of "a prehistoric fish" in 1804.
When Neumiller isn't practicing archeology, he fishes the Missouri for walleye and catfish, or saddles up to help local ranchers "work" cattle. He also gathers with neighbors for coffee at the Over Fifty Club.
Neumiller could be the poster boy for Bonesteel and other towns near the Missouri River that offer hunting, fishing, water recreation and a laid-back atmosphere. "Gregory County is slowly becoming well known for its outdoor lifestyle," says Joe Duling, a realtor from Gregory. "We're just close enough to cities like Sioux Falls and Sioux City and Omaha and just far enough away.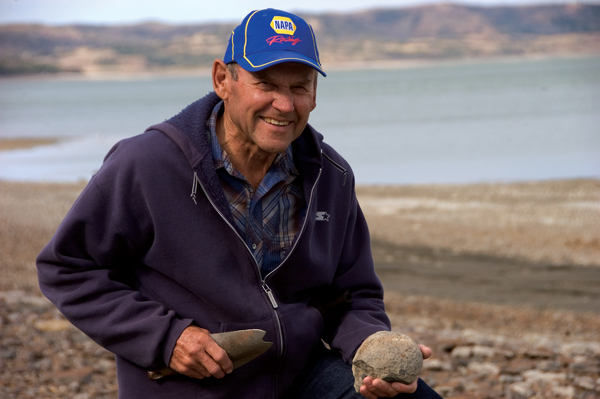 Paul Neumiller found his first petrified fish in 1957. Today he searches the Missouri River banks for the bones of other fossilized sea creatures.
Bonesteel is also close to boat ramps and camping spots on the Missouri, and surrounded by thousands of acres of state and federal "open hunting" land. Lake Francis Case, South Dakota's second largest body of water, stretches 107 miles from Pickstown to Fort Thompson.
Like most towns of 300 people, Bonesteel has only a few retail shops. But there is a grocery and hardware store, cafe, bar, motel, gift shop with pheasant feather arrangements and one of the best-kept old-style banks in the West.
The Lillibridge family has owned the brick bank for five generations. Tom Lillibridge and his wife, Cindy, lived in the bank's basement for many years, but they recently built a stylish home across the street on commercial lots once owned by Tom's father, Louis.
Before Tom and Cindy could dig a foundation, they had to buy the lots his father had given the city after he'd cleared them of old buildings and debris. That was Louis' style, says Mark Knutson, who manages the Bonesteel bank for the Lillibridges. "If any buildings in town were vacant, Louis would purchase them and if they were any good the first thing he would do is put on a roof because he said without a roof you didn't have anything." Buildings beyond repair were torn down.
The son's spectacular brick home is the type you expect to see on the 18th hole of a Sioux Falls country club rather than in the middle of a little farming town. Probably the message was unintentional but, standing on Mellette Street in downtown Bonesteel, the home clearly advertises the Lillibridge family's confidence in the Rosebud country.
"I came to Bonesteel from Burke in 1974 and Cindy grew up on a ranch southwest of town where her great-grandfather Julius Thoene homesteaded," said Lillibridge. "We think Bonesteel is one of the cleanest small towns you'll find. But the number of young people is fewer all the time. Many of our farmers are going to retire soon, and the big question is whether they'll retire here or want to be closer to a hospital or pharmacy."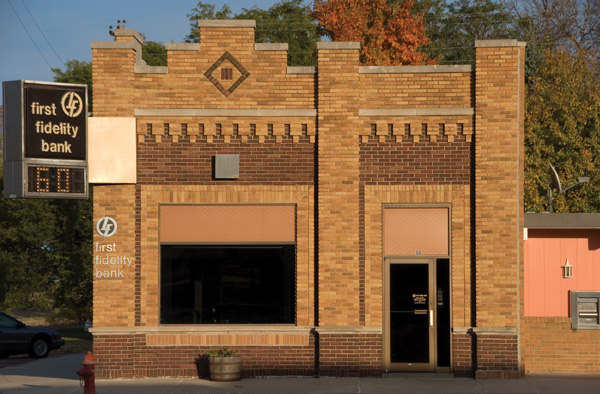 The Lillibridge family has run banks for three generations, including the Bonesteel bank.
As mayor several years ago, Lillibridge had the idea of promoting Bonesteel at Ellsworth Air Force Base. He thought the area's outdoor charm and small-town lifestyle might appeal to airmen. He never started an organized campaign, but it may be a good idea; retirees are buying houses in town or building in the Missouri foothills. Just walk around the town, and you'll hear numerous explanations on why Bonesteel citizens like the area — either as a vacation spot or a permanent residence.
"We live in a place where you don't pay to park and you don't wait in lines," explained Kathy Divine, who runs a concrete delivery and fabrication company with her husband, John. The size of the company might surprise people — "24 employees and 240 wheels turning" — but Divine says there's no reason you can't succeed in a town of 300.
"The Internet has done a lot to change that," she says. "It's endless opportunities here today. Maybe those opportunities are hidden but we found one. I think it's 'find a need and fill it.'" Along with routine concrete work, the Divines also manufacture unusual specialties, like tornado storm shelters.
Ed Jons, a partner in Bonesteel Oil Co., also found a need. He felt it was shameful that senior citizens had to leave Bonesteel when they couldn't live on their own so he started the Haisch Haus, an assisted living center. The Haisch name is part of local lore. Curley Haisch bought the famous Mulehead Ranch in 1932 when he was just 20 years old, and then romanced Rose Riley for 25 years. "I didn't want to marry her until I could afford her," he later explained.
A 1958 truck accident re-arranged his priorities, and they finally wed. "Affording Rose was not a problem," says Duling, the local realtor who is a part owner of the ranch today. "She was the solution. Working as a team, Rose and Curley built one of the most beautiful and prosperous ranches in the state of South Dakota."
When Jons decided to build his assisted living center in the 1990s, the Haischs agreed to finance it. They became residents of the home in 2003, and lived there until Rose died in 2007. Curley died in January 2009 in nearby Burke.
Bonesteel is attractive for seniors, says Divine. "They can sell their house somewhere else for six figures and buy a nice home here for peanuts and get a steak dinner at the Teepee for $6 or $7."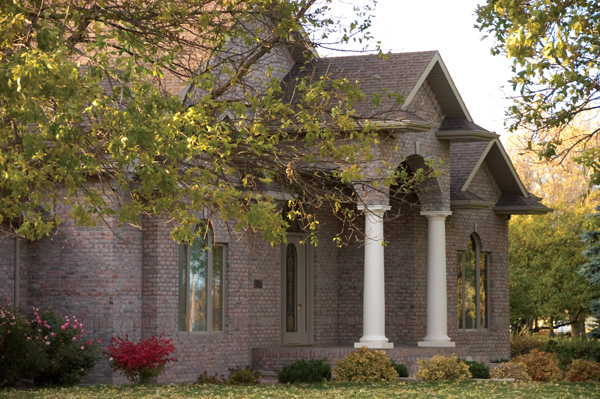 The Lillibridges built a grand house in Bonesteel, conveying confidence in the future of Gregory County.
The Teepee, like the Hertz Motel, opened when the dam was built and became a fixture on Highway 18. Proprietors John and Sue Zebro met while working in the kitchen of a South Dakota pheasant lodge. John is a Seattle native who studied at the Culinary Institute of America, the nation's premier chef school. Sue is a native of Herrick, a 10-mile drive from Bonesteel.
They added a dash of big-city cuisine to the legendary restaurant's meat and potatoes menu. Customers can still order a Teepee Hog Burger (charbroiled with ham, bacon, hamburger and cheese) and homemade fries are just 75 cents extra. But the Zebros also make a pepper jelly sauce for their grilled meats ("We learned it from a woman who helped at the lodge," says John) and mix their own salad dressings. The blue cheese and other dressings are so popular that some regular customers buy them "by the jar."
Other Bonesteel businesses also have character. Bonesteel Grocery and Hardware sells a pre-cooked beef and pork bologna made locally, along with "Bonesteel: Best Little City in America" sweatshirts. The Lillibridge bank has local historian Adeline Gnirk's eight history books for sale at $8 each, and Knutson, the bank manager, displays his snowman collection in the lobby during the holidays.
Brands are burned into the ceiling of Mary Vogt's gift shop. She sold craft items at fairs until she tired of the road and opened Wood "N" Stuff in a former western clothing store (thus the brands). Now she offers jewelry, crafts and gift items from 70 cents to $70 — including handcrafted pheasant and deer antler art and her own flower arrangements.
Historic photos hang on the walls of the Over Fifty Club, a non-profit founded in 1974 as a place for seniors to meet for coffee and cards. With money raised from bingo games, dances and other parties, the group bought a building and a coffee pot. Small-stake dice and card games mix with local conversation. Did you know that lightning could travel 10 miles and hit your fishing rod? Did you hear about the mountain lion that tried to crawl up an archery hunter's deer stand by Gregory? How many years ago was the Payloader fire that burned Harry's face and arms? Those topics and more were covered in just one afternoon session. The men sit at one big table, the women at another. Birthdays are celebrated with a cake, but usually it's just coffee, cards and conversation.
Deer are thick in the hills around Bonesteel, and impressive whitetail mounts are everywhere; a five-point buck overlooks the grocery store. Big buck racks are also at the Teepee Cafe, Joe Laber's insurance office, and the Over Fifty Club.
"We have some of the best walk-in hunting in the state," says Zebro, the local chef. "Deer hunting and fishing already have a huge impact on the area and it's only going to grow. I was down at the river today and I was thinking, 'Why don't we call ourselves the Gateway to Whetstone Bay?'"
The bay, buried 6 miles north of town in the Missouri River breaks, has a park, boat ramps, picnic shelters and camping spots. Eagles and hawks circle overhead, while campers share the cedars with the big whitetails and turkey.
Peace is the best adjective to describe this corner of Gregory County, whether you are in downtown Bonesteel, in the countryside or in a boat on Lake Francis Case. But it wasn't always that way.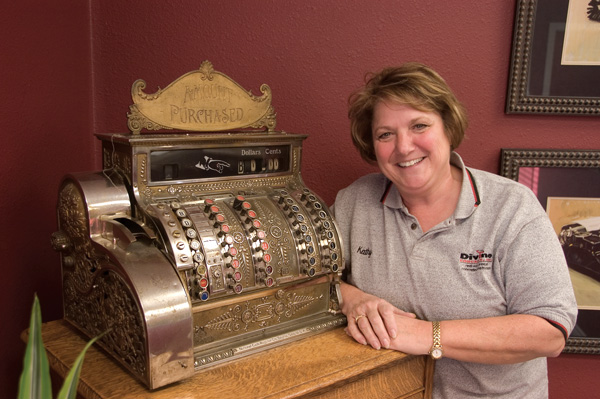 Businesswoman Kathy Divine still has her grandfather's cash register. He was a pioneer merchant.
Bonesteel's first buildings were constructed in 1892, but the town was nameless until 1893 when H.E. Bonesteel, a local merchant, offered $100 for a school if the town took his name. The town was still tiny in 1904 when the Rosebud Sioux Reservation was opened to homesteaders. Nearly 100,000 people came to enter their names in the big land rush — including future president Harry Truman. About a third of the hopefuls departed the train at Bonesteel.
Most applicants got no land (only 2,500 parcels were available), and many were hustled by gamblers, outlaws and greedy merchants. When fights and arguments ensued, a group of vigilantes rounded up the complaining out-of-towners and paraded them before a local judge, who charged them with vagrancy and ordered them out of town on the next train.
Bonesteel has never seen another maddening crowd. Basketball and football games, the Powder River Mellerdrammer and those inevitable funerals sometimes draw a hundred or more people, but on most days peace and quiet rivals white-tail and walleye as the town's trademarks. The Divines hired a comedian to entertain at their company's Christmas party a few years ago. "He was so amazed by the charm of the Hertz Motel that he devoted his entire routine to it," Kathy says. He thought it was hilarious that you get a real key at the Hertz, and you can't use your credit card. If Marge is at the Over Fifty coffee shop when you arrive to check in, regulars just grab a key and register later.
Homesteaders built Bonesteel, but its future now rests with hunters, fishermen and retirees who like a place with tasty $5 meals, clean $31 motel rooms and a welcoming atmosphere. Bonesteel has learned how to treat its guests since the days of the maddening land-rush crowds of 1904.