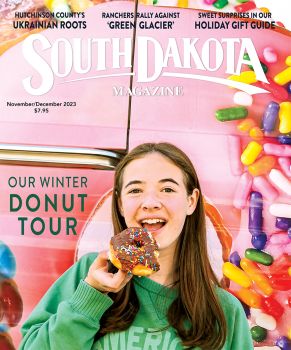 Subscriptions to South Dakota Magazine make great gifts!
Subscribe today — 1 year (6 issues) is just $29!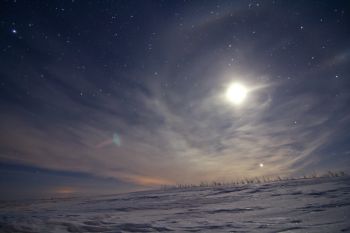 Halverson's Skies
By John Andrews
Randy Halverson's fields are his livelihood and his passion. By day he farms 1,300 acres of corn, wheat and milo in Lyman County. But when the sun sets, Halverson swaps his tractor for an arsenal of Canons and high tech gadgetry that produce stunning photos and videos of South Dakota's night sky.
Halverson got his first camera as a teenager, and experimented with shooting passing storms and the solar system. He spent time as a storm chaser during the 1990s, photographing and licensing his images of thunderstorms and tornadoes. Then he discovered time-lapse photography. "I knew that out here there wasn't much light pollution, so I thought it would work pretty well as long as the skies were clear," he says. "I already had the cameras, so I thought I'd try it."
In a time-lapse video, images are captured slowly. For example, a flower might take two hours to open, but you can watch the entire process in 15 seconds. Since Halverson works mostly at night, he incorporates long exposure photography into his time-lapse videos. A single image is exposed for 20 to 30 seconds, with two or three seconds between each exposure. To add motion, Halverson uses a dolly that slides the camera a quarter to half an inch between exposures. A typical night of shooting lasts three or four hours, leaving Halverson with up to 400 photographs to edit. And the fruits of one evening's labor? About 10 seconds of a time-lapse video.
People began noticing Halverson's work when he produced Sub Zero, a 2-minute, 43-second winter time-lapse video shot near his Kennebec farm during a brutal February cold snap. Wind chills plunged to 25 below zero, and Halverson had to regularly place his cameras and computer equipment in coolers filled with hand warmers to keep frost at bay and the electronics functioning. The starry sky, low wispy clouds racing across the horizon and frozen landscape, illuminated by the bright white light of a full moon, created an eerie scene.
Halverson's time-lapse videos of the night sky became Internet sensations, appearing on wired.com because of their advanced technology and nationalgeographic.com for their natural beauty. At times, the attention nearly overwhelms the soft-spoken farmer. "I thought people might like it, but I didn't think it would get as much attention as it has," he says. "A lot of people are interested in time-lapse now, especially if you're using dollies, where you can get the camera moving. A lot of people haven't seen that before."
The Milky Way has always been Halverson's favorite subject. Most of the videos on his website show the galaxy as it skirts across the night sky between twisted corn stalks and above abandoned prairie homes. His 3-minute, 39-second Tempest Milky Way won Best Overall and Audience Choice at New Mexico's 2011 Chronos Film Festival, a gathering of time-lapse, slow motion and stop motion photographers.
"I love the way the Milky Way looks," he says, "but you don't really get to see it this way with the naked eye." Few South Dakotans have observed the night sky quite like Halverson. But as long as he roams his fields, camera in hand, more people will glimpse the heavens from a perspective seldom seen.
Editor's Note: This story is revised from the January/February 2012 issue of South Dakota Magazine. To order a copy or to subscribe, call (800) 456-5117.