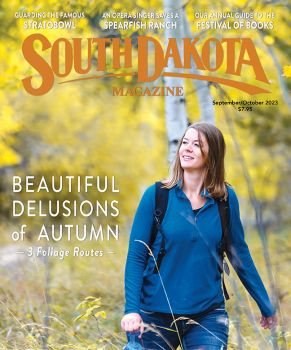 Subscriptions to South Dakota Magazine make great gifts!
Subscribe today — 1 year (6 issues) is just $29!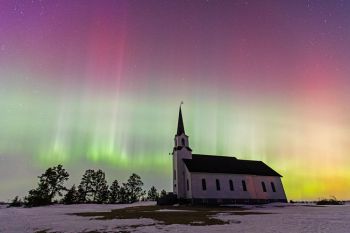 Under the Lights
Mar 29, 2023
By Christian Begeman
It was March 23, a Thursday. The first game of the NCAA men's Sweet 16 had tipped. I was coming off a late winter sick spell. I hadn't been sick at all during the winter, so when this one hit it felt like making up for lost ground. I missed work, and then worked from home for a solid week. This is not normal operating procedure for me. But back to Thursday night.
I've developed a habit over the last half dozen years. I check up to three web sites for what is called "space weather" forecasts. These sites try to predict when Aurora Borealis events could take place based on solar activity and Earth's magnetic shield. It is a relatively new science and like our regular weather prognosticators, the predictions are not always accurate. Even so, when a storm hits, these sites are very good at reporting the activity as well as the intensity. This is why I make it a habit to look at what is going on. I've found that nothing brings visual amazement quite like the dancing northern lights on a clear South Dakota night.
One such geomagnetic storm struck on that Thursday night, and it was totally unexpected. About an hour and a half before sunset the storm had kicked in and the prediction centers were saying that it could last through the night. That information was all it took for me to shut off the TV, get my gear and go find an adequate place to capture the northern lights.
I drove to a favorite country church in Miner County called Belleview Lutheran. The steeple stands straight and tall and the building is elegant even though the church is no longer in use. As the sky darkened, I began to make out the pale green arc of light to the north. I set up a camera on a tripod to start taking long exposure photos in a series, hoping to end up with an interesting time lapse. Once set up, I texted my family as well as another space weather fan and was surprised to see that the lights were now bright enough for my smartphone's camera to capture. This was a good omen.
My next destination was Esmond, a near-ghost town about 20 minutes from Belleview Lutheran in Kingsbury County. Two grain elevators stand on the northeast edge of town. As soon as I arrived and set up my camera, the sky pulsed with some of the best northern lights activity I've ever seen. At one point the whole northern sky was alive with faint greens, pinks and purples. Light pillars moved from right to left and the snow on the ground helped reflect the light, so it was easy to see even though the crescent moon had set.
Later, I learned that the geomagnetic storm had reached "severe" levels for a short time. The northern lights were seen as far south as New Mexico. I could have stayed out all night, but I had to work on Friday, so I packed up and headed back to Sioux Falls. It was a night I won't soon forget.
Christian Begeman grew up in Isabel and now lives in Sioux Falls. When he's not working at Midco he is often on the road photographing South Dakota's prettiest spots. Follow Begeman on his blog.