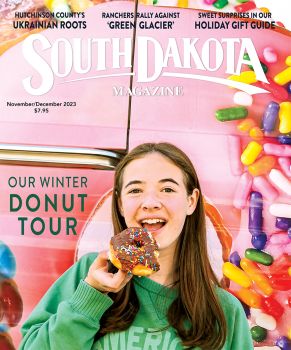 Subscriptions to South Dakota Magazine make great gifts!
Subscribe today — 1 year (6 issues) is just $29!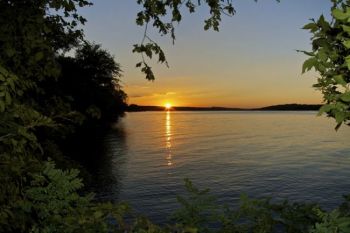 Rediscovering an Old Friend
Aug 6, 2012
The poetry of camping in the great outdoors calls out to many South Dakotans one way or another. I don't exactly know why, but I do know that I have developed unexpected relationships with places in South Dakota. There are places that I find myself drawn back to again and again. Places that seem to always have a timeless beauty no matter what the season.
Just over four years ago, I first walked the trails of Hartford Beach State Park on the shores of Big Stone Lake in northeast South Dakota and we've been friends ever since. It was around that time that I decided to take what was then a hobby of mine, photography, a bit more seriously. From then until now I've been learning, shooting, traveling, trying new techniques, failing, shooting some more, all in an effort to get better at outdoor and landscape photography. Up until then I was primarily a sports photographer that dabbled in landscapes. I found myself facing a few difficult changes in my life that summer. As hard as those changes were, there was good that came of them, as the door to pursuing photography more seriously opened and I made the decision to walk through.
That first time I visited Hartford Beach State Park, I didn't know what to expect. I hadn't really been in northeast South Dakota very much before then. I didn't realize how much unique beauty, rich history and simple peacefulness awaited me at the park. Hartford Beach is basically a picturesque portion of Big Stone Lake's shore. Big Stone Lake is a long and narrow body of water that is situated in what is called the River Warren Valley, a prehistoric river created from large volumes of melting glacier water. As time moved on, Native American peoples called the region home. Visitors can see burial mounds and other markings that remain along the trails of the park to this day. In the time of the Civil War, a trading post was started that operated for ten years. The building is still intact along the park's eastern boundary, with hiking trails leading away into the woods below.
For a photographer, the park is full of variety and many opportunities to find unique images. It is easy to find wildflowers in the warm months of the years on the high hillsides, and it is just as easy to lose yourself in a heavily wooded trail on the lower hills along spring-fed streams leading to the lake. There is a large swimming area for water enthusiasts as well as a fishing dock. It is a particularly beautiful place in the fall when the trees turn to gold and red. When I was first there in 2008, the fishing dock was of the old wooden variety. A storm had just passed and the clouds hung low and flowed into unique shapes and colors as they fled eastward. I spent a lot of time sitting at the end of the fishing dock simply listening to the waves and watching the storm move on while thinking about life and the road ahead of me. I suppose you could say that natural world I looked out on that evening was a mirror of my life at the time as well. Maybe that is one of the reasons I like going back to visit. It offers a time to reflect, a time to take measure of life's goodness and a time to rediscover an old friend.
Christian Begeman grew up in Isabel and now lives in Sioux Falls. When he's not working at Midcontinent Communications he is often on the road photographing our prettiest spots around the state. Follow Begeman on his blog. To view Christian's columns on other South Dakota state parks and recreation areas, visit his state parks page.