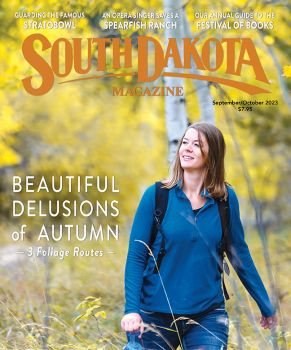 Subscriptions to South Dakota Magazine make great gifts!
Subscribe today — 1 year (6 issues) is just $29!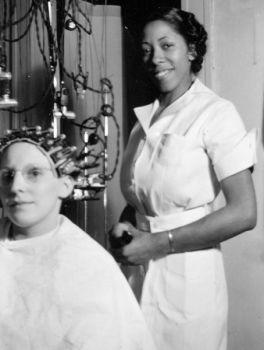 Huron's Humanitarian
Feb 18, 2014
February is Black History Month. Every Tuesday this month, we'll introduce you to black pioneers and leaders who helped shape South Dakota. Today we feature Hazel Mahone, a Huron businesswoman and humanitarian.
Hazel Mahone lived nearly every one of her 100 years in Huron. She had been a successful businesswoman in the Beadle County seat, but when she died in 2010 she hoped friends and neighbors would remember her for her "love and concern for people. Buildings, cathedrals, palaces, ruins all were important, but of primary importance are the people who occupied the buildings. All I want to do is be nice to people."
Perhaps that was a lesson that trickled down her family tree from her grandfather, a slave on a Mississippi plantation. One evening his master told him to expect 100 lashes in the morning, punishment for some unknown violation. Mahone's grandfather was determined that no one would touch him again. He packed a knapsack and ran away in the middle of the night. Thirty days later he arrived in St. Louis, where he joined the Union Army and fought in the Civil War. He was so grateful for his newfound freedom that he never again drank a full cup of water drawn from a well. He always sprinkled some on the ground in thanks.
Mahone's family moved to Huron in the early 1900s. The men worked on farms or the railroad, while Mahone's mother served as a maid. Hazel was born in 1910. She excelled at Huron High School, especially in music. When she was a sophomore, her music teacher asked if she would stay after school and try singing two pieces. Her rendition of "Deep River" was so moving that the teacher entered her in a local contest. Mahone ended up winning the state's alto division that year.
After graduating in 1928 Mahone completed two years at Huron College. She applied and was accepted at Tuskegee Institute, but financial constraints wouldn't allow her to go. Then Mary Roselle, who operated a beauty parlor in the Masonic Temple, told Mahone to enroll in a short course at the California School of Beauty Culture in Sioux Falls. She applied and studied under Louise Mitchell, another prominent black businesswoman sometimes called the Mary McLeod Bethune of South Dakota.
Mitchell and her husband arrived in South Dakota in 1906 and she immediately secured a job as a beautician. Eventually she opened the school and helped dozens of young black women, especially from the Deep South, to learn the trade and find jobs in parlors around the Upper Midwest.
Mahone completed the short course and secured a position in Roselle's beauty parlor in 1932. She was soon in high demand. Clients — all of whom were white — waited weeks for an appointment with her. Still, Mahone dreamed of pursuing a career in singing. In 1949 she moved to San Francisco and studied voice at the Conservatory of Music. After two years, however, she realized she felt more at home at Roselle's beauty parlor in Huron.
When Roselle died, Mahone was surprised to discover that Roselle had willed the business to her. But the will had to be probated, and Mahone was tasked with finding $250 so the business could be transferred. She didn't have the money, so her fellow tenants in the Masonic Temple raised the sum and Mahone took ownership.
At age 46 she married William Mahone, a retired inspector and waiter-in-charge on the Chicago and Northwestern Railroad. They traveled the world and became involved in countless humanitarian projects. In September 1967 the Mahones embarked on a tour of Africa. "We want to meet the people, not just see the scenery, animals and airports," Mahone said. "Really we are going as ambassadors of our country and as ambassadors of Christ."
When they returned, the Mahones raised money to purchase 10 barrels of supplies. They went back to Africa to personally oversee their distribution.
William Mahone died in 1972, but Hazel continued traveling, visiting more than 80 countries and compiling over 100 travel logs, many of which are housed today at the South Dakota State Historical Society in Pierre. In her travels, she experienced conditions far different than what existed in Huron. "We never experienced any racism, no segregation or anything," she said of growing up and living in South Dakota. "We were accepted everywhere. Our family was well educated, we had music and books. I was happy and stayed in this little town."
In 2007 Mahone was given a Human Rights Award from Christian Women United. "The sum total of human rights means so much," she said. "Everybody has a chance. It's what you make of it, you take advantage of it."