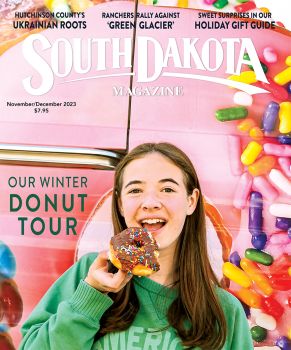 Subscriptions to South Dakota Magazine make great gifts!
Subscribe today — 1 year (6 issues) is just $29!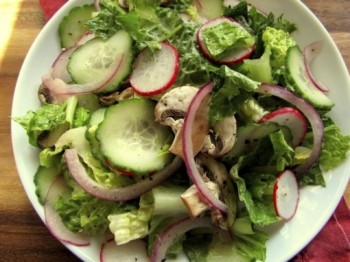 How Do You Get Dressed?
Mar 1, 2012
After you slip on your unmentionables, do you first pull on your pants or put on your shirt? Do you immediately clad your toes in socks, or do you pad around barefoot until you find your shoes? And for that matter, do you wear shoes in the house, or only lace up just before you head out? Does it really matter what order you get dressed, as long as you are respectably clothed when you finish?
I always thought that in order for the flavors of a homemade salad dressing to meld, the oil needed to be whisked with the other ingredients (and made in advance of prepping the vegetables). I was also told that to avoid wilting, greens should never, ever be dressed until just before serving. However, a newly discovered salad recipe changes all those rules.
Healthy Salad coats the salad fixings with mild red wine vinegar and chills for a bit before being lightly tossed with just a bit of olive oil, salt and pepper. It is crisp, and fresh, and distinctively mouthwatering. Ingredients can vary with what you have on hand, but I do recommend balancing the tartness of the vinegar with something earthy, like mushrooms or avocado slices, to make a more pleasing blend.
I guess it doesn't matter how you dress a salad, as long as it tastes this good.
---
Healthy Salad
adapted from Cooking Light
1 large head romaine lettuce, chopped
1 large cucumber, thinly sliced
1/2 medium red onion, thinly sliced
4-5 radishes, thinly sliced
4-5 mushrooms (buttons or cremini), sliced (or 1 avocado, sliced)
1/4 cup red wine vinegar
2 tablespoons olive oil
freshly ground black pepper
kosher salt
Combine lettuce, cucumber, onion, radishes, and mushrooms in a large bowl. Pour red wine vinegar over everything and toss lightly. Cover and refrigerate for 15 minutes. Gradually add oil and season with salt and pepper before tossing again, lightly. Makes 6 servings.
Fran Hill has been blogging about food at On My Plate since October of 2006. She, her husband and two dogs reside near Colome.