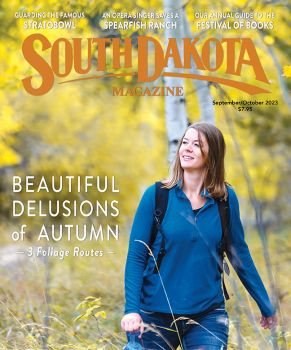 Subscriptions to South Dakota Magazine make great gifts!
Subscribe today — 1 year (6 issues) is just $29!

Hyde County: Always Divided
Jan 26, 2016
By John Andrews
The first major story I wrote after joining South Dakota Magazine in the fall of 2007 was about the slow and steady loss of native prairie. Producers were digging into ground that had never seen a plow in order to plant corn and beans that would eventually be sold for incredible prices.
Ground Zero for native prairie loss was Hyde County. Bernie Hunhoff and I made the four-hour drive on a clear October morning. He walked around Highmore while I traveled another 30 miles north to Brady and Wendy Rinehart's ranch. We rode cross-country in the Rineharts' ranch truck and saw freshly turned ground, littered with huge rocks, while native prairie remained on the other side of a barbed wire fence.
The photo of that scene inspired the headline "Hyde County Divide," but it wasn't until long after the article was published that I learned that division has been a part of the county since its very beginning. Hyde County was first created in 1873 and named for territorial legislator James Hyde of Vermillion. Its borders were changed with passage of the Brown Bill in 1879. Lawmaker Alfred Brown of Hutchinson County sought to consolidate his county with Armstrong County and found considerable support for other consolidations throughout the territory. His bill essentially redrew the territorial map and gave many of our counties the shape we recognize today.
Division came when Governor Nehemiah Ordway, a notorious schemer, officially recognized the new Hyde County in 1883. When 150 people had established residence there, they petitioned Ordway to appoint three county commissioners to begin conducting business. Ordway, planning to benefit if the county seat was placed at Holabird, appointed L.E. Whitcher and John Falde from Holabird and A.E. Van Camp, owner of the Highmore town site. But then Ordway changed his mind and favored a town site 2 miles east of Holabird on land belonging to J.S. Harris. He expected his appointed commissioners would carry out his wishes, but he learned that Falde and Van Camp planned to vote for Highmore. Ordway responded by revoking Falde's appointment in favor of George Dunham.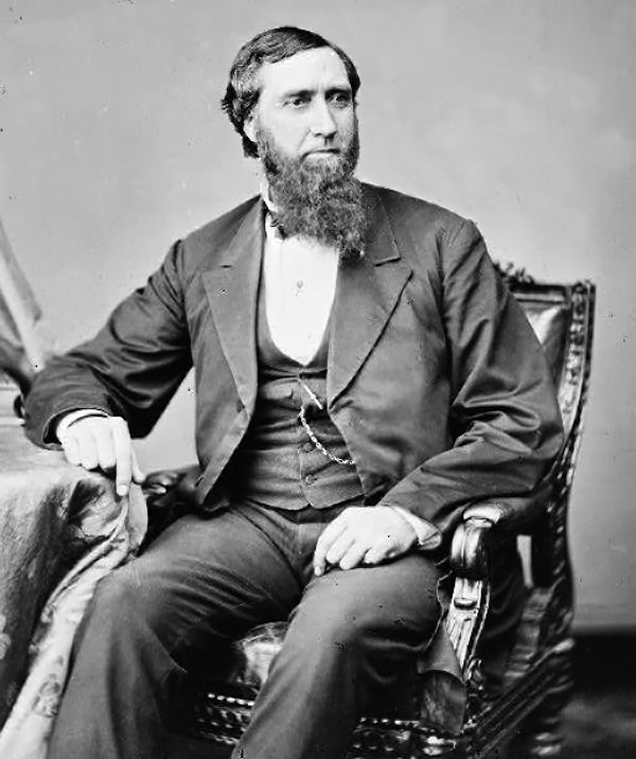 Gov. Nehemiah Ordway brought his scheming ways to Hyde County in 1883.
That led to the creation of two county commissions, each conducting business on opposite sides of Highmore. Whitcher and Dunham continued as Ordway's puppets and were challenged by Falde and Van Camp. The Ordway group held an organizational meeting and passed a resolution calling Falde and Van Camp bogus commissioners. In the meantime, the Falde-Van Camp commission also met, organized a slate of county officers and passed their own resolution denouncing the Whitcher commission. The dueling boards eventually dissolved in September 1884. Whitcher and Van Camp then joined to form the first real Hyde County Commission.
When we visited in 2007, traces of another division were still evident. In 1882, Van Camp and rival businessman E.O. Parker each created his own business district in Highmore. Van Camp's development was spread along Iowa Avenue, while Parker settled on Commercial. Most of Highmore's businesses are still located on those two streets. "It is a challenge to have two main streets," Mayor Vikki Day told us. "We're too spread out for the number of stores and businesses we have, and it becomes a lot to keep up for a small city."
The agricultural divide was clear. When we visited, South Dakota farmers were plowing 50,000 acres of native grassland every year. Over 7,300 acres had been lost in Hyde County alone from 2003 to 2007. Most ranchers we talked to were sorry to see the prairies disappearing, but understood the farmers' motivations.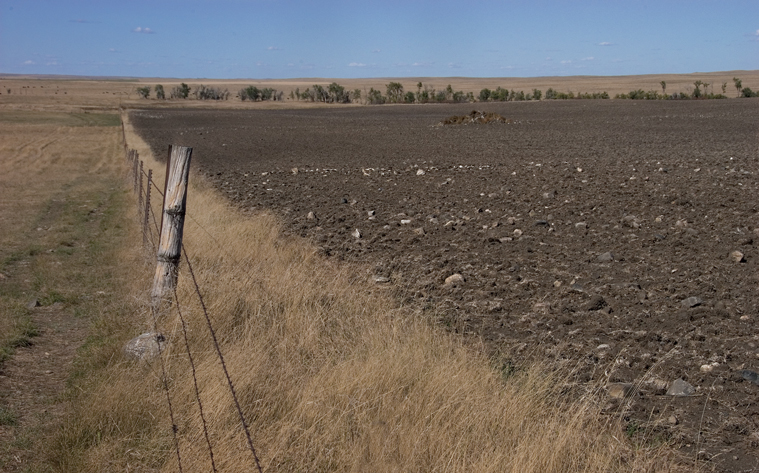 Hyde County was "ground zero" for native grassland loss.
To counter the loss, the U.S. Fish and Wildlife Service has purchased easements protecting roughly 25,000 acres in Hyde County, and hundreds more East River landowners are on a waiting list. One such preserve south of Highmore is named for June Harter, a noted area conservationist. When she died in June 2002, the fate of the Harter family ranch fell to her four children. Three of them lived in California, but Richard had just returned to Highmore from Boston after a career in software. They decided to sell, but none of the siblings wanted the land plowed. "It didn't take me long, once I got back here, to realize what they were doing to the prairies," Richard told us. "We knew that this was grassland and we knew that it was good ranching country. To see it plowed up for nothing would have been a real offense to our family traditions."
The Harters contacted representatives from the Fish and Wildlife Service, who soon discovered the land was a waterfowl hotbed. Instead of purchasing easements, the service bought 1,400 acres and created a waterfowl production area.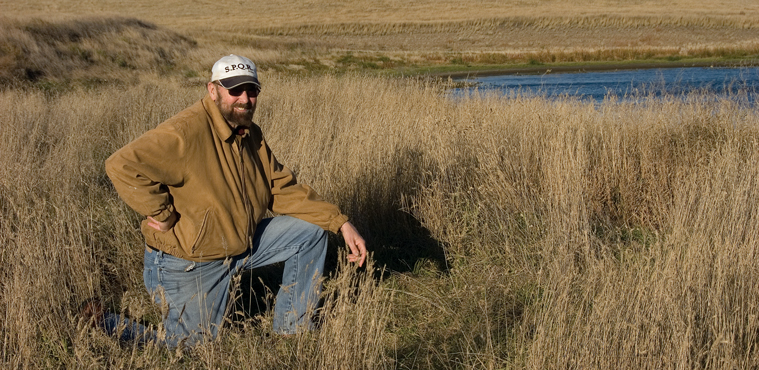 Richard Harter and his sisters turned their family ranch south of Highmore into a protected waterfowl production area.
Controversy hasn't always reigned in Hyde County. Its citizens have a streak of light-heartedness. Before his death in 2012, Harter operated a quirky website called Richard Harter's World, complete with editorials, jokes and witty exchanges with people all around the globe. Another enterprising publisher is Jerry Hinkle, founder of the Holabird Advocate, an online newsletter for the unorganized village west of Highmore. Hinkle launched the Advocate in 2002 and immediately tackled the controversial issue of nude dancing in Highmore. He contemplated a protest but relented. He explained why in an editorial.
"After careful consideration, I have come to the conclusion that Highmore will do what Highmore will do. … Hinkle was going to protest nude dancing by removing his own clothes at the establishment in question. Of course he said that when it was a whole lot warmer outside."
Hinkle has moved to Mitchell, but he still posts periodically on a Facebook page.
Then there was this exchange when Bernie Hunhoff tried to track down John Zilverberg. Locals told him that Zilverberg was a national horseshoe champion. Bernie found him and his brother David, both in their 90s, playing pool at the senior center.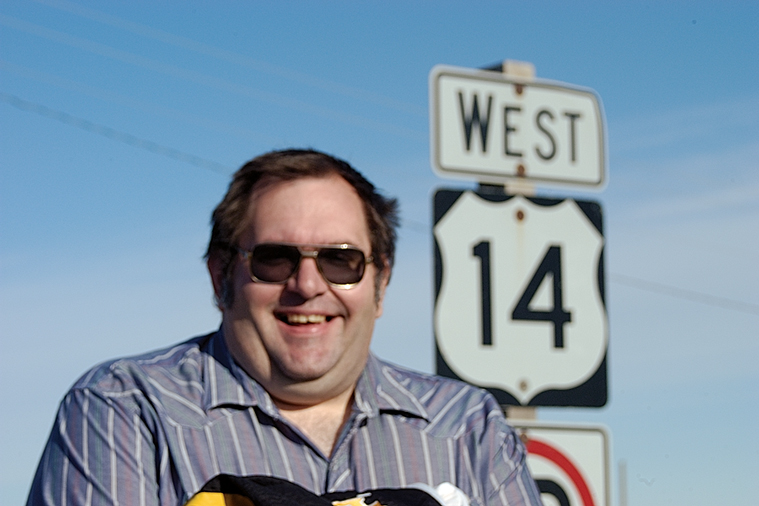 Jerry Hinkle: prairie publisher.
"I hear you're a national horseshoe champion," Bernie said to John.
"No."
"You don't throw horseshoes?"
"No."
After a long, friendly silence, John admitted he had competed in the Senior Olympics.
"Did you throw horseshoes in the Senior Olympics?"
"No."
"What did you do in the Senior Olympics?"
It turned out that he'd won 16 gold medals in a variety of events.
"But you don't throw horseshoes?"
"No."
Then, after another friendly silence, he tilted his head towards his brother and said, "He does."
It took some work, but we discovered David had won the national championship several times over the previous decade. I'm sure the Zilverbergs enjoyed the chance to have a little fun with an out-of-towner. David passed away in 2010, but as of this writing John, age 102, is still competing in the Senior Games.
Hyde County also has its claim to fame. Two clever brothers from Ohio spent their summers in the 1890s with an uncle who lived just a few miles from Holabird. The uncle's daughter, Clara, taught Sunday School, but when her cousins came to visit she turned the teaching over to them. They were more than qualified; their father was a bishop in the Church of the United Brethren in Christ.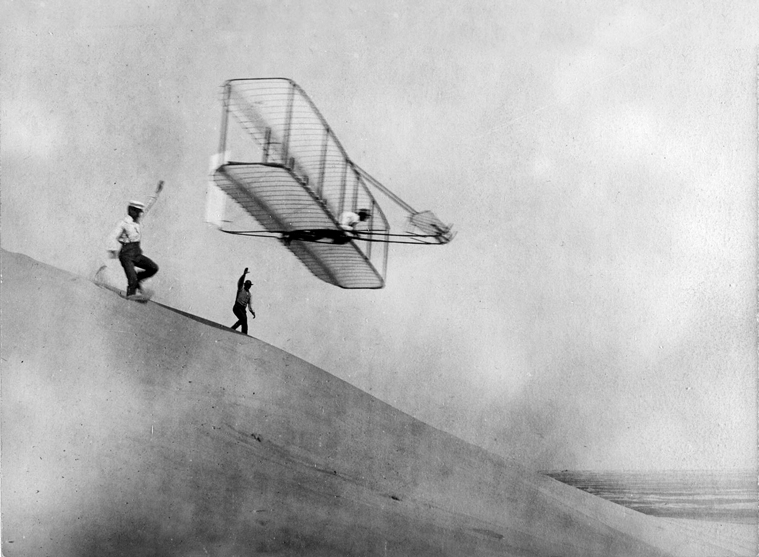 The Wright brothers were summer visitors to Hyde County.
The brothers were intelligent and mechanically gifted. They took pleasure in tinkering and improving machines and in coming up with new inventions. Mildred France was barely a teenager when the boys started coming to South Dakota. She recalled their summertime visits in her diary, which was reprinted in the Hyde County history book. "With them, they carried their many models, which they delightfully showed and explained," Mildred wrote, noting they had created versions of windmills, washing machines and churns.
"My young brothers would have cheerfully given their right arm to have had any one of those copper and brass models which the boys showed them," she continued. "My brother came home so full of enthusiasm he went to work and built a windmill that would pump water from a large can sunken in the ground and flowed in a trough and back to the can from where it first started, less, what his little chickens would drink."
The brothers had quite an influence on Holabird's youth. It's a sure bet, then, that the youngsters kept a close eye on the newspapers in December 1903, when Wilbur and Orville — the Wright brothers — made aviation history by successfully completing the first manned, powered flight at Kitty Hawk, N.C.
Imagine if that flight had been made over the grasslands of Hyde County? Surely its people would have been proud. Maybe others would have chided the new-fangled invention as a passing fad. That seems to be the way things have gone in a county with an affinity for division.
Editor's Note: This is the 18th installment in an ongoing series featuring South Dakota's 66 counties. Click here for previous articles.