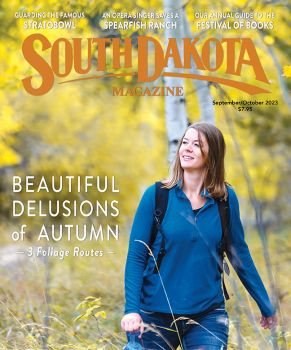 Subscriptions to South Dakota Magazine make great gifts!
Subscribe today — 1 year (6 issues) is just $29!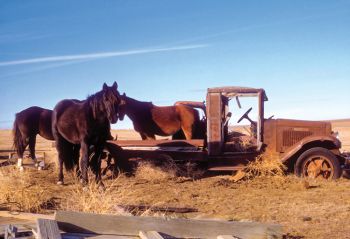 Abandoned
By Michael Heintz
Dad came home to Harrold from the South Pacific in 1946 when I was 4 and bought a 1929 Model A Ford that had been converted from a sedan to a pickup. I can still smell the interior and feel the big steering wheel. He let me sit on his lap and try to drive.
Baseball was the thing in those post-war summers. Dad would load a calf tank in the Model A and we'd go out to Beckett's icehouse for straw-covered chunks of winter-cut ice. We'd fill the tank with water and pop and go to the ballpark before the game. I sold a lot of pop for the VFW from the back of that Ford.
Grandpa had two big tractors with steel wheels and a threshing machine. He wore a striped engineer cap on weekdays and a white Stetson on Sundays. He had a 1934 Ford coupe and he liked to drive fast. I wanted that car so bad and hoped to buy it someday, but he traded it for a blue 1949 Buick Roadmaster. Grandpa took me along when he tested the Buick. He ran it up to 90 mph and then without as much as a grin said, "that'll do."
A rancher bought the coupe and nearly wrecked it chasing jackrabbits and coyotes. I bought it for $35 when I was 12 and pulled it into town. That worried Dad. He was a horse guy. The idea of me having a car scared him, so he went into collusion with the Ford mechanic and made sure I got some bad advice so I couldn't get it to run. I didn't hear about that until years later.
The first car I got that would run was a '46 Mercury. It was a two-door sedan, Navy blue with a Flat-head Eight. I drove it four or five years all through high school at Harrold, where I graduated in 1961.
Then I studied at Northern State in Aberdeen from 1962 to 1967 and took every art class they offered. I went to California to be an art teacher. I used to dream of its beautiful beaches, girls, hot rods and motorcycles. Forty years later I've seen them all.
I became sad and sentimental as I watched the old cars and trucks of my youth slow down and finally stop to languish behind a barn or a grove of trees. Then, like the old-timers who drove them, one day they are gone. I missed them, so I bought a camera and began the journey of photographing abandoned vehicles in a romantic way. I was a painter with a camera. I laughed when my photography teacher said it would be my life's work. Someday I intend to turn the series, which I title "Abandoned," into a book. The first image in the book will be a family photograph of me and my mom and dad and my next-oldest brother, taken in 1947 in front of our first family car. I found that very vehicle some 50 years later. It was north of Harrold on an old farm with a collection of other stuff. And in 2008, when I came home, it was gone. I didn't think it would ever move, but some guy in Highmore bought it for parts.
The picture of our family is special to me because it says something about that post-war period. My dad went through an awful part of the war and made it home, and there he is with his family.
My images are about the West — the dreams, the struggles and finally the rust. All of them have a mystery. They are about a different time when things were easier to understand and easier to love. It has been a wonderful adventure. I've crossed from Minnesota to California and Montana to Mexico, mostly in my '62 Ford truck, "Buster," my best pal.
When I'm back in South Dakota, I drive dad's '71 Ford pickup. We bought it new from Pioneer Garage in Highmore and when he passed away it was mine. I've driven it a lot, and my friends in Harrold store it for me when I'm gone.
I come back to South Dakota every year. I still have the farm, Dad's pickup truck, family and friends. Maybe someday I'll come back to stay.
Editor's Note: Michael Heintz lives in Dana Point, Calif., where he designs and creates jewelry. This story is revised from the November/December 2009 issue of South Dakota Magazine. To order a copy or to subscribe, call (800) 456-5117.