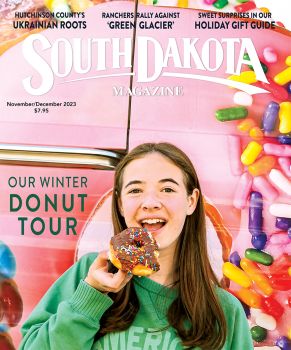 Subscriptions to South Dakota Magazine make great gifts!
Subscribe today — 1 year (6 issues) is just $29!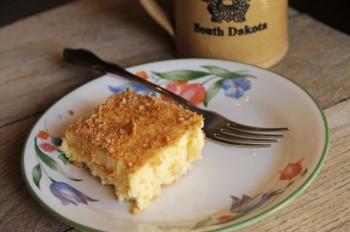 In Search of Easter Traditions
Apr 5, 2012
Do any of you have Easter traditions? Ones that you still celebrate? I've been asking around for the last week and a half to find out what other people make for their springtime feast. Ham? Lamb? Hard-boiled eggs? That's what comes to mind, but most people told me they celebrate with atypical foods like pizza, or that their family spends the holiday at a restaurant. Nothing wrong with that, but I was in search of something a little more South Dakotan, if I could find it.
I have no memory of my family's Easter meals. We were probably too hopped up on sugar and adrenaline from cousin-chasing to eat actual food. In an effort to find something to write to you about this week, I immersed myself in South Dakota church cookbooks and Wynn "Your Neighbor Lady" Speece recipe booklets from WNAX, but it was no use. Nothing really resonated as being particularly Eastery.
I discussed the problem with my friendly local librarian. "When I think of Easter, I think about citrus and Cool Whip and pastel desserts," she told me. Aha! I have just the thing — and it happens to be one of my very favorites.
Lemon Icebox Pudding is an old recipe (the "icebox" in the title is a clue), but it's easy and GOOD. Frozen, creamy lemon fluff rests between layers of crushed crumbs. That's it. Nothing fussy or fancy, but that's kind of a bonus when you're whipping up food for a crowd. Hope you like it.
---
Lemon Icebox Pudding
3 eggs
1/4 tsp salt
1 cup sugar
Juice of 1 ½ lemons
1 cup heavy whipping cream
3/4 lb. graham crackers or vanilla wafers
Beat eggs. Add salt, sugar and lemon juice, and cook until thick, stirring often. Set aside to cool. When cold, whip cream and mix with the thickened lemon custard.
Crush graham crackers or vanilla wafers and cover the bottom of a square pan with half of the crumbs. Spoon in the custard and cream mixture, then sprinkle with remaining crumbs. The original recipe says to "let stand overnight in a cool place" — mine goes in the freezer so the lemon layer is nice and solid. Cut in squares to serve.