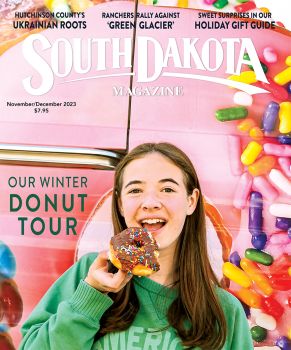 Subscriptions to South Dakota Magazine make great gifts!
Subscribe today — 1 year (6 issues) is just $29!

In the Moment
Jul 5, 2018
By Fran Hill
The cicadas were singing last night. According to the Farmer's Almanac, that means just six weeks until the first frost. I am not ready for that.
Here in South Dakota, it is a favorite pastime to complain about the weather. It is too dry, too wet, too cold, too hot, too humid, too windy, too sunny, too cloudy. The seasons are wished away by dreaming of heated summer days in the bitter below zeros of winter and begging for cool relief beneath the merciless August sun.
I try to buck this trend. I try to live in the moment and make the most of each and every glorious season. My only complaint is that none last long enough. I am simply not ready for cicadas to be singing while I roast my marshmallows over backyard fires.
I am going to hang on to summer as long as it allows. I'll willingly spend days dripping with sweat as I weed the garden, and then savor the harvests of my work. I will wiggle my toes in the sandy banks of the Missouri River and take in every rainbow sunset I can. I will refresh with drinks on patios and picnics on tailgates in alfalfa fields. I will eat tomatoes and zucchini as quickly as the gardens can produce them, and snap fresh green beans with abandon. I will churn homemade ice cream and let the juices of fresh fruits and berries drip from my fingers.
Before that first frost, I am going to eat all the rhubarb I can handle. Right now, Strawberry Rhubarb Crumble is a weekly occurrence. I feel like I get bonus points for the strawberries also being from my garden. This basic recipe is so simple that I almost have it memorized. Fruit is macerated with sugar and lemon, and the simple crumble employs melted butter — I don't even have to remember to bring it to room temperature earlier in the day. The hardest part is waiting the 40 minutes for it to bake, but I plan to spend that time enjoying my summer because, you know, the cicadas are already singing.
---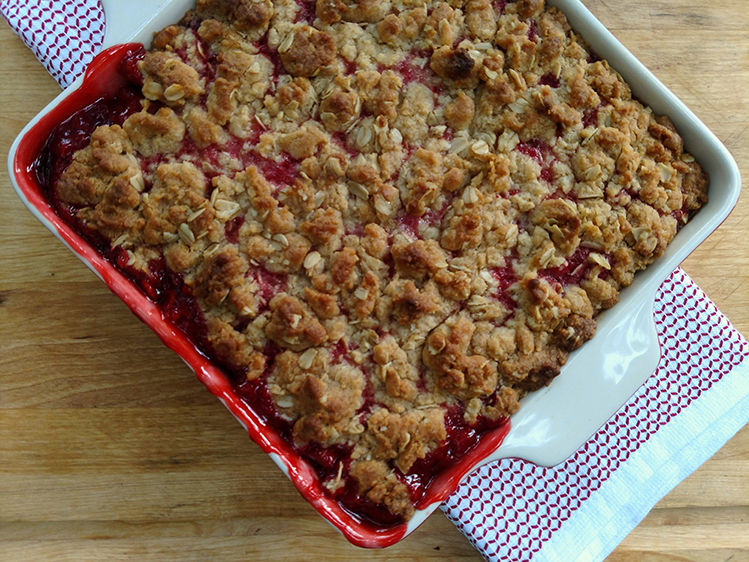 Strawberry Rhubarb Crumble is a good reminder to hold on to summer.
Strawberry Rhubarb Crumble
(adapted from Smitten Kitchen)
2 cups of rhubarb, cut into 1/2-inch pieces
2 cups of strawberries, halved, quartered, or not (the ones from my garden are tiny and I only hull them)
juice of a lemon
1/2 cup of sugar
3 tablespoons corn starch
1 cup of flour
1/3 cup old fashioned oats
1 teaspoon baking powder
3 tablespoons sugar
3 tablespoons honey
1 stick unsalted butter, melted
Preheat the oven to 375 degrees F.
Combine the first 5 ingredients in a bowl and set aside to macerate while prepping the crumble.
Combine the next 4 dry ingredients with a mixer (or by hand, if you want a little arm workout). Add the honey and melted butter. Mix until ingredients pull together and form coarse crumble.
Pour the fruit into an ungreased 8- or 9-inch baking dish, pie plate or cast iron skillet. Crumble the topping over the fruit. Place the filled baking dish on a rimmed cookie sheet that has been lined with foil (to catch drips in the oven and save cleaning later) and bake for 40-50 minutes until the filling is bubbly and the crumble is browned.
Serve warm with vanilla ice cream for the best summer ever. (Serves 6-8)
Fran Hill has been blogging about food at On My Plate since October of 2006. She, her husband and their three dogs ranch near Colome.