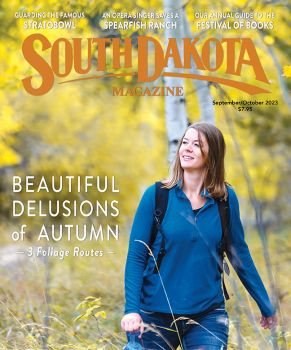 Subscriptions to South Dakota Magazine make great gifts!
Subscribe today — 1 year (6 issues) is just $29!

A Sweet Treat for Mom
May 11, 2017
By Fran Hill
I have a sweet tooth. Doughnuts, pie, cake, and chocolate bars tempt me. When dining out, I always take a peek at the dessert menu. Yet, dessert is not a regular feature of our daily meals.
In our home, a sweet finish to the meal is usually reserved for celebrating guests or special occasions. I bake towering layer cakes for birthdays, churn homemade ice cream for casual dinners, and char sugar over crème brûlée for a holiday meal. However, on a daily basis, such indulgences are only dreams.
Thankfully, there is a holiday approaching. I can't think of a day that deserves dessert more than Mother's Day. This year, simple is best. I am combining sweet, end-of-the-season apples with fresh, new season rhubarb in a bracingly tart dessert with a nutty oat crust. Rhubarb Apple Crisp is indulgent with a scoop of vanilla ice cream, yet has a wholesomeness that totally suits a Mother's Day dessert, or any day.
---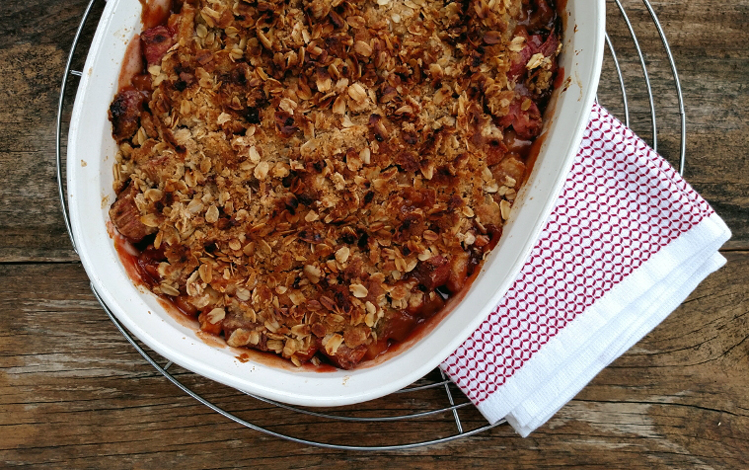 Rhubarb Apple Crisp is a sweet, yet tart, finish to your Mother's Day meal.
Rhubarb Apple Crisp
(adapted from Cooking Light)
5 cups rhubarb, chopped
3-4 Honeycrisp or Gala apples, peeled, cored and diced
2/3 cup sugar
6 tablespoons flour, divided
1 teaspoon vanilla
1/2 teaspoon cinnamon
2/3 cup old-fashioned oats
1/2 cup brown sugar
3 tablespoons unsalted butter, softened and cut into small pieces
Preheat oven to 375F.
Toss rhubarb and apples with sugar, flour, vanilla and cinnamon. Place in 6-cup baking dish that has been coated with cooking spray.
In a separate bowl, combine remaining 4 tablespoons flour, oats and brown sugar; mix well. Add butter and knead into the oat mixture. Crisp topping is properly mixed if it clumps between your fingers. Sprinkle evenly over rhubarb mixture in baking dish.
Bake for 50-55 minutes, until topping is golden brown and filling is thick and bubbly. Cool 15 minutes before serving with a scoop of vanilla ice cream.
Fran Hill has been blogging about food at On My Plate since October of 2006. She, her husband and their three dogs ranch near Colome.